Antonio Margarito and the 15 Most Brutal-Looking Post-Fight Faces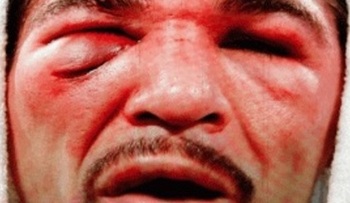 Antonio Margarito had his shot against Manny Pacquiao. At the end of the day, he got a good old-fashioned butt-whooping and a boat load of money.
The money needs to be a lot for these fighters because many times, they do not look the same on the way out as they did on the way in.
Margarito is proof that boxing is a dangerous sport. He went into the ring a handsome bloke and came out looking like a Garbage Pail Kid. Here are some more gruesome pictures to get you in the mood for Turkey Day.
15. Stefan Struve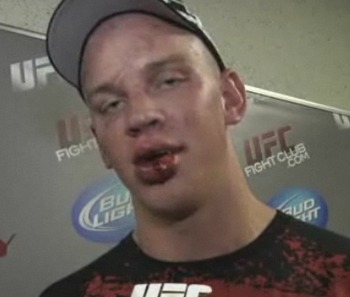 Here is Stefan Struve after his bout with Christian Morecraft in UFC 117.
The troubling part about this picture is that Struve could easily walk out the door and be mistaken for a shady character with a hideous cold sore on his lip. Now that would be truly scary.
14. Matt Hamill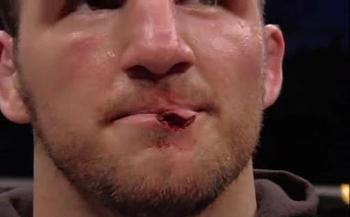 Back in 2008, Matt Hamill fought and defeated Tim Boetsch. But Hamill did not come away unscathed. He received one of the worst lip injuries I have ever seen.
It looks like his lip is separating into an newer, more gruesome lip for us to all marvel at. How nice of his lip to think of us.
13. David Loiseau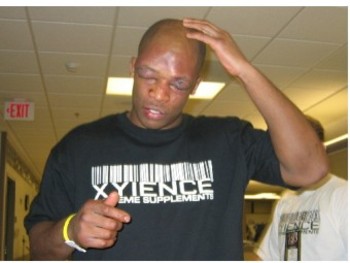 Here is David Loiseau after his UFC fight with Rich Franklin.
I have no idea how he manages to walk around without the ability to open his eyes.
12. James Thompson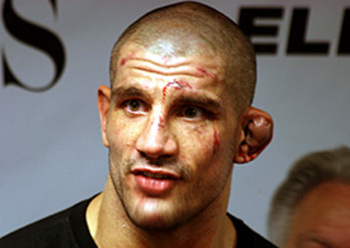 You know that popping sound you heard all fight? Yeah, that was your ear dude.
Thompson fought Kimbo Slice in 2008, presumably so Kimbo Slice could pop the cauliflower ear and Elite XC could get a boost in ratings. Well, Slice managed to pop the ear but didn't quite save Elite XC.
11. Mitch "Blood" Green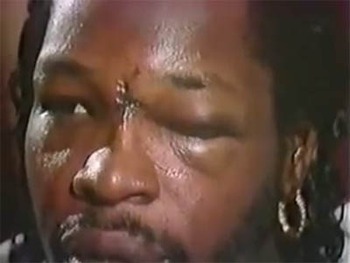 This is what happens when you run into Mike Tyson. Back in 1988, Green went looking for Tyson at a local clothing store in the hopes of getting a rematch secured. When a scuffle broke out, Tyson hit Green with a right.
Green's nose was never quite the same.
10. Antonio Margarito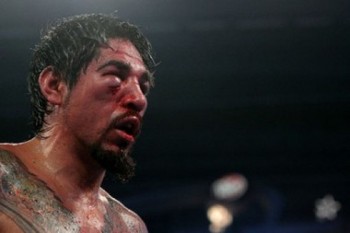 Throughout the fight, we could hear Margarito in his corner stating that Pacquiao was not hurting him. I submit to you exhibit one, Margarito's face. Pac Man broke it.
Margarito suffered a fractured orbital lobe because of the Filipino's punches. I think he hurt you more than you let on, Antonio.
9. Fernando Vargas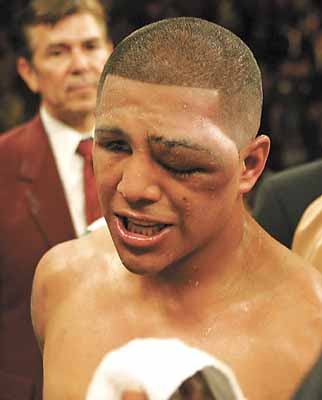 Somewhere behind the small planet that is on his face is boxing bad boy Fernando Vargas. He was given this as a present from the much better fighter Shane Mosley.
I guess steroids don't help your career. Vargas never managed to mount a career boost while taking them.
8. Diego Sanchez
BJ Penn is a bad man. He is so bad that from time to time, he likes to dabble in face rearranging.
This is one of his more famous works done on the canvas once known as Diego Sanchez.
Diego Sanchez Continued
Here is video from that fight. BJ Penn is a bad mother. I will give him that.
7. Marvin Eastman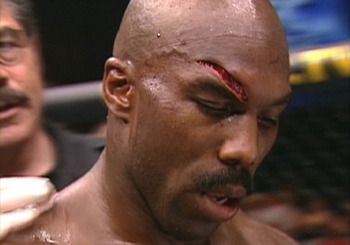 That is not a photoshopped entry. That is Marvin Eastman's skull trying to get out of his face and run away.
Personal note: Remember not to start any fisticuffs with Vitor Belfort, or I may receive a gash the size of a small canyon.
This thing didn't need stitches, it needed rope.
6. Jerome Le Banner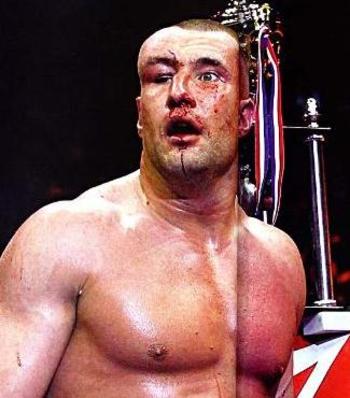 Here is Jerome Le Banner after his bout with Cyril Abidi. It is famously known as the unicorn picture because it looks like a horn is sprouting right of the man's noggin.
Unicorn or not, no person's head should contort in such a way. I say pop the thing and let's move on with our lives.
5. Hasim Rahman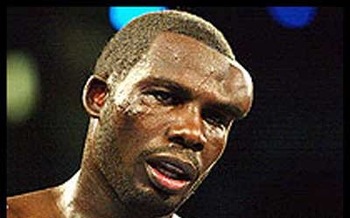 Now this is a certified unicorn picture. It has everything you want in a unicorn. The long protrusion from the skull, a wisp of magic in the air and the feelings of happiness it brings to all that view it.
Thank you, Hasim Rahman. If you never fought Evander Holyfield, we would never have to stare at your horribly disfigured dome with such glee.
4. Miguel Torres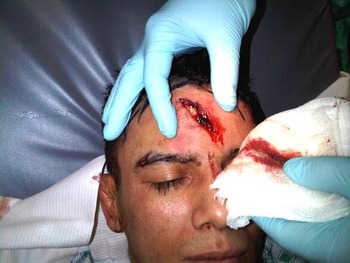 That there is the face of Miguel Torres. If you squint a little and clean off your glasses you can see Miguel Torres's skull.
Compliments should be sent to Joseph Benavidez, who opened the wound on the fighter's forehead.
3. Evander Holyfield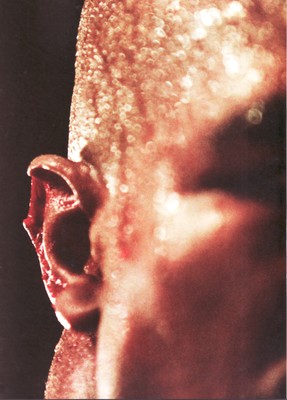 I have to include the most famous injury dealt to another human by a crazy person. Pictured is the right ear of Evander Holyfield. The missing piece was chewed off by Mike Tyson.
If you ever find yourself dating Mike Tyson, never ask him to nibble on your ear. In fact, it's best just to stay away from Mike Tyson altogether.
2. Joe Stevenson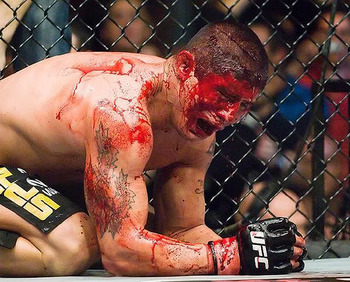 This is why you do not agree to fight BJ Penn. Penn has reduced Joe Stevenson to a pile of flesh and blood.
It looks like Stevenson is auditioning for an Oscar role in a new Vietnam war flick. It's one thing to bleed all over the place, but to openly sob? Come on, man.
1. Billy Collins Jr.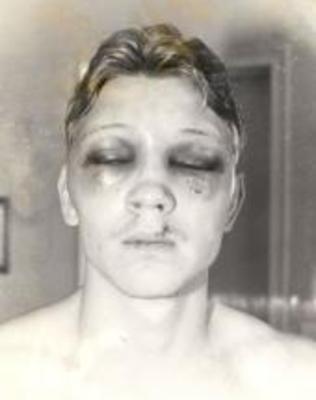 Billy Collins Jr. was an up-and-coming boxer that was never able to reach his full potential. In 1983, Collins was set to fight Luis Resto. On the night of the fight, Resto seemed to punch heavier and more solid than he ever had in his career.
After the fight, it was found that Resto had removed padding from his gloves. Collins suffered a detached iris and permanent blurred vision. He would never box again and later died in a tragic car accident.
Ring Girl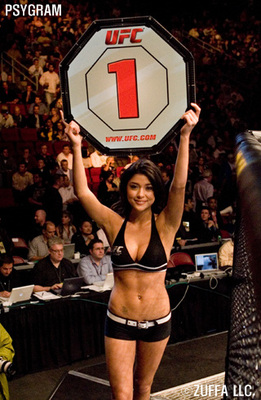 After seeing all the gruesome pictures, I need to unwind with a little touch of beauty.
Ring Girls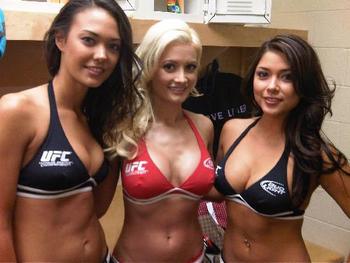 There, I feel much better now.
I hope you do, too.
Keep Reading