Manhattan-NJIT: Jaspers Survive Scare from NJIT, Win Opener 75-70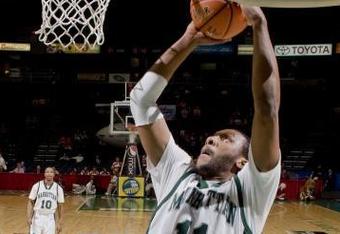 It was not especially pretty, but the Manhattan Jaspers managed to win their season opener for the fourth straight year. This was the first time the Jaspers have won four straight season openers since the 1980s.
The Jaspers came out of the gate strong. Senior Andrew Gabriel opened up the game with a layup on the first possession, and then followed it up with a three-point play on the next possession. Gabriel went on to finish with 19 points on 7-for-11 shooting.
Sophomore guard George Beamon helped Gabriel, providing a spark for the Jaspers with the first double-double of his collegiate career. Beamon finished the game with 15 points and 11 rebounds.
It took a little while for star freshman Michael Alvarado to get involved. However, after a few minutes, Alvarado started scoring and playing extremely well, turning in a 23-point performance. Alvarado shot 12-for-15 from the foul line.
After the strong start by the Jaspers, their 21-7 lead shrunk four points after Isaiah Wilkerson's jump shot. Wilkerson would finish the game with 21 points and 11 rebounds for his first double-double since last November. Manhattan then boosted its lead back to 31-21 late in the first half, but NJIT trimmed the lead back to 31-25 at halftime.
NJIT came out strong in the second half and took its first lead on a three-pointer by Arjun Ohri. Leading 50-49, NJIT watched its slim lead disappear. Manhattan went on a big run and took a 62-53 lead on a pair of Andrew Gabriel free throws with 4:25 remaining.
NJIT came back once more to cut the Manhattan lead to two points in the final minute, but Manhattan drained its free throws to return to Riverdale with a 75-70 road win under its belt.
Now, a win is a win, but it is never a great sign to see your team struggle against NJIT. Despite being picked to be the best team in the Great West, Manhattan should have had at least a little more ease in this game. Then again, it was the first game of the season with a lot of new players and only one senior playing. However, Manhattan still played solid and showed that it could be a tough team in the MAAC if the Jaspers start to jell.
In the past few years, Manhattan has struggled to get to the foul line, and has then struggled to convert its free throws in minimal opportunities. Manhattan has appeared to have fixed that problem. Manhattan shot 46 free throws and made 34 of them for a solid 73.9 percent.
The Jaspers also shot well from the field, converting 19 shots out of 41 (46.3 percent).
Lastly, the Jaspers refrained from fouling too often. In the past, the Jaspers have been a team that fouls a lot and gets into the penalty early in the half. On Saturday, the Jaspers only fouled 18 times.
Of course, since the Jaspers only won by five points, not everything was perfect.
Most importantly, the Jaspers only had four assists in Saturday's game—two from Beamon and two from Alvarado. Especially if these two become the main guards, they will need to be able to become playmakers and help out their teammates.

Still, it is a bad sign that only two of the seven players that played in Saturday's matchup recorded an assist. The Jaspers also turned the ball over 14 times, making their assist to turnover ratio only one assist for every 3.5 turnovers.
Next, the Jaspers allowed NJIT to grab 20 offensive rebounds. Against some of the more talented teams the Jaspers will play, more of these offensive rebounds will be converted into second chance baskets. The Jaspers have to do a better job on the boards.
The Jaspers will also have to put some focus into improving their three-point shooting. The Jaspers only made three three-pointers in the season's opener. If Manhattan can add a stronger three-point threat, it will give the Jaspers much better balance.
In the end, Manhattan showed that it has the potential to at least have a mediocre season, but there is still a lot to work on.
This article is
What is the duplicate article?
Why is this article offensive?
Where is this article plagiarized from?
Why is this article poorly edited?