TUF Season 12: St-Pierre Vs. Koscheck Live Blogging the Madness, Pt. IX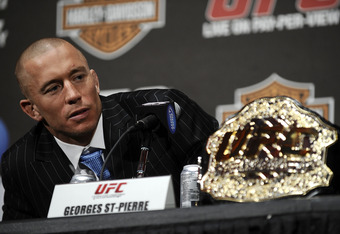 Jeff Zelevansky/Getty Images
As The Ultimate Fighter: Team St-Pierre Vs. Team Koscheck heads into its final push toward the live finale on December 4th at the Palms Casino in Las Vegas, the season's favorites and dogs have been more or less established.
The 12th installment of TUF has seen Jonathan Brookins surface as the smart money to win the guaranteed contract while dark horses and future up-and-comers have also separated themselves from the field. Dane Sayers would be an example of the latter while entrants like Nam Phan, Cody McKenzie, Alex Caceres, and Michael Johnson have all shown flashes of intrigue.
However, the most significant development might be coming from the coaches.
Namely, from Josh Koscheck.
In the wake of UFC 117, after UFC president Dana White had finished extolling the card's pay-per-view virtues and staggering gate receipts, I asked him if he though Chael Sonnen's superlative turn as the heel everyone loved to hate played a significant role in the event's success. Once he finished his home-run trot courtesy of the meatball I served up, I asked him if he thought we'd see more overmatched victims taking the Sonnen approach.
That is, sell the card on public blood-lust for comeuppance rather than the promise of a fair fight. Sort of a "tune in to see Fighter X get demolished" rather than a "this is gonna be a battle for the ages" approach.
Dana gave a half-chuckle and then an non-committal response, which was fine because it was more of a rhetorical question than anything else. But that might not be the case for much longer.
Don't look now, but we've got a similar situation developing—an utterly dominant champion facing a challenger with the odds stacked Everest-like against him and, nevertheless, playing the public jackass. Complete with asinine boasts and personal insults.
If UFC 124 is a smashing success a la UFC 117, my rhetorical question may take on new weight.
Because not many brains free from blunt-force trauma are giving Kos a chance against GSP (who's already defeated Blondie once), but you KNOW fight fans by the thousands will be plopping down dinero to see St-Pierre dispatch the No. 1 nuisance at welterweight with extreme prejudice.
And, if you come back at the top of the hour for this week's TUF episode, you'll see why.
Check back next week when the last two quarterfinals between Kyle Watson/Aaron Wilkinson and Michael Johnson/Alex Caceres unfold to give us our semifinal matchups.
So congratulations Josh, you're definitely the big winner here.
Now, I've got to believe GSP will come into his scrap with Koscheck looking for blood or some close derivation thereof.
Because Georges has only lost two fights, zero since 2007, and I don't think we've yet seen him sincerely motivated to FIGHT. Yes, we've seen him 100 percent focused on competing and winning in the athletic arena, which happens to be a cage.
As St-Pierre said, Koscheck got into the champ's head with his juvenile and total lack of sportsmanship. And as GSP intimated, Josh will probably live to regret "winning" this round of the head games.
Because Josh clearly sees it as a victory when he successfully pushes someone's buttons. Yet here he's allowed a minuscule blip on the MMA landscape to make Kos his psychological bitch.
And he's too damn stupid to realize all this celebration only demonstrates precisely how much Kos allowed McKenzie to bother him. THIS is the guy who's gonna unseat Georges St-Pierre?
For a guy who spends so much time trying to make things personal, you'd think Josh Koscheck would realize that—by admitting that Cody McKenzie got to him—he's essentially saying a lightweight who isn't even in the UFC (at this point) got the better of Kos.
And true to form, Kos celebrates like he just did something instead of just shouting useless nonsense from the sidelines.
That was a freakin' crusher.
Cody goes down and he ain't getting back up as Rosenthal dives in to save him.
Whoa, Phan is starting to score as I finish discounting his striking and utterly crumples McKenzie with a shot to the body.
Granted, Nam is definitely winning the striking exchanges, but he's not dominating as you'd expect from someone so technically superior.
Phan said his standup was "10 times better" than Cody's, yet McKenzie is blatantly gassed to start the second and Team Koscheck's contender isn't really carving his adversary up.
Damn, look at GSP's eyes when he was talking to McKenzie in between rounds—that guys is one intense hombre. It flies under the radar, but that was an intimidating look.
The ending flurry should give Nam confidence heading into the second round, but it wasn't enough to take the round. Give it to Team GSP, 10-9.
As the final seconds tick down on the first round, McKenzie finally is showing signs of the fatigue Koscheck was hyping—he eats a few shots from Team Kos' fighter before the horn sounds, but looks no worse for the wear.
Tough to understand why his team is performing so poorly thus far.
Coach Kos is alternating between insisting that McKenzie is tired and calling for Nam to get off the fence. Oh, for a change, he just tossed in a "you're losing this fight."
Sure enough, McKenzie gets the scrap to the ground and you can hear the panic/desperation in Koscheck's voice as he tries to spur his athlete on. So far, he's not having a noticeable impact on Phan because Cody's still dictating the pace and where the fight takes place.
Kos can be heard urging a restart, but that's wishful thinking for his entrant who's in trouble. Team GSP's guy is controlling things and improving his position as we think. A restart would be criminal right now.
Cody's working for a takedown, but Phan's defending nicely and has managed to force a standing stalemate against the fence.
Josh Rosenthal gets some face time before McKenzie comes charging across the cage to initiate hostilities.
This article is
What is the duplicate article?
Why is this article offensive?
Where is this article plagiarized from?
Why is this article poorly edited?