Oklahoma City Thunder vs Philadelphia 76ers: Durant, Thunder Look To Bounce Back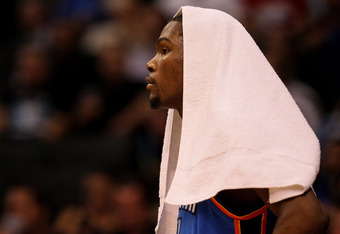 Stephen Dunn/Getty Images
Tonight, the Thunder will look to try and bounce back after a disappointing loss to the Boston Celtics.
If there was any night that you could almost guarantee a win, it would be this game. But these are also the types of games where an upset is brewing.
Although, it will honestly be tough for Philly to take this game. Andre Iguodala is out tonight, so Oklahoma City really doesn't have a reason why they should lose this game. They've had two days off to try and repair their heavily broken offense, and get some extra rest for a home game against a weaker team.
Jeff Green will be out again tonight so Serge Ibaka will make his second consecutive start. Hopefully this leads to more minutes for Cole Aldrich who is proving to be a very efficient defender when he's on the court.
Philadelphia has a pretty nice combo down low with Elton Brand and Spencer Hawes, so it will be interesting to see how Scott Brook uses his rotation to contain the two.
Also, I'm actually pretty pumped to see Evan Turner for the first time. I've been waiting for this game for a while.
Oklahoma City really, really, really needs this game. And not only do they need a win, but they need a blowout win to get some confidence. If this game comes down to the wire, even with extra rest and home court, then it could definitely be a reason for a little concern.
Grab some popcorn and enjoy!
Evan Turner has been abused tonight.
Unfortanately, seems like one quarter is the longest they can keep both ends going strong.
For the first time this season, Oklahoma City's offense and defense both showed up for an entire quarter.
Louis Williams looks exactly like Brandon Jennings.. It's scary
Oklahoma City is clearly taking advantage of their size over Philly. And Westbrook needs to stop trying so hard down low. He's making too many bone-headed mistakes.
Horrible foul on Serge Ibaka.. Cleanest block all year and he gets called.
Jrue Holiday is going to be an excellent player for Philly for years to come.
Kevin Durant finishes the first quarter with 11 points. Jrue Holiday with 5 points and 5 assists.
Very impressive coast-to-coast there by Maynor.
Worst part of our bad transition defense is that it's mostly Kevin Durant that's causing it. He's playing like he doesn't care on defense.
Oklahoma City's transition defense is horrible this game..
Serge Ibaka's jump shot is so underrated..
It will be interesting to see how Evan Turner does against one of the league's better defenders in Thabo Sefalosha.
Oklahoma City definitely is playing with a faster pace tonight. I like it.
Jrue Holiday has one of the coolest names in the league. Behind Russell Westbrook and John Wall.
Projected starting lineups:
Philadelphia: Jrue Holiday, Evan Turner, Andrews Nocioni, Elton Brand, Spencer Hawes
Oklahoma City: Russell Westbrook, Thabo Sefalosha, Kevin Durant, Serge Ibaka, Nenad Krstic
This article is
What is the duplicate article?
Why is this article offensive?
Where is this article plagiarized from?
Why is this article poorly edited?

Oklahoma City Thunder: Like this team?