WEC 52: Faber vs. Mizugaki Preview
Urijah Faber vs. Takeya Mizugaki is the WEC 52 main event
The WEC returns to Versus this Thursday for WEC 52: Faber vs. Mizugaki.
The show will come live from The Pearl at The Palms in Las Vegas, Nev., and airs on Versus in the United States.
The night's main event features the bantamweight debut of the most popular fighter in WEC history, "The California Kid" Urijah Faber. He takes on former title challenger Takeya Mizugaki.
Other bouts scheduled for the night's main card include Chad "Money" Mendes taking on Javier "Showtime" Vazquez, Eric "New Breed" Koch facing Francisco Rivera, former title challenger Joseph Benavidez taking on Wagnney "The Silencer" Fabiano.
And a bout between Damacio "The Angel Of Death" Page and Demetrious "Mighty Mouse" Johnson opens the night's televised portion.
WEC standouts Raphael Assuncao, Anthony "The Assassin" Njokuani and Cub Swanson are among those competing on the preliminary card of WEC 52.
The members of Team Alpha Male highlight the night's big fights, and the camp is looking for a clean sweep at WEC 52.
With the recent news of the merger between the UFC and the WEC, this card has taken on added significance. In addition to being the next to last show for the WEC organization, it's a chance for these fighters to see if they will continue on to fight in the UFC.
Or if they will have to go back to the smaller shows and work their way back up.
Here is your match-by-match breakdown of the night's card.
Begin Slideshow

»
Urijah Faber (pictured) looks to make a successful debut in the bantamweight division
Urijah Faber (23-4, 8-3 WEC) vs. Takeya Mizugaki (13-4-2, 2-2 WEC)
Faber, the longtime WEC Featherweight Champion, makes his official debut in the bantamweight division against Mizugaki.
This fight was originally scheduled to take place at WEC 50 in August before an injury to Faber pushed it back to this show.
This will be the first fight for both men since WEC 48 in April. At that event, Faber lost to Jose Aldo in the night's main event for the WEC Featherweight Title, while Mizugaki defeated Rani Yahya.
Faber has fought a who's-who in the featherweight division. But after going 3-3 in his last six fights since 2008, he has decided to make the cut to 135 pounds.
Mizugaki is only 2-2 in his WEC career. But one of those two losses are to Miguel Torres, who Mizugaki fought for the WEC Bantamweight Title in his WEC debut.
The other is to Scott Jorgensen, who is the next challenger for the bantamweight title.
He has wins over Yahya and Jeff Curran in the WEC.
Faber is a former collegiate wrestler who utilizes a very well-balanced attack. He has a purple belt in jiu-jitsu, so he's no slouch on the ground and has 12 submission victories.
Mizugaki is primarily a striker who often has exciting fights, winning Fight of the Night honors in two of his four WEC fights. He's gonna have to keep it standing if he wants to post a win here.
Both men have excellent cardio, so don't be surprised if the fight goes the distance.
The winner of this fight could be first in line for a shot at the UFC Bantamweight Championship, so a lot is at stake in this fight.
Prediction: Faber by decision
Chad Mendes (pictured) looks to remain undefeated
Chad Mendes (8-0, 3-0 WEC) vs. Javier Vazquez (15-4, 2-2 WEC)
Mendes is looking to continue his undefeated streak to start his MMA career, having won his first eight.
The last three came in the WEC, over Cub Swanson, Anthony Morrison and Eric Koch.
Vazquez is looking for his third straight victory. After starting off his WEC career with losses to LC Davis and Deividas Taurosevicius, Vazquez has posted back-to-back wins over Jens Pulver at WEC 47 and Mackens Semerzier at WEC 50, both by way of submission.
This fight was recently moved into the co-main event position, so the spotlight is going to be heavy on both guys. A win here for Mendes could put him one step closer to earning a title shot.
A loss for Vazquez might spell the end of his run in the promotion, thus missing out on a shot to fight in the UFC.
Mendes is a superior wrestler, being a former Pac-10 Wrestler of the Year, and his main strategy is to find a way to wrestle his opponents to the ground.
Vazquez, however, has a superior ground game, being a second-degree black belt in Brazilian Jiu-Jitsu under Carlson Gracie, and is a member of the Gracie family. Mendes will likely want to try to keep the fight standing to show his improved standup, and to try to stay away from the ground game of Vazquez.
But if Mendes gets in trouble, he will likely take it down and try to dominate with his wrestling.
If it goes to the ground, don't be surprised if Vazquez is able to squeak out a submission victory, something he has done in 10 of his 15 professional wins.
Prediction: Mendes by decision
Eric Koch (pictured) looks to stay on the winning track
Eric Koch (10-1, 2-1 WEC) vs. Francisco Rivera (5-0, 0-0 WEC)
Rivera is coming into this fight on extremely short notice.
Koch was orginally scheduled to face Josh Grispi, who was pulled from this fight to challenge Jose Aldo for the new UFC Featherweight Championship at UFC 125.
This will be Rivera's WEC debut, and he comes in undefeated in his five professional fights.
Koch comes in off a win over Bendy Casimir at WEC 49 in June. Koch also holds a WEC win over Jameel Massouh, but did suffer a loss to Chad Mendes at WEC 47 in March, his only defeat in his three-year MMA career.
Koch trains at Roufusport in Milwaukee, where head trainer Duke Roufus has a wide variety of fighters, including Anthony Pettis and Pat Barry.
The camp has a lot of fighters known for their standup ability. But Koch has shown a good ground game in his career, winning seven of his 10 fights by way of submission.
Rivera is a heavy-handed striker who is an unknown. Three of his five wins have come via KO/TKO, and all of those have come under a minute.
The clash in styles could lead to an exciting war. Despite the change in the fight, it still could be a potential fight of the night.
Prediction: Koch by submission in round 2
Joseph Benavidez (right) looks to get another title shot
Joseph Benavidez (12-2, 4-2 WEC) vs. Wagnney Fabiano (14-2, 4-1 WEC)
Benavidez is an inury replacement for former WEC Bantamweight Champion Brian Bowles.
Benavidez enters the fight coming off a tough split-decision loss to Dominik Cruz in a fight for the WEC Bantamweight Title at WEC 50 in August. In fact, the only two losses in Benavidez' career have come to Cruz.
Benavidez also holds wins over Miguel Torres and Jeff Curran.
Fabiano comes into the fight having won two in a row and 10 of his last 11 since the start of 2007. He last competed at WEC 49 in June, where he defeated Frank Gomez by uanimous decision.
The only blemish on Fabiano's WEC career was an upset submission loss to Mackens Semerzier at WEC 43 in October 2009.
Benavidez comes from the Team Alpha Male camp, while Fabiano comes from the Team Nogueira camp, and also has trained with Renzo Gracie in the past.
Benavidez is a combination wrestler and kickboxer who likes to keep the fight standing, but has that wrestling ability to fall back on. He likes to control the pace and has excellent cardio.
Fabiano is dangerous on the ground, being a third-degree Brazilian Jiu-Jitsu black belt. But he also has a proficient striking ability and is a well-rounded mixed martial artist.
This fight has some fireworks in the making, and could be a striking display.
Prediction: Benavidez by decision
Damacio Page (pictured) and Demetrious Johnson open the televised portion of the card
Damacio Page (12-4, 3-1 WEC) vs. Demetrious Johnson (7-1, 1-1 WEC)
With the possibility of there being a limited number of roster spots when the WEC merges with the UFC, this could be a do-or-die fight for both men.
This will be the first time Page has competed since October 2009, as he has been hampered by injuries. But he does come in looking for his third consecutive win, with his prior two wins over Will Campuzano and Marcos Galvao coming in a combined 1:20.
Page was originally scheduled to face Eddie Wineland. But an injury forced Wineland out, and Johnson stepped up on short notice.
It marks a quick turnaround for Johnson, who is coming off a win over Nick Pace at WEC 51 in late September.
Page trains at Jackson's Submission Fighting in New Mexico under renowned coach Greg Jackson, and utilizes a well-balanced game.
Johnson is an undersized bantamweight fighter, who finished people early in his career. But both of his fights since joining the WEC have gone to the judges.
Page is going to look to use his size advantage and avoid Johnson's kickboxing game. Johnson is going to have to hope the size disadvantage doesn't work against his favor.
Prediction: Page by TKO in round 2
Raphael Assuncao (right) looks to end a two-fight skid
Raphael Assuncao (14-3, 2-2 WEC) vs. LC Davis (16-3, 3-1 WEC)
This could be a potential win-or-get-cut bout as both men are in need of a win here.
Assuncao is coming off two straight losses—to Diego Nunes at WEC 49 and Urijah Faber at WEC 46—and a third loss in a row could spell the end for him and no chance at fighting in the UFC.
Prior to those two losses, Assuncao had won 14 of his 15 professional fights, including wins over Yves Jabouin and Jameel Massouh in the WEC. He also holds a win over UFC standout Joe Lauzon.
Davis comes into the fight off of a loss to the featherweight division top contender Josh Grispi at WEC 49, his first loss in the WEC. Davis won his first three WEC fights, over Deividas Taurosevicius, Diego Nunes and Javier Vazquez.
He is looking to get back on the winning track and a shot to fight in the UFC.
Assuncao holds a black belt in Brazilian Jiu-Jitsu, but has shown a tendency to want to stand and brawl. Davis is the more technical striker, and is going to have to exploit his slight reach advantage.
For Davis to win, he's going to have to rely on a stick-and-move strategy, choosing his shots and getting out quick.
This fight has the potential to be a war, and is a potential fight of the night contender.
Prediction: Davis by decision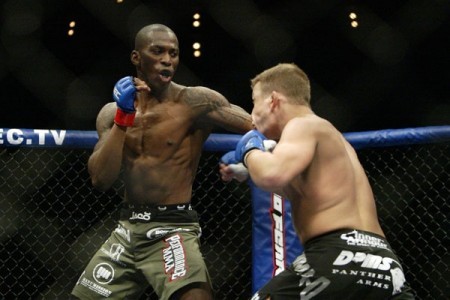 Anthony Njokuani (left) is in a must-win situation
Anthony Njokuani (12-4 1 NC, 3-3 WEC) vs. Edward Faaloloto (2-0, 0-0 WEC)
Njokuani is an exciting fighter who comes into the fight with his back against the wall, having lost his previous two fights to Maciej Jewtuszko at WEC 50 and Shane Roller at WEC 48.
Those two losses came after a three-fight winning streak, featuring TKO wins over Chris Horodecki, Mushin Corbbrey and Bart Palaszewski, all of which won Knockout of the Night honors.
Njokuani's other two career losses have come to Ben Henderson and Donald Cerrone, so he's lost to guys at the top of his division.
Faaloloto makes his WEC debut here in his third professional fight, having fought for the X-1 promotion in his home state of Hawaii.
Faaloloto has an interesting story, having been stabbed and shot before he entered into fighting. Faaloloto trains under UFC veteran Chris Leben and is still developing his game.
He is very green, and this could be a bad matchup for him.
Njokuani is going to have to use his exciting muay thai and avoid mistakes, and he has the ability to end the fight with one shot.
Prediction: Njokuani by TKO in round 1
Zach Micklewright (pictured) looks to rebound from a loss
Zach Micklewright (7-1, 1-1 WEC) vs. Dustin Poirier (7-1, 0-1 WEC)
This could be another "loser-leaves-town" bout, as both fighters are coming in off a loss.
Micklewright last competed at WEC 50 in August, losing by knockout to Bart Palaszewski. That loss followed seven wins to start his career, including a win over Mushin Corbbrey in his WEC debut at WEC 45.
Poirier also last competed at WEC 50, losing by decision to Danny Castillo. Poirier, much like Micklewright, started his career 7-0 before suffering his first loss in his eighth fight.
Mickleweight trains out of Iowa at the Miletich Fighting Systems, while Poirier trains out of Louisiana.
Both fighters are relatively raw on their feet. But if the fight goes to the ground, expect a battle down there, as both like to keep working on the ground.
Micklewright is more comfortable standing and trading than Poirier is, while Poirier likely has the advantage on the ground and is more willing to go for submissions.
This also has potential to be a fight of the night contender.
Prediction: Micklewright by decision
Michael McDonald (pictured) makes his WEC debut against Clint Godfrey
Clint Godfrey (11-2, 0-1 WEC) vs. Michael McDonald (10-1, 0-0 WEC)
Godfrey competes for the first time since a decision loss to Wagnney Fabiano at WEC 46 in January.
He had been scheduled to fight at both WEC 49 and WEC 51 before injuries and staph infection forced him out of those previously scheduled bouts.
McDonald is a highly-touted acquisition making his WEC debut here and holds wins over former WEC Featherweight Champion Cole Escovedo and former WEC Bantamweight Title challenger Manny Tapia. McDonald has finished every opponent of his in his 10 wins, with seven wins by KO/TKO and three by submission.
Godfrey is a purple belt in Brazilian Jiu-Jitsu and seems to have the better wrestling and better ground control of the two fighters, and is a scrappy fighter in his own right.
McDonald holds the edge in the standup and is going to have to keep a good distance between them in the standup to avoid running into a hook from the southpaw Godfrey, who will also look to utilize his muay thai.
This has the makings of being another exciting fight and is also a potential fight of the night contender.
Prediction: McDonald by decision
Cub Swanson (left) looks to start a new winning streak
Cub Swanson (14-4, 4-3 WEC) vs. Mackens Semerzier (5-2, 1-2 WEC)
This is another fight featuring guys fighting for a shot in the UFC, with the loser likely heading back to the smaller shows.
Swanson has been chosen to fight the big guns in his WEC career and always brings a fight. He last competed at WEC 50, losing by decision to Chad Mendes.
That followed a submission victory over John Franchi at WEC 44. Swanson also suffered a loss to now UFC Featherweight Champion Jose Aldo at WEC 41 in a highlight-reel double flying knee knockout.
Semerzier comes into this fight looking to stop a two-fight skid. He debuted in the WEC in spectacular fashion, beating world-renowned submission specialist Wagnney Fabiano by submission at WEC 43 in October 2009 in a huge upset.
But Semerzier followed that up with the two losses to Deividas Taurosevicius and Javier Vazquez, and his back is against the wall.
Semerzier holds a brown belt in jiu-jitsu, while Swanson comes from the famed Greg Jackson camp, and mixes a kickboxing and jiu-jitsu approach.
Swanson is going to have to be more aggressive and mix his strikes and keep it on the feet for him to have a chance to win. If the fight goes to the ground, Semerzier is going to have to find ways to keep Swanson from slipping it back to a striking game, and utilize his advantage on the ground.
Prediction: Swanson by TKO in round 3
Yves Jabouin (pictured) and Brandon Visher open the night's action
Yves Jabouin (14-6, 0-2 WEC) vs. Brandon Visher (13-1, 1-1 WEC)
The night's opening bout is also important to both men's careers as it's another likely win or return to the smaller shows fight.
Jabouin is looking to right a two-fight losing streak, suffering defeats to Mark Hominick at WEC 49 and Rafael Assuncao at WEC 43.
Visher is looking to rebound from a TKO loss to Tyler Toner at WEC 48, which followed a win over Courtney Buck at WEC 45 in his promotional debut.
Jabouin comes from the Zahabi MMA camp, home of such notable fighters as Georges St.Pierre, Patrick Cote, Kenny Florian and Miguel Torres, while Visher trains in his native home of Hawaii.
Jabouin is an exciting fighter who mixes his kicks and punches well. He is excellent at defending takedowns, using his quickness and raw athleticism.
Visher also is good on his feet and has quick strikes as well and is going to have to dictate the fight on the feet, and maybe mix in a takedown to control the pace of the fight.
Jabouin can find ways to finish the fight from anywhere. So if Visher is able to dictate how the fight goes and control the cardio game, it could prove to be a successful night for Visher.
This opening fight should dictate how the night of fights goes, and is a potential fight of the night contender.
Prediction: Visher by TKO in round 2
The Pearl At The Palms hosts WEC 52
There you have it.
Once again, WEC 52: Faber vs. Mizugaki comes live from The Pearl at The Palms Casino and Resort from Las Vegas, Nev., this Thursday, Nov. 11, live on Versus.
It's shaping up to be an exciting night of fights. Here is the card rundown with betting odds.
MAIN CARD
Urijah Faber (-365) vs. Takeya Mizugaki (+305)
Chad Mendes (-300) vs. Javier Vasquez (+250)
Eric Koch (-500) vs. Francisco Rivera (+300)
Joseph Benavidez (-300) vs. Wagnney Fabiano (+220)
Damacio Page (-500) vs. Demetrious Johnson (+300)
PRELIMINARY CARD
Raphael Assuncao (+135) vs. LC Davis (-165)
Anthony Njokuani (-500) vs. Edward Faaloloto (+305)
Zach Micklewright (-130) vs. Dustin Poirier (+105)
Clint Godfrey (+115) vs. Michael McDonald (-145)
Cub Swanson (-260) vs. Mackens Semerzier (+205)
Yves Jabouin (+190) vs. Brandon Visher (-250)
Enjoy the fights everyone.