Edwin Rodriguez, Florida Marlins: New Icon in Puerto Rico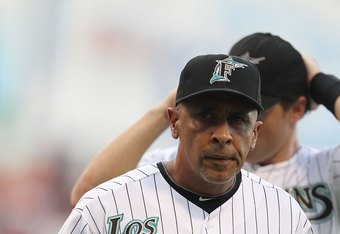 Al Bello/Getty Images
Edwin Rodriguez is the new icon in Puerto Rico.
It does not matter he was re-signed by the Florida Marlins for only one year.
In his native Puerto Rico, all prayers by most baseball followers are already in his favor he could take the Marlins next season for its first playoff appearance since its 2003 World Championship.
Rodriguez became the first Puerto Rican manager in the major leagues when he took the job on an interim basis on June 23, replacing the fired Fredi Gonzalez.
Later on during its hometown San Juan Series against the New York Mets owner Jeffrey Loria gave him the news that he was his man to finish at the helm for the remainder of the season.
Even though he finished with a personal 46-46 record, nowadays his name is in the company of such local heroes as Ivan "Pudge" Rodriguez, Carlos Beltran, Jorge Posada and Yadier Molina.
He is as big as such local greats Roberto Clemente, Orlando Cepeda, Roberto Alomar, Edgar Martinez and Bernie Williams
Last week his Florida Marlins shirt used in his first game as skipper was adhered in the baseball aisle of Puerto Rico's Sports Hall of Fame Museum.
In the ceremony he mentioned he is looking to push his team to win at least 95 games next season.
Rodriguez believes if all pitching and batting goes right, the Marlins truly could be a contender in its East Division and its National League overall.
Rodriguez will really know how good will be his Marlins next April. In the mean time his enjoying his celebrity status specially in his home country.
For those history buffs these are the best of the best of Puerto Rico in history in Major League Baseball.
Batting Average
Roberto Clemente .317
Edgar Martinez .312
Roberto Alomar .300
Jose Vidro .298
Ivan Rodriguez .298
Hits
Roberto Clemente 3,000
Ivan Rodriguez 2,817
Roberto Alomar 2,724
Orlando Cepeda 2,351
Bernie Williams 2,336
Doubles
Ivan Rodriguez 565
Edgar Martinez 514
Roberto Alomar 504
Carlos Delgado 483
Bernie Williams 449
Triples
Roberto Clemente 166
Jose Cruz 94
Roberto Alomar 80
Dave Martinez 72
Carlos Beltran 67
Home Runs
Carlos Delgado 473
Juan Gonzalez 434
Orlando Cepeda 379
Edgar Martinez 309
Ruben Sierra 306
Runs Batted In
Carlos Delgado 1,512
Juan Gonzalez 1,404
Orlando Cepeda 1,365
Ruben Sierra 1,322
Ivan Rodriguez 1,313
Runs Scored
Roberto Alomar 1,508
Roberto Clemente 1,416
Bernie Williams 1,366
Ivan Rodriguez 1,340
Carlos Delgado 1,241
Total Bases
Roberto Clemente 4,492
Ivan Rodriguez 4,411
Roberto Alomar 4,018
Carlos Delgado 3,976
Orlando Cepeda 3,959
Slugging Percentage
Juan Gonzalez .561
Carlos Delgado .546
Edgar Martinez .516
Orlando Cepeda .499
Danny Tartabull .496
On-Base Percentage
Edgar Martinez .418
Carlos Delgado .383
Bernie Williams .381
Jorge Posada .377
Roberto Alomar .371
Stolen Bases
Roberto Alomar 474
Julio Cruz 343
Jose Cruz 317
Carlos Beltran 289
Santos Alomar 227
Games Played
Ivan Rodriguez 2,499
Roberto Clemente 2,433
Roberto Alomar 2,379
Jose Cruz, padre 2,353
Ruben Sierra 2,186
Wins
John Candelaria 177
Javier Vazquez 152
Juan Pizarro 131
Jaime Navarro 116
Joel Piñeiro 97
ERA
John Candelaria 3.33
Guillermo Hernandez 3.38
Juan Pizarro 3.43
Roberto Hernandez 3.45
Eduardo Figueroa 3.51
Saves
Roberto Hernandez 326
Guillermo Hernandez 147
Edwin Nuñez 54
Ramon Hernandez 46
Luis Arroyo 44
Games Pitched
Roberto Hernandez 1,010
Guillermo Hernandez 744
J. C. Romero 628
John Candelaria 600
Juan Agosto 543
This article is
What is the duplicate article?
Why is this article offensive?
Where is this article plagiarized from?
Why is this article poorly edited?

Miami Marlins: Like this team?