Pittsburgh Steelers: Mike Tomlin To Blame for Loss To New Orleans Saints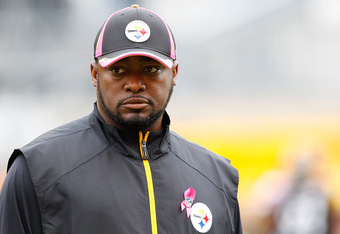 Jared Wickerham/Getty Images
I have read numerous articles here on Bleacher Report and other places, all placing the blame for the Pittsburgh Steelers' loss to the New Orleans Saints on various people; especially offensive coordinator Bruce Arians. I am here to tell you folks, you are barking up the wrong tree.
Don't get me wrong, I am not saying for a single second that Arians is blameless. Actually, his play calling is beyond horrible. As a matter of fact, rumors following the 2009 season had the Steelers parting ways with Arians, and for some strange reason, they didn't.
As a father, I have two kids. One just turned 21 (Happy Birthday, Anthony!), and my daughter is nine. When Anthony was growing up, we did not try to get him to do things that we knew he could not. We do the same thing with our daughter.
Why won't Mike Tomlin realize that Bruce Arians, with all good intentions, is not capable of creating a successful game plan?
The Steelers, with first and goal inside the 1-yard line, ran the same play three times in a row. Dive, off the right tackle.
Three times. In a row.
First play: loss of a yard. Second play: gain of a yard. Third play: loss of a yard. Fourth play: Field Goal.
This is UNACCEPTABLE. By any standards. But, this is NOT the fault of Bruce Arians. At any point, of any game, Mike Tomlin can over rule any call by Arians, simply by saying so. So, either Tomlin allowed Arians to call the same play, or he told him to call the same play. Either way, the blame is on Tomlin.
Can someone PLEASE explain to me, when you are literally inches away from the end zone, and you have a quarter back that is 6-foot-5, 245 lbs, who has no problem making contact, how you do not run a QB sneak?
OH, but the offense is not the only guilty party for the loss to the Saints. MUCH of the blame of this game goes on Dick LeBeau and the defense.
I have another question for anyone that has an answer: Is there a reason that the Steelers have not sent a blitz in the last three games? The Steelers dominated the first three games of the season this year, with an array of blitzes that reminded me of the days of Kevin Greene and Greg Lloyd.
What happened to that?
The Steelers' once ferocious defense has looked more like a lamb in the last few weeks. Instead of going all out against Colt McCoy of the Cleveland Browns, the Steelers dropped back, allowing him to throw the ball without running for his life.
My excuse at the time was they didn't want to show their blitzes with the important games against the Saints, Bengals and Patriots on the horizon.
Well, one down, and the Steelers are 0-1.
And ENOUGH of the prevent defense. There is an old saying: You either play to win, or you lose. The Steelers, once they get a lead, drop everyone deep, and allow the offense to pick apart their defense.
Wonder why the Steelers' pass defense is ranked 21st against the pass? Players like Drew Brees and Tom Brady, if allowed to sit back and have time, will destroy a prevent defense.
If the Steelers want to be more then just a great regular season team, they had better start doing something about the prevent.
Please, don't think I am putting the blame for this on Dick LeBeau. Yes, LeBeau has a lot to do with it, but, once again, the blame falls on the shoulders of Mike Tomlin.
LeBeau has the liberty to call what he chooses, but if Tomlin does not want to run the prevent, the Steelers don't run the prevent. If Tomlin wants to blitz more, the Steelers WILL be blitzing more.
Unleash the dogs, release the hounds, send everything at them, INCLUDING the kitchen sink. DON'T just play back on your heels and allow teams to stay in games they have no business being in.
Now that takes us to special teams. Even though the Steelers' special teams are much improved over last season, they still have a long way to go.
Emmanuel Sanders will one day be a serious threat. He has the potential to break one any time he gets his hands on it. The problem is, he can not keep his hands on it. In the last two games, Sanders has fumbled TWICE on kick off returns. Also unacceptable. Stefan Logan fumbled one time last season, and the game was already over at that point.
Antonio Brown needs to be on the active roster for kickoffs, if nothing else. Sanders is not playing like Mike Wallace did his rookie season, and Brown would give the Steelers the ability to go the distance.
Jeff Reed—ENOUGH! I don't know if you need to get glasses, or start drinking before the games, but for being paid franchise money, you can not miss the kicks you are missing.
These two issues: Sanders/Brown and Reed, are ALL the fault of Mike Tomlin. Who chooses who is on the active roster? Tomlin. He has the final say. Every time Sanders fumbles, or Reed misses a kick, don't blame them. Blame Tomlin.
Tomlin could have brought in kickers to challenge Reed. He could take a lesser receiver to allow a better kick off returner. He does not, because he chooses not to.
All of this being said, I still think Mike Tomlin is a great coach, but he needs to step up now, and make the hard decisions. He needs to strip Arians of his play calling ability, and give it to ANYONE. And if he can't find someone that can do it, then he needs to do it.
Tomlin MUST tell LeBeau that he has to start to attack instead of waiting for the play to come to them. The defensive talent of the Steelers could be better than any other team in the NFL. But if we don't use it, what's the point of having it?
At 5-2, the Steelers are still in control of their future. But with two big games in the next two weeks, Mike Tomlin needs to wake up and allow the Steelers to be the Steelers.
If he doesn't, the Steelers could be looking at life outside the playoff tournament again this year.
This article is
What is the duplicate article?
Why is this article offensive?
Where is this article plagiarized from?
Why is this article poorly edited?

Pittsburgh Steelers: Like this team?