LSU Football: Signs of Optimism and Concern Following the Auburn Loss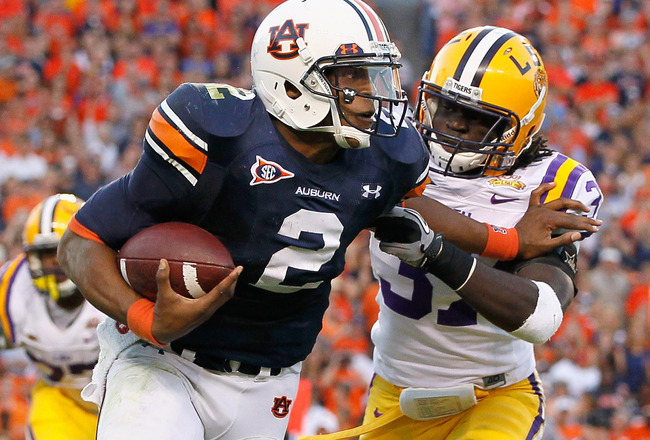 Kevin C. Cox/Getty Images
With the questions that have surrounded the LSU Tigers throughout the 2010 season finally catching up to them against the Auburn Tigers, the next two weeks will be an uneasy period for the members of Tiger Nation.
LSU is of course in the midst of its' bye week, before the much anticipated matchup against former LSU and current Alabama Head Coach Nick Saban's Crimson Tide.
While the dreams of an SEC Championship have taken a dramatic loss thanks to the unbelievable play of Auburn QB Cam Newton, all is not lost for LSU.
In mind of those who have been waiting for the Tigers to fail, comes both the signs of optimism and concern for the Tigers moving forward.


Will Les Miles and Gary Crowton Finally Learn How To Use Jordan Jefferson?
Kevin C. Cox/Getty Images
How is it possible that so many fans and media pundits have been screaming the absolute truth regarding QB Jordan Jefferson, yet the LSU coaching staff refuses to admit it.
Against Auburn, there were actual shades of finally intelligent use of Jefferson before Les Miles and Gary Crowton began to, once again, attempt to "will" Jefferson the ability to perform in a way that he simply cannot perform.
Optimism
Jefferson performed brilliantly at times with his ability to run. While not an option quarterback, Jefferson excels in spur of the moment runs, designed runs, and single back systems.
Against the Auburn defense, Jefferson rushed 16 times for a total of 74 yards and one touchdown. Jefferson also led the Tigers in yards per carry with a 4.6 ypc average.
Concern
Yet again, Jordan Jefferson showed his inadequate passing ability. Jefferson completed 7 passes on 14 attempts for a grand total of 46 yards and one interception.
To Jefferson's credit there were several drops by the receiving corps, but no one can deny that the majority of Jefferson's passes lack any signs of accuracy and often lead the receivers into uncomfortable predicaments.
Will the Offensive Play Calling Ever Improve?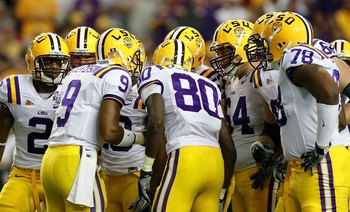 Kevin C. Cox/Getty Images
The definition of insanity is "performing the same action repeatedly and expecting different results". Apparently Les Miles and Gary Crowton have never heard of this philosophy.
Granted, the coaching staff adds new wrinkles each week (a la Spencer Ware's Halfback Pass), but in general Tiger Nation is forced to see the same mistakes every week.
Optimism
There really is not much to be optimistic about. The offensive line struggled mightily, the passing game was inept, and the running game was minimal.
There were times, especially in the first drive, that the offense was able to effectively move the ball, but missed opportunities and mistakes resurfaced.
Concern
By this point in the season, there should be some signs of improvement. There have been none for the Tigers offense.
RB Stevan Ridley has been efficient, but his lack of use (12 attempts) against Auburn was troublesome. Tiger Fans who are hoping to see any improvement should be disappointed for the remainder of the season.
Gratuitous Jarrett Lee Statement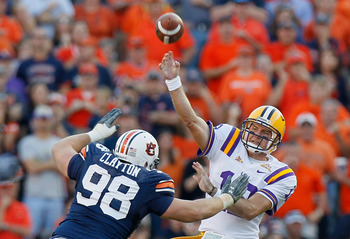 Kevin C. Cox/Getty Images
QB Jarrett Lee completed 8 of 14 attempts for 43 yards. Lee looked effective before landing awkwardly on his passing arm in the first half.
Lee returned in the second half, but it was extremely apparent that his wrist injury severely limited his abilities.
Optimism
Lee was able to return in the second half, as stated, so the injury should heal in time for the game against Alabama.
Concern
Despite the ongoing cries from fans and media alike, Les Miles seems to have an obvious aversion to allow Jarrett Lee the opportunity to operate under center on a full time basis.
Tiger Nation should effectively see the definition for insanity and take note.
Glass Half Full Or Half Glass Empty Defensive Performance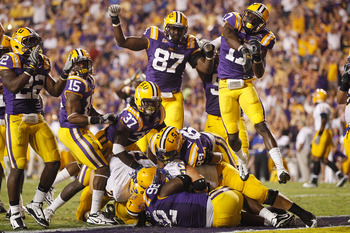 Chris Graythen/Getty Images
Being a strong John Chavis supporter, it is hard to criticize his defensive play calling. That being said, the lack of aggressiveness in favor of a bend but don't break approach was troubling.
Granted Cam Newton performs well against the blitz, but the Tigers lack of any pressure coupled with poor tackling was a recipe for disaster.
Optimism
While Cam Newton tallied a season high 217 yards rushing against the SEC's leading rush defense, the Auburn offense did not have the offensive explosion where it truly matters.
Holding the vaunted Auburn offense to a total of 24 points, and having the game within reach in the fourth quarter was an impressive feat.
Concern
The tackling was poor and the vaunted LSU run defense withered. Cam newton's 217 rushing yards were just a portion of Auburn's 440 total rushing yards.
With Alabama RB's Mark Ingram and Trent Richardson coming to Baton Rouge in two weeks, this should be the number one priority for improvement, and a return the defensive style Tiger Nation had witnessed in the prior weeks.
The SEC West Crown Is Yet To Be Decided
While Auburn is clearly in the driving seat for the SEC West title as of now, the season is far from over. LSU will need to win out in the remaining schedule and hope for Auburn lose 2 of their remaining schedule for a return trip to Atlanta.
Auburn's Remaining Schedule:
at Ole Miss
vs Chattanooga
vs Georgia
at Alabama
While the likelihood of Auburn losing two of the next four is slim, it is not impossible.
As for LSU, even in the worst case scenario, if LSU were to win out they would almost certainly be an at-large bid for a BCS game.
Luckily for the Tigers, 3 of the next 4 games are in the comfort of "Death Valley", with only a trip to Little Rock against Arkansas away.
Keep Reading

LSU Football: Like this team?