College Football Top 10 Scoring Offenses: Gentlemen, Start Your Engines
Jonathan Ferrey/Getty Images
While Defense might win championships, a high-powered Offense can do more than make things interesting! In fact, going into the Week 8 schedule, the Top 10 Total Defense teams are a combined 55-8 and the Top 10 Scoring Offenses are doing even better (58-6)…and half of those six defeats come from one team.
10. Houston (3-3): 38.67 Pts Per Game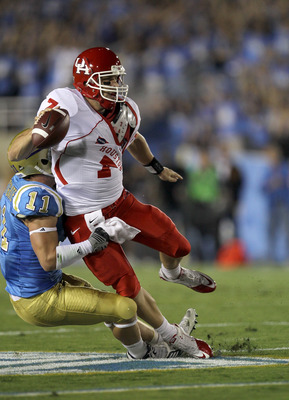 Stephen Dunn/Getty Images
Playing four QBs (because of a rash of injuries) in a season would shut down most offenses. Not Kevin Sumlin's Cougars. They continue to put points on the board in bunches. While Houston is definitely known for being an aerial attack, they have actually scored one more rushing TD (15) this season than passing (14). RB Bryce Beal leads the team with 10 Rushing TDs
9. Ohio State (6-1): 39.57 Pts Per Game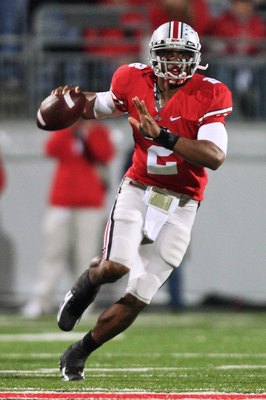 Jamie Sabau/Getty Images
This is not your Grandfather's OSU Offense. Long gone are the days of "Three yards and a cloud of dust." Believe it or not, Jim Tressel's Buckeyes, so far this year, are scoring more through the air (17 TDs) than on the ground (16). When you have Terrell Pryor at the controls, you have a chance to score anytime from anywhere on the field.
8. Nevada (6-1): 39.86 Pts Per Game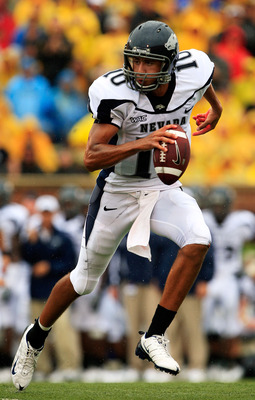 Jamie Squire/Getty Images
Most teams that put 40 points per game on the board are easily the highest scoring team in their conference. But, when you play in the WAC with Boise, forty is great for a runner-up. Chris Ault's Wolfpack run the ball almost two-thirds of the time. Not too many teams can brag about having two players in the Top 30 in the Nation in rushing and Top Ten in scoring, Vai Taua and Colin Kaepernick (and he's the QB).
7. TCU (7-0): 40.14 Pts Per Game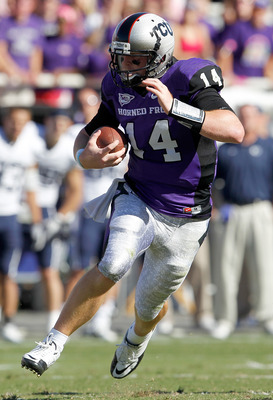 Tom Pennington/Getty Images
The Horned Frogs have always been one of, if not, the best defensive teams. Head Coach Gary Patterson has seen to it that TCU is going to apply pressure from both sides of the ball. Like Nevada, TCU's play-calling is definitely weighted towards the run (65% to 35% passing). How they've scored their 36 TDs is at that same proportion. Andy Dalton may be one of the best-kept-secret Dual-Threat QBs in the country.
6. Auburn (7-0): 40.71 Pts Per Game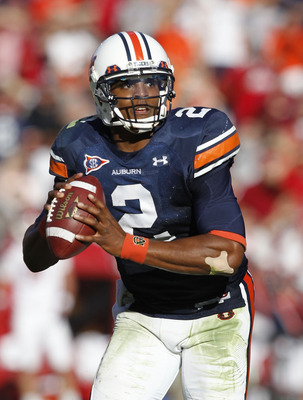 Mike Zarrilli/Getty Images
Even back to the days of Bo, the Tigers have been a smash-mouth football team. What has changed is that the person running the ball most often is 6'6" 250 lb QB, Cam Newton. Head Coach Gene Chizik doesn't mind letting Newton carry the pigskin – he's the eleventh leading rusher in the nation. But he has also thrown 13 TDs.
5. Stanford (5-1): 43.33 Pts Per Game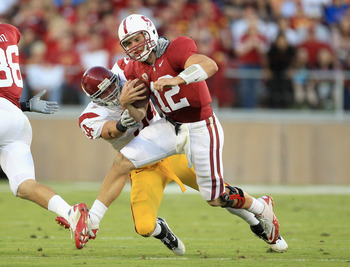 Ezra Shaw/Getty Images
Last year, with Toby Gerhart running over opponents, the Cardinal scored 38 rushing TDs and 14 passing TDs. Many wondered how Jim Harbaugh's Offense would fare this season. So far, they have done outstanding, and they have changed styles to fit their personnel. With Andrew Luck behind center for his sophomore year, Stanford has already scored more times through the air (16 TDs) then they did all last season.
4. Utah (6-0): 45.83 Pts Per Game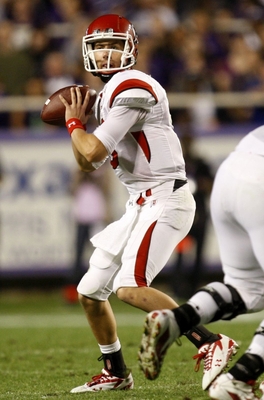 Ronald Martinez/Getty Images
The first half can't come to an end soon enough for the teams that play Utah. Head Coach Kyle Whittingham's Offense has outscored their opponents in the 2nd Quarter 117-7. The Utes have a balanced attack scoring 16 TDs on the ground and 15 through the air. And it's not just one player that's doing it all: Eleven different players have scored at least a TD so far this season.
3. Boise State (6-0): 47.50 Pts Per Game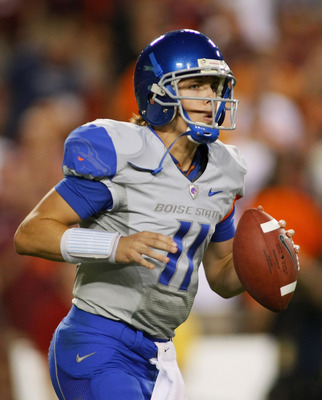 Geoff Burke/Getty Images
It's hard to believe that the Broncos Defense (#1 - Opponents Total Yards) is ranked higher than the Broncos high-octane Offense (#3 in scoring). Chris Petersen's Offense proves that you can run the ball a lot and score a lot. Kellen Moore is the nation's leading QB in passing efficiency and that has translated into an avalanche of points.
2. Oklahoma State (6-0): 49.50 Pts Per Game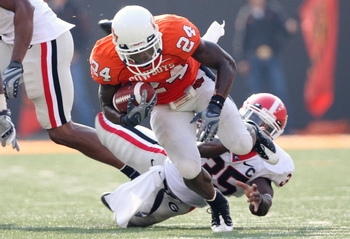 Christian Petersen/Getty Images
Coach Mike Gundy is not only Man, but he knows how to recruit offensive weapons and put points on the board. The Cowboys have the nation's best receiver in Justin Blackmon and an exceptional runner in Kendall Hunter. To top it off, Brandon Weeden is the Big 12's highest rated QB.
1. Oregon (6-0): 54.33 Pts Per Game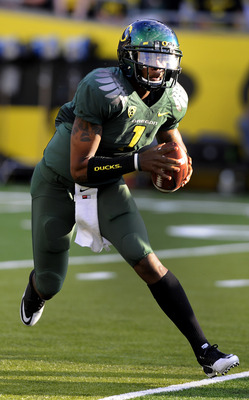 Steve Dykes/Getty Images
The Ducks are flying, and flying high! Very few teams will score over fifty points in a given game. Chip Kelly's squad averages more than "half-a-hundred" per game. Some of the Pac-10 Men's Basketball teams may not score as much as this amazing unit. So many weapons, so much speed. It's hard to keep up with the multiple ways that Oregon will come at you. Some of the Eugene locals wondered how things were going to be in the post-Masoli era. Darron Thomas has done a fantastic job. As good as LaMichael James was as a freshman, he's even better in his sophomore year.
The only team that can stop the Ducks is the Ducks. If they get careless with the ball, lots of crazy things can happen. But, aside from the possibility of mental mistakes, this Oregon Offense is the realest of real deals.
Keep Reading