College Football Rankings: Missouri vs. Oklahoma for Big 12 Conference Dominance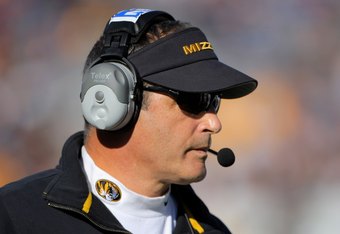 Doug Pensinger/Getty Images
Will Mizzou be able to move the mountain that is Oklahoma?
You won't have to go through the Ozarks to see it.
For the first time ever, this Friday and Saturday (Oct. 23), ESPN's College Game Day will broadcast from the University of Missouri campus.
Homecoming festivities will be in full swing.
The Tigers will host the Sooners for the annual game that has been dominated by OU. Kickoff is set for Saturday at seven o'clock under the stars at Faurot Field in Columbia.
The Sooners come in ranked No. 1 in the BCS Standings, Mizzou is 11th. The two teams have identical records (6-0, 2-0 Big 12).
Missouri has played what some would call the little sister's of the poor schedule while Oklahoma has already faced Florida State and Texas.
Illinois, McNeese State, San Diego State, Miami (OH), Colorado and Texas A&M have all fallen victim to the Tigers this season.
Not bad.
Except they have only had one game on the road so far. They still have to go to Nebraska and Texas Tech.
The Sooners are ranked third in the Coaches Poll while the Tigers are ranked 16th.
Is this year's version of the Tigers ready for the physical nature of elite Big 12 football? Oklahoma will test them with a punch-em-in-the mouth technique to see how they respond.
On offense Mizzou is a finesse team that lives and dies by the passing of 6' 5", 235 pound junior Blaine Gabbert from Ballwin. He finished second in the Big 12 with 3,593 passing yards and had 24 touchdowns as a super sophomore. This season he is averaging over 230 yards in every game.
Oklahoma is ranked No. 20 in college passing offense and Missouri is 32.
The Tigers keep a solid group of receivers and dual threat quarterbacks, and the catch-and-run style of the spread offense has taken the program to new heights.
Alumni Jeremy Maclin is performing well in the NFL with Michael Vick and Kevin Kolb.
Brad Smith with the Jets was Mizzou's record setting quarterback before Chase Daniel went on to star on the depth chart behind Drew Brees.
Two Tigers have 49 and 50 receptions each: junior tight end Michael Egnew and sophomore receiver TJ Moe ala Wes Welker of the Big 12.
Wes Kemp is a 6' 4", 220 pound junior receiver from Saint Louis who has NFL talent. He has 23 receptions and is virtually unstoppable on smoke screens in the red zone.
On the other side, Oklahoma receiver Ryan Broyles has 61 receptions.
He will be thrown to by Landry Jones, a 6' 4", 219 pound sophomore who is the "grasshopper" character who learned under current Rams quarterback master Sam Bradford. Jones has already thrown for over 1,700 yards for 14 touchdowns.
Oklahoma is ranked 20th in college football passing offense and Missouri is 32.
How will the Sooners tailbacks fare against the mighty Tigers?
Under defensive coordinator Dave Steckel, Missouri has the sixth ranked defense in the nation. Oklahoma sits at 13th in total defense.
The Tigers have the talent and scheme to shut the Sooners entire offense down.
Mizzou had gone six consecutive quarters of Big 12 play without allowing a point until A&M got a field goal on the last play of the third quarter last week. It was a 30-9 victory for the Tigers in College Station, the fourth victory for them over A&M in the last five tries.
Sophomore defensive lineman Brad Madison had three sacks by the third quarter.
The Tigers are four-deep at corner back this season and can match most college wide receivers one-on-one. Steckel leaves them on islands and allows the blitz to go bananas.
Anchored by 6' 1", 200 pound sophomore Kip Edwards from Arlington, Mizzou has its best group of corner backs since the Eric Wright era.
Who will do things right and win this hyped battle of Big 12 unbeatens?
The rushing game will be important.
According to ESPN.com, Oklahoma is ranked 65th in college football rushing offense while Mizzou is ranked number 87th out of 120 teams.
Running back DeMarco Murray is the career touchdowns leader at OU.
Missouri employs a running back committee led by Kendial Lawrence, but the passing game keys the run in the spread offense most times.
Oklahoma State is the only other Big 12 team remains undefeated.
All three teams are former members of the Big Eight Conference that merged with the Southwest Conference to create the Big 12.
This game comes down to these 12 points, or maybe to these two.
1. The Tigers will gain chunks of yards and score some points if the line can keep their kin Blaine Gabbert with a clean pocket.
2. The running game has to keep the Sooners honest or Mizzou has no chance.
Oklahoma is coming off a 52-0 shattering of Iowa State last week at Owen Field in Norman. The Tigers are 6-0 for the first time since 2006. They will try to be seven up to start the season for the first time ever under head coach Gary Pinkel.
Oklahoma eat, sleeps and dreams seven up straight victories under Bob Stoops. They know what it takes to beat Mizzou and they know how to do it. The Sooners have de-clawed the Tigers since the history of history.
Prediction: Oklahoma 38, Mizzou 36
This article is
What is the duplicate article?
Why is this article offensive?
Where is this article plagiarized from?
Why is this article poorly edited?

Missouri Tigers Football: Like this team?