TUF Season 12: St-Pierre Vs. Koscheck: Live Blogging the Madness Pt. V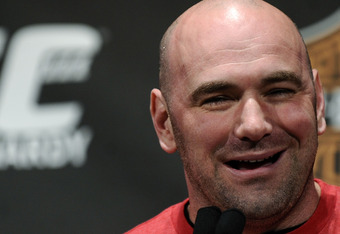 Jeff Zelevansky/Getty Images
All the photographic love has gone to the coaches on this season of The Ultimate Fighter so it's about time we showered some adoration on the man behind the Ultimate Fighting Championship's reality-show darling. You might not like UFC president Dana White, but you've at least got to respect what he's done for the organization and the sport.
For the record, he might not always put his best foot forward, but he's genuine and that's more than you can say for a lot of people in a position comparable to his. Not a particularly high bar to clear, but sadly, that's where we are.
With that possible non sequitur out of the way, let's hit a quick recap before getting onto tonight's episode—the fifth of the season.
In Episode 4, Georges St-Pierre's team continued its domination of Josh Koscheck's squad. Kyle Watson used his superior grappling and a better tank to submit Andy Main after the latter appeared to gas. For whatever reason, Main was having his way with his opponent on his feet, but seemed to fade and that opened up the take down for Watson.
From there, it was all she wrote as Main looked all too content to let the rear-naked choke sink in.
Now, Team Koscheck is down 3-0, Kos promises to be on edge, and we've got some manner of Muay Thai specialist coming in to guest coach Team St-Pierre. There are also rumors of a Chuck Liddell sighting and Alex Caceres' Bruce Leeroy act is wearing thin.
Actually, it's wearing out as far as both teams are concerned.
As Terrell Owens would say (just threw up a little bit in my mouth): "Get your popcorn ready" because this should be a spicy meatball.
Check back in about 15 minutes for the start of the festivities.
Let's just imagine GSP pounding Kos into smithereens on December 11th and close the evening on that delicious mental picture.
See you next week.
So GSP tans your hide three times in a row, carries himself like the consummate champion, and your first instinct after getting a win at last is to Stepin Fetchit like your life depends on it?
What a clown.
I have no idea how to end this because I'm so blown away by Koscheck's cowardly, hypocritical stunts after his first win. In four.
If only Semtex could've landed that cheap shot during the bout. Instead of, you know, well after it.
I find myself more and more sympathetic to poor Paul Daley.
OK, he is—one win and he's got his team in on the antics, pounding on the wall to taunt St-Pierre and Paige. It's just insanity to lose THREE fights in a row and still act like a badass when you FINALLY get win No. 1.
Josh Koscheck isn't really preening after his first win, is he?
And, yes, I'm trying to distract from the fact that...I'm an idiot.
And, I just noticed the mark on Paige's shoulder is barbed wire, which shows two things: (1) I'm an idiot, and (2) so is Spencer. Who gets a single line of barbed wire tat'd right over his left arm?
Nam Phan, on the other hand, was studly from start to finish.
I didn't like the hombre before these 10 minutes, but consider me one of the converted. He still comes off like a prick, but you've got to take your hat off to a competitor who shows his guts like that.
You gotta believe Paige is hurt relatively badly and is simply soldiering on using pure heart. Yep, that's clearly what it is—he's dinged up, not able to avoid the strikes, and he's demonstrably frustrated.
What happened to Phan in between rounds? He's come out, it seems, with exponentially more power than he had in the first as he's dropping Spencer left and right.
Back to the laceration or whatever it is—that wasn't there the whole time unless I'm crazy. And, if I'm not crazy, I've never seen anything like that—a submission leaving a mark yet not finishing the bout.
What the hell is that red line on Spencer's shoulder? That has to be from the kimura, right? Damn, now he looks to have hurt his leg on that low kick from Phan. The second round—the first went to Phan on my card, 10-9, by the way—isn't off to a good start for Team St-Pierre.
Those camera shots of Arianny's tush are hysterical—it's already the only thing in the frame and THEN they zoom! I say again, outstanding.
I'm now a little scared to eat at Burger King after that pillow/infomercial knock-off ad. If the powers-that-be thought that was a good idea, who knows what they're doing to their food.
You know, why don't we just open up the hideous insurance commercials to the general field? That Progressive nag is the worst, but—as Geico just proved—they're all pretty horrendous.
Probably behooves Phan to finish here because he's using a lot of juice to put Paige on the edge. Ugh, filthy kimura from Nam ends the round with Spencer in considerable pain. The clock says he continues, but we'll see.
That was bizarre—Paige went with another body kick after finding success there and Phan caught the kick, then threw a punch that didn't really seem to land. Nevertheless, Paige went down and looks kind of hurt as Team Koscheck's entrant rains bombs from above.
Nam wears glasses and sports no ink—making him twice the UFC novelty.
At the very least, Phan's given Spencer something about which to worry because the heretofore confident fighter is spending most of the round on the retreat. Although he's turning on the offense now, starting with a firm kick to the body.
Alright, here we go. We'll see who's "I'm a great stiker" was sincere and who was blowing smoke. So far, both scrappers are looking comfortable on their feet. Phan puts Paige down to draw first blood (not literally) and we might be looking at Team Koscheck's first victory.
I can't believe pure boxing fans will care at all if Velasquez becomes the UFC Heavyweight Champion.
Sure, a Mexican heavyweight BOXING champion would be a huge deal because the sport is so old and there's never been one. But MMA and boxing are different enough that I think the angle is a little fatuous.
This article is
What is the duplicate article?
Why is this article offensive?
Where is this article plagiarized from?
Why is this article poorly edited?