SEC Football Predictions: Foreseeing Likely Upsets For Alabama, Auburn and LSU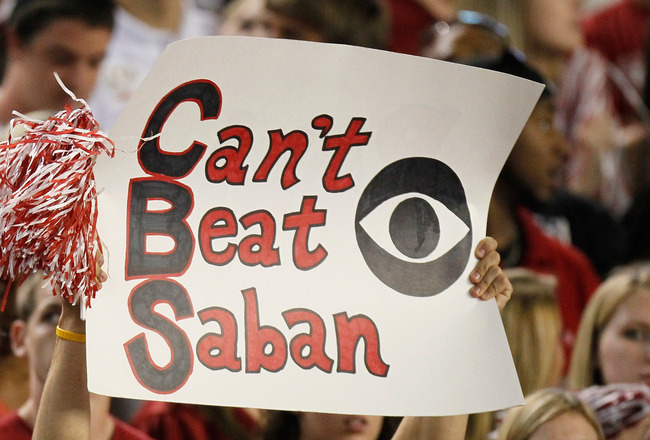 Kevin C. Cox/Getty Images
The 2010 SEC football season has been compelling to say the least. There are only three undefeated teams left through five games, and two of the three are arguably surprises of the season so far.
The SEC Eastern Division is down based on minimum expectations for the conference, whereas the Western Division has become a weekly blood-bath. All Eastern Division teams have at least one loss, but the Western has three undefeated teams.
Powerhouses such as Georgia and Tennessee are residing in the basement, but the Vols expected to be where they are. Georgia, on the other hand, has had another disappointing season, and it's not even half over yet.
Let's take a look at the last three undefeated teams, and attempt to predict if and who may give them their first loss of the season.
James Walker is a Syndicated and National Writer for Bleacher Report. You can follow him on:
Twitter - http://twitter.com/BRJamesWalker
Facebook - http://www.facebook.com/pages/James-Walker-National-Writer-for-Bleacher-Report/101809059860696
Alabama Crimson Tide

The Tide Roll Rather Easily Over The Florida Gators.

Let's face it—the Alabama Crimson Tide have the best shot and running the tables again this year.
Here is there final scores and remaining schedule along with predictions:
Alabama 48, San Jose St. 3
Alabama 24, Penn St. 3
Alabama 62, Duke 13
Alabama 24, Arkansas 20
Alabama 31, Florida 6
Alabama 28, South Carolina 24
Alabama 31, Ole Miss 14
Alabama 30, Tennessee 7
Alabama 24, LSU 14
Alabama 35, Mississippi St. 17
Alabama 62, Georgia St. 3
Alabama 28, Auburn 27
SEC Championship: Alabama 34, Florida 21
Auburn Tigers

Welcome to the Cam Newton show!

The Auburn Tigers and their junior college transfer quarterback Cameron Newton have been the surprise of the SEC this season. Newton, also formerly of the University of Florida, has been a force to be reckoned with as Auburn's opponents have quickly learned.
How far will the Auburn Tigers go before losing a game? Before we prognosticate, first let's look at their results year-to-date:
Auburn 52, Arkansas State 26
Auburn 17, Mississippi State 14
Auburn 27, Clemson 24
Auburn 35, South Carolina 27
Auburn 52, Louisiana-Monroe 3
Auburn 31, Kentucky 20
Arkansas 30, Auburn 27 - their first loss of the season
Auburn 21, LSU 20
Auburn 35, Ole Miss 20
Auburn 55, Chattanooga 7
Auburn 31, Georgia 21
Alabama 28, Auburn 27 - their second loss of the season
This is all based on the assumption that Cameron Newton does not get hurt and plays in every game. If he needs to be replaced (i.e. he decides to purchase another stolen laptop), then these predictions are off the table.
LSU Tigers

They are still learning to count past 10 at Tennessee. Give them a break.

The LSU Tigers are fortunate to have the world's luckiest man as their head coach. Seriously, is the "Mad Hatter" lucky or what?
First, the LSU Tigers season so far:
LSU 30, North Carolina 24
LSU 27, Vanderbilt 3
LSU 29, Ole Miss 7
LSU 20, West Virginia 14
LSU 16, Tennessee 14
Now the predictions for the remainder of 2010:
Florida 24, LSU 10 - first loss of the season
LSU 52, McNeese 3
Auburn 21, LSU 20 - second loss
Alabama 24, LSU 14 - third loss
LSU 55, Louisiana-Monroe 7
LSU 20, Ole Miss 17
Arkansas 24, LSU 21 - fourth loss (is this enough to cost Miles' his job?)
Keep Reading