Heisman Trophy Rankings: Who Helped Themselves the Most this Week?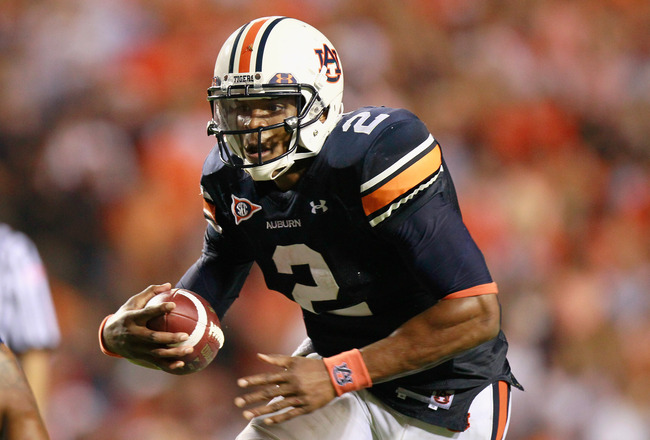 Kevin C. Cox/Getty Images
As Week 6 of the college football season has concluded, the pretenders and contenders have separated themselves from the pack, and we're now able to get a clear picture of the Heisman race for this season.
We're going to take a look at some players who took it to another level this week and propelled themselves to legitimate Heisman contenders.
Remember, these are NOT the rankings of the Heisman contenders, just the players who helped themselves the most this past week.
Brace yourself. It's about to get all Heisman up in here.
Justin Blackmon: Oklahoma State Wide Receivers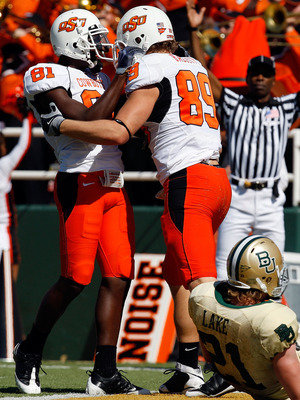 Ronald Martinez/Getty Images
Justin Blackmon has come out of the shadows of Dez Bryant, and showed that must be something in the water in Stillwater.
Blackmon, a Sophomore from Ardmore, Okla., has averaged 16 yards per reception, and is on pace for 1,600 receiving yards and a whopping 27 touchdowns.
This Cowboy showed out against Texas A&M on ESPN Thursday night with 10 catches for 127 yards and a touchdown.
Whether it is known widely or not, the Oklahoma State Cowboys are undefeated, and Justin Blackmon is making himself into a legitimate Heisman contender.
Colin Kaepernick: Nevada Quarterback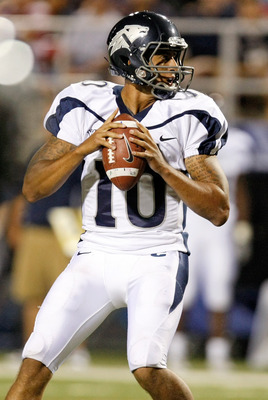 Ethan Miller/Getty Images
Kaepernick is the perfect example of a left-coast guy who just doesn't get the media attention he deserves.
Colin was 13-of-27 for 184 yards and a TD and INT, along with 97 rushing yards on 13 carries and a TD on the ground.
Then again, this is against UNLV, and well... they're terrible. However, giving Kaepernick the benefit of the doubt, he legitimately carries this team on his back and has the Wolfpack undefeated, setting up a huge battle against Boise State in the coming weeks.
Will Kaepernick realistically win the Heisman? No.
But if he runs the Wolfpack undefeated and beats everyone he faces. then I easily can see Colin being in the conversation.
Cameron Newton: Auburn Quarterback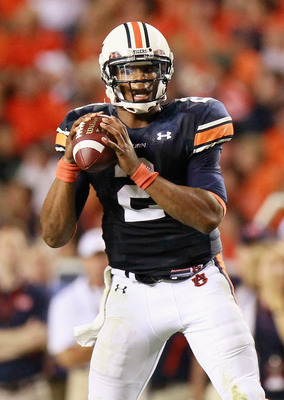 Kevin C. Cox/Getty Images
Is that Superman I see?
Nah, it's just Cam Newton!
This guy has been nothing short of phenomenal for Gene Chizik and Tiger Land, as he's propelled Auburn to the top 10, something this program hasn't seen since the glory run under Tommy Tuberville with Jason Campbell, Ronnie Brown, and Cadillac Williams.
Newton was 14-of-19 for 245 yards passing and three touchdowns in the Tigers' smackdown of Louisiana-Monroe.
Imagine this: An undefeated Auburn Tigers team behind Cam Newton taking on an undefeated Alabama team in the Iron Bowl at seasons end to decide who wins the SEC West...
If Newton continues to lead Auburn as he does, he is a legitimate contender for this award.
Denard Robinson: Michigan Quarterback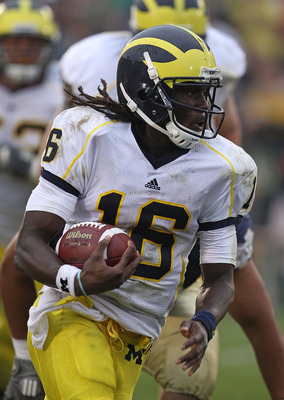 Jonathan Daniel/Getty Images
What can't this guy do?!
Robinson is topping everyone's Heisman charts, as he rightfully should, and doesn't seem to be letting up at all.
Robinson was 10-of-16 for 277 passing yards and three touchdowns, along with 19 carries for 217 yards and two more touchdowns on the ground.
Those stats are gaudy... What more do you want of a guy?
He's led his team to an undefeated season, he's having a season that will set numerous records, and he looks like he's here to stay.
This guy is like Pat White and Vince Young combined, and he's showing no signs of letting up.
LaMichael James: Oregon Running Back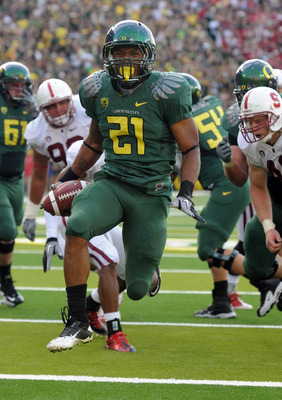 Steve Dykes/Getty Images
The Little Engine that Could... That describes the 5-foot-9, 185-pound Oregon running back that absolutely murdered a Stanford team that many analysts deemed 'prime' to upset the No. 4-ranked Ducks.
James had something to say to all the naysayers, and he let his play on the field do all the talking.
LaMichael had 31 carries for 257 yards and three touchdowns against a Stanford defense that was ranked as one of the top 10 in the nation.
This guy is for real, and he showed everyone on national television—if you changed the channel from that Alabama beat down of Florida—to remember his name.
l still think the Heisman is Denard Robinson's to lose, but James is proving he is a contender who could win it if Oregon keeps on winning.
Keep Reading

Oregon Ducks Football: Like this team?