The Biggest Faceplant Fails In Sports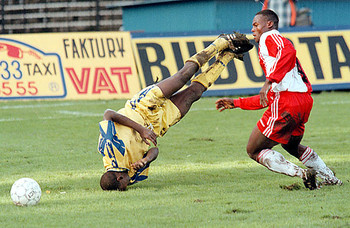 Sports have given us some of the most memorable moments in history, and some of these moments come in the form of epic fails.
Even the most experienced athletes have their bad days (some more than others), and lucky for us, many of these moments have been captured on film.
I would like to dedicate today to one of the most entertaining fails of them all: The faceplant.
The faceplant is rarely elaborate, but it is frequently painful.
And it is always entertaining.
So here we have my tribute to the fine art of the faceplant with 15 of the greatest YouTube videos I've ever seen.
15. Diving Catch Faceplant
Talk about taking one for the team!
This guy shows true dedication as he falls face-first into the wall trying to make the catch.
14. Soccer Faceplant
This kid might have had a shot after the goalie missed the ball.
Too bad he trips over the goalie's legs and smacks his face on the goal!
13. Tennis Faceplant
Can I just express how much I love it when the people who post these videos replay the faceplants in slow motion?
Awesome.
12. Cheerleader Faceplant
I know that some of you may not consider cheerleaders actual athletes, but when you can fall on your face from this high...
It sure ain't knitting.
11. Diving Faceplant
Is there anything better than a chubby kid landing on his head?
Yeah. I couldn't think of anything either.
10. Bowling Faceplant
Judging by the giggling in the background of this video, I'm pretty sure this was on purpose.
Risking bodily injury for the sake of comedy?
I commend you sir!
9. Jump Rope
This kid was trying to be a showoff, and it came back to bit him in the you know what.
Little tip for you buddy: If you want to impress girls, you might not want to jump rope in public.
Just a thought.
8. Adam Waddell Faceplant
Adam Waddell of Wyoming makes my list with the nerdiest dunk in the history of basketball.
Did someone remember to pick his pocket-protector up off the court?
7. Dennis Rodman Stunt Faceplant
I literally have no words...
6. Zeb Lanham Faceplant
Zeb Lanham falls on his face after being thrown in the air by this bull, and it makes me want to watch more professional bull riding.
As a side note, has anyone else realized that the acronym for Professional Bull Riding is "PBR?"
Coincidence?
I think not.
5. Celebration Faceplant
Okay. I'll admit it.
I try to include this video in as many slideshows as possible.
Try not to laugh.
I dare you.
4. Cheerleader Faceplant
This is quite possibly the best five-second video in the history of YouTube.
Practice makes perfect, ladies!
3. Skateboard Faceplant
Ugh. I can't even watch the end of this video when this kid realizes he's bleeding profusely.
Don't say I didn't warn you!
2. Balance Beam Faceplant
Hey, it's rough being a gymnast.
After my two months of lessons when I was seven years old, I like to consider myself a bit of an expert.
1. Softball Faceplant
Number one on our list comes in the form of an excellent combo of a headshot and a faceplant.
I promise I will refrain from all double-header jokes...
Crap.
Keep Reading