49ers Week-4: Atlanta Falcons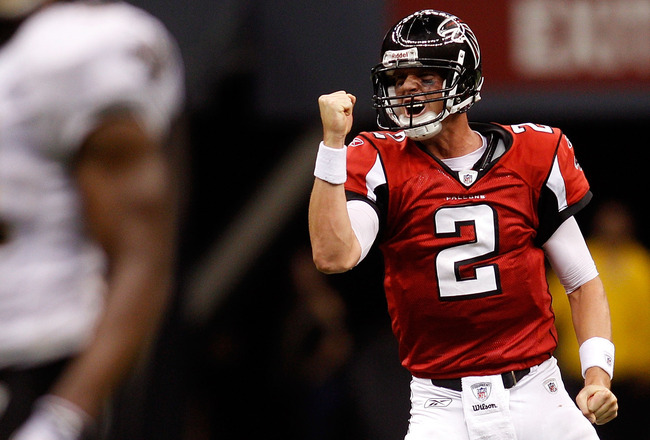 Chris Graythen/Getty Images
An 0-3 49ers team heads to Atlanta this weekend to take on a 2-1 Falcons team that's fresh off beating the incumbent champion New Orleans Saints.
Last year, Atlanta demolished San Francisco at Candlestick park 45-10. Is there any reason at all to believe the 49ers can win against the dirty birds this year?
Well lets just see what were going up against here...
Coaching—Mike Smith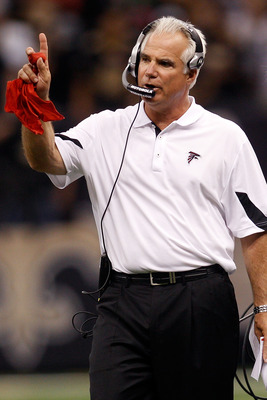 Chris Graythen/Getty Images
the 49ers have been out-coached in two-and-a-half of their three games this year. They were totally unprepared for Seattle and Kansas City. New Orleans struggled, but found a way to win.
Pete Carroll amped his team up and gave them the game plan to succeed in week one. Sure he recruited Michael Robinson among other former 49ers that helped steal the SF playbook. Nevertheless, employing such espionage showed a degree of genius moxie, and nobody can argue with the result.
They clawed their way back into their game against the Saints, only to be defeated by New Orleans' dink-and-dunk fall-back plan.
Kansas City had a star-studded coaching staff. Charlie Weis and Romeo Crennell put together just the right offense and defense to ruin the 49ers' Sunday. Employing even more screens while running fiercely at the 49ers defense, the Chiefs moved the ball very well. They capped drives with precise medium passes that scorched the secondary for touchdowns.
Atlanta needs only to look as far as last year to have a big game Sunday. They're a team on the upswing, and they present another huge challenge for the ailing 49ers.
Related to the coaching matchup, San Francisco finally took some coaching action in releasing offensive coordinator Jimmy Raye and promoting quarterback coach Mike Johnson to the position. The result of the weekend should be both interesting and telling.
Passing—Matt Ryan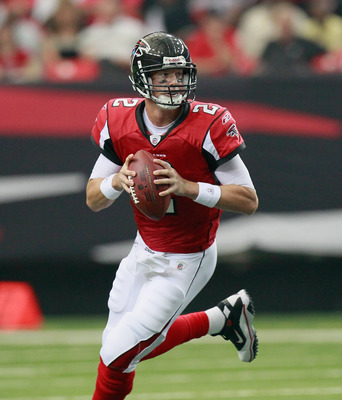 Kevin C. Cox/Getty Images
Matt Ryan is a prototypical 6'4, 220 pounds. He's young but growing fast as one of the leagues better passers. Capitalizing on the all-star cast surrounding him, Ryan seems poised to potentially have a big game every week.
Using his weapons well, managing the game clock, running the offense—these are the things Matt Ryan does.
He's coming into his own as an NFL quarterback, and whether it's with pressure, coverage, or sabotage, the San Francisco defense needs to limit his success. There's little doubt he'll make it a long day for the 49ers otherwise.
Recieving—Roddy White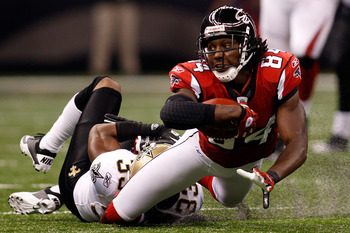 Chris Graythen/Getty Images
Remember him? Sure you do. In case you've repressed the memory, White absolutely scorched the 49ers last season for 210 yards and two touchdowns on eight receptions in 2009.
While White is no giant, at 6'0 and 212 pounds, he's not small by any means. Great hands and speed complete a skill set that make him a threat on any given down.
If there's one thing the Faithful knows, it's that Nate Clements can not cover him.
Receiving—Michael Jenkins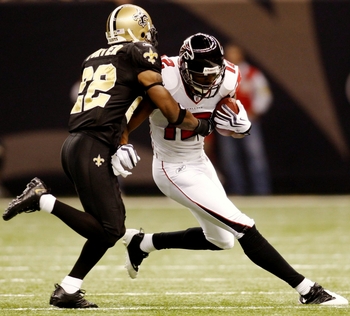 Chris Graythen/Getty Images
this week's first jump-ball threat is Michael Jenkins. At 6'4, 217 pounds, he's the go-up-and-get-it target the 49ers need to watch around the red zone. Of course they'll need to watch him every yard of the field, not just around the goal line.
Receiving—Tony Gonzales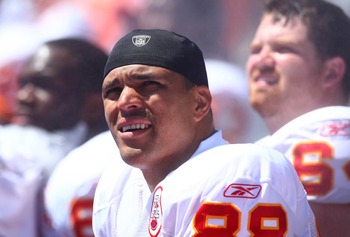 Donald Miralle/Getty Images
At 6-5, 240 pounds, Gonzales is a proven pro-bowl caliber veteran. At the home stretch of his career, this guy can still make defenders look foolish and defensive coordinators look ignorant.
Coveted by many 49ers fans since his days at Cal, Gonzales always makes a defense pay when they blink around him.
Rushing—Michael Turner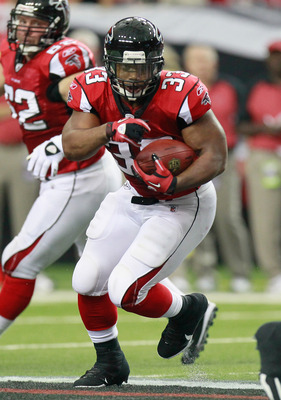 Kevin C. Cox/Getty Images
Michael Turner walked into the end zone against the 49ers three times last season, like it was the front door to his living room.
The man runs with very good leverage and power. San Francisco, whose run defense was steam rolled by the Chiefs last Sunday, needs to contain Turner to have a chance at the upset.
Falcons Defense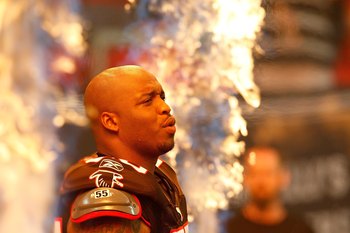 Kevin C. Cox/Getty Images
After being Sparta-kicked by the marginal defense of Kansas City and Seattle, there's not a lot of confidence going against John Abraham and the Atlanta defense.
As another listed 4-3 defense, the 49ers need desperately to drive together and finish them. Rookies need to be on their game the way they were against the Saints is they're gonna protect Smith and Gore from a day of torment.
Georgia Dome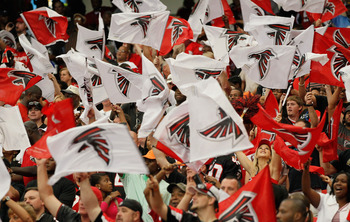 Kevin C. Cox/Getty Images
The 49ers have not don well on the road this year. Now that's a serious understatement! San Francisco has done so poorly at opposing stadiums in 2010, it'll seem like a miracle if they clear a spread away from Candlestick all year.
Whether it's the noise, the atmosphere, the time change or the smell of the hot dogs, the 49ers just can't get their act together in another teams house.
The fumble, they stumble; they get picked; they panic. Maybe there is some truth to their schedule being deceptively tough at first. Qwest Field in week one, Super Bowl Champions at home in week 2, Arrowhead Stadium week three, and at Atlanta week four. These are not push-over games, but good teams need to win more than the easy ones.
San Francisco needs to learn how to play in the noise instantly, or they can kiss their whole 2010 season farewell.
Meaning Of This One?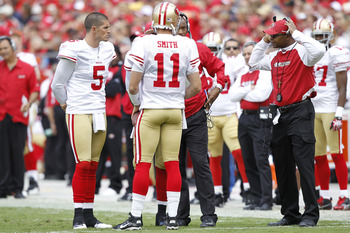 Joe Robbins/Getty Images
This, the season's fourth must-win game, will be Mike Johnson's first as offensive coordinator. It's a chance for the 49ers to start turning the tide in the brutal NFL. The Schedule has not been kind to them and they have not been kind to themselves as a team.
A team in season must look forward, not back. Lessons have been learned; changes have been made. Now they must use the experience.
If they are going to figure out a way to salvage the year, it must start soon. By soon—I mean Sunday.
Keep Reading

San Francisco 49ers: Like this team?