College Football Rankings: Ranking The PAC-10 After Week 4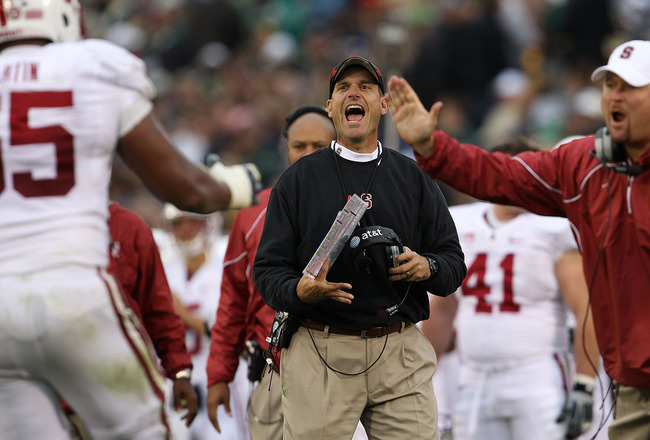 Jonathan Daniel/Getty Images
There was once a time where a lot of people considered the PAC-10 to be one of the worst conferences in college football, and there were times where they were right. There were years where it looked like the USC plus 9 conference.
This is not your older brother's PAC-10.
This is not your parent's PAC-10.
All of a sudden the PAC-10 is living up to it's slogan: the Conference of Champions.
With that moniker, though, comes the inevitable task of figuring out just who is the best, and who are the rest, in this rejuvenated group.
So, without further delay, here is where the 10 PAC-10 football teams lie after Week 4.
1. Oregon Ducks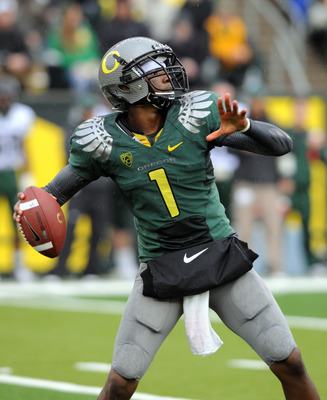 Steve Dykes/Getty Images
Is anyone still wondering how the Ducks will do without Jeremiah Masoli?
No one should be arguing with this ranking. Oregon's numbers are off the charts, and they face a less than competitive schedule down the stretch.
However, don't count them in as the dark horse candidates for the BCS national championship just yet. There are a few things working against the Ducks:
Their best games have been against slack teams, leading Chip Kelly to refer to it as a 'preseason'. They were never going to be bothered by New Mexico, Tennessee, and Portland State. If anything, they were almost for stat padding.
Arizona State gave Oregon a run for their money, and I'm sure it has some people expecting an upset sometime soon.
Standing between Oregon and their BCS hopes is the #9 ranked Stanford Cardinal. Saturday could be the be-all, end-all for the Ducks.
Oregon has a lot of things working for their, including an explosive offense and a defense that comes to play when it needs to, but they cannot take the rest of their schedule for granted.
2. Stanford Cardinal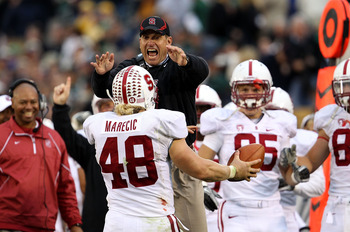 Jonathan Daniel/Getty Images
They run the ball well, they throw the ball well, and, believe it or not, they are even playing great defense. What is there not to like about this team right now?
Consider the numbers (rankings include FBS teams only):
4th in points for
12th in points against
19th in rushing yards
The Cardinal have their game figured out, and they are rolling. While the teams they have played haven't been overly competitive, this was no 'preseason' for Stanford.
With stars like Andrew Luck, Owen Marecic, and Shayne Skov, the Stanford Cardinal will look to knock off division favorite Oregon this weekend in the prime time match up at Autzen Stadium.
3. Arizona Wildcats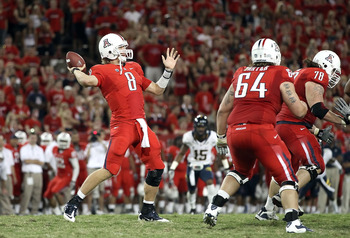 Christian Petersen/Getty Images
Nick Foles found himself lost and left out during the preseason amid talks of Heisman candidacy for fellow PAC-10 quarterbacks Andrew Luck and Jake Locker.
It seems like Nick Foles won't fade quietly into the background.
Foles has completed 74.5% of his passes for 1089 yards, six touchdowns and four interceptions. While those numbers won't grab Heisman voter attention, it sure has been enough to secure the Wildcats the #14 spot in the AP poll.
Couples Foles performance with a stellar defense, and it looks like Arizona could be a third candidate in the race for the Rose Bowl.
4. Oregon State Beavers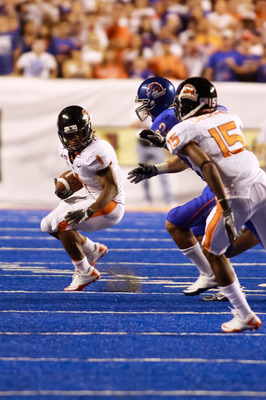 Otto Kitsinger III/Getty Images
Quiet down, USC fans, quiet down.
Despite the Beavers' 1-2 record right now, there is no doubt that this team has the potential to end the season with a rank.
Concerned about the numbers? Consider their opponents so far:
#6 TCU (L, 30-21)
Louisville (W, 35-28)
#3 Boise State (L, 37, 24)
How many teams could face an early season schedule like that and come out feeling good about themselves?
The Beavers have every reason to be optimistic. They played TCU close, ending the game only nine points behind, and they actually led Boise State during their last game.
The Beavers' schedule doesn't get any easier, but expect them to rack up five clean wins at the very least, and give a ranked team or two a run for their money.
5. Arizona State Sun Devils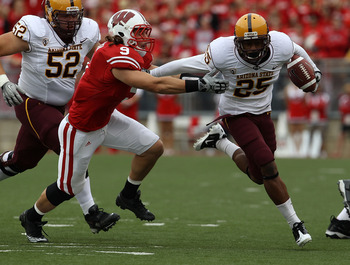 Jonathan Daniel/Getty Images
Be honest, you're surprised right now, aren't you?
So many people still want to believe that Arizona State is still in the bottom portion of the PAC-10. Those are the people that are content with the Status Quo, the people who are probably about the plaster this article with angry comments about why their team didn't make the top half of the conference rankings.
I'm looking at you USC fans.
You better believe it.
Somehow Steven Threet has played himself above Jake Locker in some PAC-10 quarterback rankings. By somehow, I mean that he has led a Sun Devils offense that ranks 5th in the country in passing yards and 27th in points for.
Threet isn't ASU's only weapon, though. Running backs Deantre Lewis and Cameron Marshall are averaging 9.6 and 5.6 yards per carry respectively, giving the Sun Devils a very balanced offensive attack.
Couple that with a defense that comes up big when they need to the most, and you have yourself a good football team.
6. USC Trojans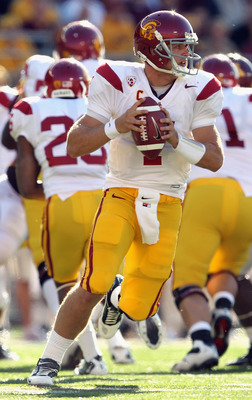 Jamie Squire/Getty Images
Yell, scream, punch walls, do whatever you have to do, but the truth is the truth.
USC isn't the same team that it was a few years ago.
Sure, the Trojans boast a roster filled with names like Matt Barkley, Stanley Havili, Allen Bradford, Marc Tyler, Ronald Johnson, Chris Galippo, and many, many others.
But how many of those players are just names?
Take Matt Barkley as an example. His numbers are impressive. Or are they?
Between the Minnesota and Washington State games, Barkley completed 64.7% of his passes for five touchdowns and four interceptions. Last I checked, both defenses were less than spectacular. That kind of performance won't carry USC against better competition.
Like it or not, USC is still a team trying to find its identity in the post-Pete Carroll era. It played way too close to Hawaii, Virginia, and Minnesota, and had an unconvincing first half against Washington State.
USC needs to dig deep and reach the power house that they once were, and that they still have the potential to be, because they face Stanford, Arizona, Oregon, Arizona State, and Oregon State before the end of their season, all of whom can pose a threat to this team.
7. UCLA Bruins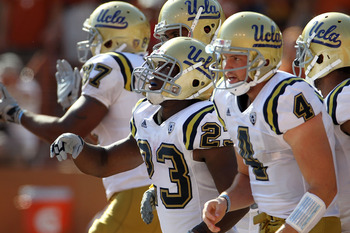 Ronald Martinez/Getty Images
Despite being shut out at home against Stanford in Week 2, The UCLA Bruins have some life in them yet as they have knocked off then #23 Houston and then #7 Texas in consecutive weeks.
Something has changed in their team, and it is showing. The have identity, they have purpose, and they are playing clean, physical football. The fact that they have brought down two ranked opponents in two weeks has also given them some major inspiration for the rest of the season.
If Kevin Prince can find a groove, and if the defense continues to physically dominate their opponents, the Bruins could easily end their season with a bowl game.
8. Cal Golden Bears
Christian Petersen/Getty Images
The difference between Cal and Washington is a slim one, but ultimately Cal seems like the better team.
Their statistics would imply that they are a competitive team, and they are when they want to be. After all, they played #14 Arizona down to the wire, ultimately coming short in a 10-9 loss.
The loss to Nevada was tough, and the problems that they had during that game could come back to haunt them. However, Jeff Tedford seems more than capable of righting the wrongs, despite being on the hot seat since last season.
Cal plays all conference opponents through the end of the season, so they need to kick it into high gear, starting with a win against the resurgent UCLA Bruins in Berkeley on Saturday.
9. Washington Huskies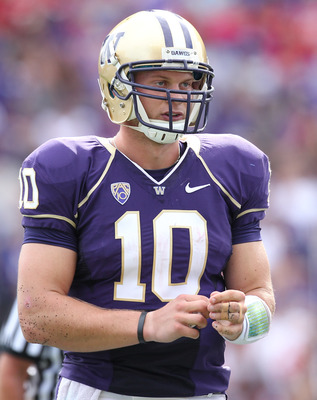 Otto Greule Jr/Getty Images
Huskies fans everywhere are shaking their heads in shame.
If someone can find an analyst who placed Washington all the way down here in preseason polls, please let me know, because they may be some kind of psychic.
What could have been a promising season has quickly deteriorated into the old Washington.
One has to wonder what is going on in Jake Locker's head right now. At the end of last season, he had it all.
He helped revive a program.
He would have been a top pick in the NFL draft.
Then this.
If Washington wants to reclaim its dignity and salvage the season, Steve Sarkisian needs to calm down his starting quarterback and find some way to build his confidence, especially considering that Locker's already broken spirit could face further damage against USC on Saturday.
This week could be the make-or-break point for the Huskies season.
10. Washington State Cougars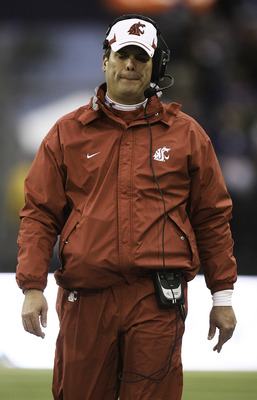 Otto Greule Jr/Getty Images
There's a part of me that believes that the Cougars would be better off going to another conference.
Washington State has the potential to be a good football team. However, they are playing in the PAC-10. Playing a schedule full of conference games every year kills this football team.
The Cougars are capable of competing with decent teams, as seen in the game against SMU. However, since they are stuck on the bottom of the PAC-10, they will have a hard time recruiting the talent they need to raise themselves off the ground.
And a note to all Washington State students, faculty, and fans: I personally feel bad. Every school should enjoy a good football game, and, unless you like watching your team get blown out, you guys have suffered. For that, I apologize. Best of luck to you all in the future.
Final Thoughts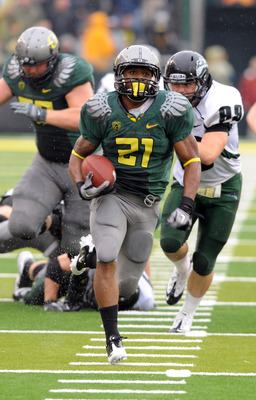 Steve Dykes/Getty Images
The PAC-10 has become a fascinating conference, and is finally starting to garner the attention that it deserves. While there is still a clear east coast bias in college football, the PAC-10 is slowly converting a lot of people.
These rankings are fluid. Please comment. What's wrong? What's right? Do you hate me right now?
If you don't hate me right now, or even if you do, feel free to follow me on twitter @chriseggemeyer (twitter.com/chriseggemeyer), or simply drop me comments and messages on my B/R profile.
Keep Reading