Fantasy Football Week 3: Demaryius Thomas and 10 Must-Play Surprises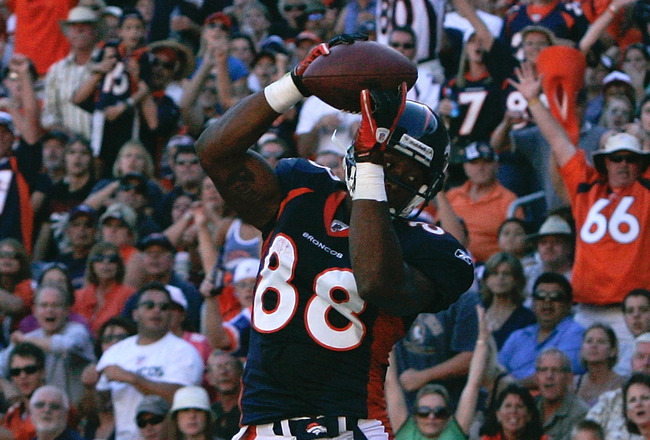 Justin Edmonds/Getty Images
Fantasy football leagues can often be decided by a previously-unheralded player that emerges mid-season. Last year owners who picked up the Browns' Jerome Harrison and played him in advance of his Week 14 explosion for 286 rushing yards were handsomely rewarded. It's still early to be projecting fantasy league victories, but picking up the right player can pay season-long dividends as an owner. The key, though, is to find useful value in a player previously overlooked, especially in cases where you own players sitting out injured or who have been highly ineffective thus far. Here we'll try to identify ten players flying under the fantasy radar going into Week 3, as you make your last-minute lineup decisions for the fantasy football weekend ahead.
Demaryius Thomas - WR Denver Broncos (vs. Indianapolis Colts)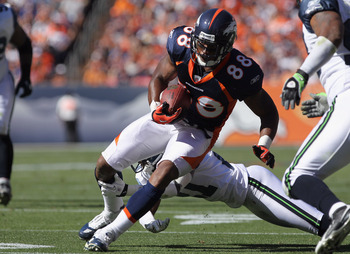 Doug Pensinger/Getty Images
The 6-foot-3 rookie receiver made his NFL debut in Week 2 against the Seahawks and made an immediate impact. A sleeper going into the season as a high-potential rookie high on the depth chart in an undermanned Denver receiving corps, Thomas broke out with 8 receptions for 97 yards and a touchdown in his first ever NFL game. His stock was slightly down to open the season given that he missed the entire preseason and Week 1 recovering from a surgery to his foot that took place in the offseason. Now healthy and through his first test in the league, Thomas goes up against a Colts secondary playing outside of their dome comfort zone and missing Bob Sanders. Thomas has a lot of upside as a fantasy starter—Denver will presumably rely more on the passing game given the absence of top runner Knowshon Moreno, and that will only be increased should the Colts open up a lead and the Broncos need to play catch-up.
Mike Tolbert – RB San Diego Chargers (vs. Seattle Seahawks)
Ezra Shaw/Getty Images
Ryan Mathews carried the load in the San Diego running game in their Week 1 loss, but he left their Week 2 win over Jacksonville with an ankle injury and is now listed as doubtful to play in Week 3. Enter Mike Tolbert, who in Mathews' absence ran for 82 yards and 2 touchdowns in the Chargers' big win over the Jaguars. Tolbert looks to get a similar workload in Week 3 in Seattle, and he looks to be a solid start at running back in fantasy. While Seattle enters the game with the fifth-ranked run defense in the league, they are coming off a tough loss in Denver and will be facing a much more explosive offensive team in San Diego compared to what they have faced thus far in their first two games. That adds to Tolbert's viability as a useful fantasy start in Week 3.
Marcedes Lewis – TE Jacksonville Jaguars (vs. Philadelphia Eagles)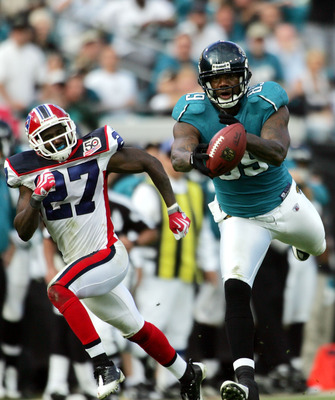 Marc Serota/Getty Images
The Jacksonville passing game is not full of big names or standout talents, but Marcedes Lewis has been a force through the first two weeks. He caught 2 touchdowns in Week 1, and grabbed 5 passes for 70 yards in Week 2. He is clearly a preferred target in their struggling passing game, and that makes him a very valuable player for owners who are thus far disappointed in what they've gotten from their tight end slot. The Eagles defense has given up a lot of offense in its first 2 weeks, adding to Lewis' value. Despite the struggles at quarterback for Jacksonville, Lewis seems like a safe bet to add some points to a fantasy team as a starter.
Sam Bradford – QB St. Louis Rams (vs. Washington Redskins)
Ezra Shaw/Getty Images
A rookie quarterback who also plays for the Rams, who have made losing a strong habit, does not at face value seem like a great idea in the fantasy football realm. However, consider that Bradford had a very good showing in his first game, at home against an underwhelming Arizona Cardinals team. He did follow that up with a poor game against the Raiders in Oakland, but overall his numbers through the first 2 weeks are decent for a rookie. The factor that makes him a potentially useful fantasy player this week is that the Redskins pass defense has not been effective thus far in 2010. They are coming off allowing 497 passing yards to Matt Schaub and the Houston Texans in their overtime loss last week, and even Tony Romo threw for 287 yards in week 1 against Washington's D. If you are in a two-quarterback formatted league, or are looking for a one-week plug to fill a bad matchup, Bradford could offer good value.
Correll Buckhalter – RB Denver Broncos (vs. Indianapolis Colts)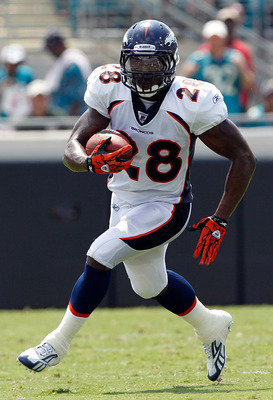 Sam Greenwood/Getty Images
Knowshon Moreno was ruled out for the week 3 game at Mile High between Denver and Indianapolis, and the next name on the depth chart is former Eagles running back Correll Buckhalter. Thus far in the year, Denver has had little success in the running game, as they are currently ranked 27 in the league after the first two weeks. However, they are up against an Indianapolis run defense that was torn apart by Arian Foster in week 1 and, despite dominating the New York Giants in primetime on Sunday night, still allowed Ahmad Bradshaw to rush for 89 yards. Buckhalter could benefit from this combination of added carries and a sometimes spotty Indianapolis defense, making him a decent player to take a chance on starting this week. While Laurence Maroney is also in the picture, Buckhalter has been with the team longer and I am guessing he will be leaned on more to pick up the load in Moreno's absence.
Louis Murphy – WR Oakland Raiders (vs. Arizona Cardinals)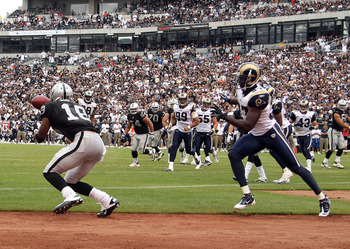 Ezra Shaw/Getty Images
The Raiders passing game is not one most fantasy players would turn to when looking for potential starters. Still, if you're an owner that's thin at wide receiver, you could do a lot worse than Louis Murphy. Jason Campbell has been benched in favor of Bruce Gradkowski, who in his limited action in the Radiers' week 2 win against the Rams already targeted Murphy for his sole touchdown pass. This is a good week to take a chance on the Gradkowski/Murphy tandem because they're up against the Cardinals, who have had a number of problems on defense thus far this year. Even though the Raiders will most likely lean on the running game, when they turn to the air, Murphy stands to benefit the most.
Fred Taylor – RB New England Patriots (vs. Buffalo Bills)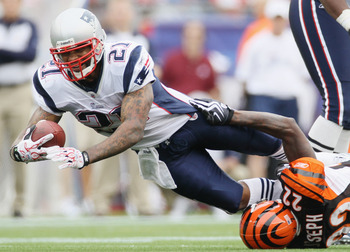 Elsa/Getty Images
The Patriots lost Kevin Faulk for the year with a torn ACL suffered during last week's loss to the New York Jets. They had also traded Laurence Maroney to the Denver Broncos early in the season, thus leaving their running back situation thin heading into this divisional matchup against Buffalo. BenJarvus Green-Ellis did not distinguish himself as a featured runner in Faulk's absence, and enter Fred Taylor coming off a toe injury. Taylor had a good season for New England last year in limited duty, and he stands to be leaned on in this game, especially if the Patriots open up a comfortable lead against the struggling Bills. He presents a useful start for owners in need of some support in the running game, although he is not assured of getting the entirety of New England's rushing attempts.
Mark Clayton – WR St. Louis Rams (vs. Washington Redskins)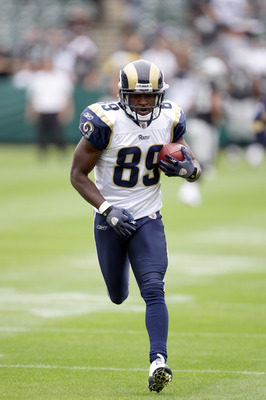 Ezra Shaw/Getty Images
If Sam Bradford is a potentially useful fantasy player this week, then so too is his top receiving target, Mark Clayton. The former Baltimore Raven can be looked to by fantasy owners this week given Washington's lack of pass defense. Also, last week Clayton established himself as the Rams' primary red zone target, as he hauled in two touchdowns, the only two scores the Rams posted. Sam Bradford thus far, in a very small 1 game sample size, has played better at home as well, so it's less risky to take a chance on Clayton in your lineup if you are looking for help at receiver.
Bo Scaife – TE Tennessee Titans (vs. New York Giants)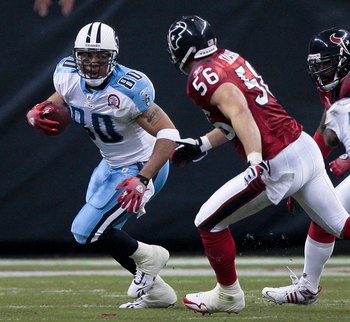 Bob Levey/Getty Images
Tennessee's passing game was completely flummoxed last weekend by the overwhelming Pittsburgh Steelers' defense, to the point where starting quarterback Vince Young was benched for the fourth quarter of the game. This week, however, they're up against a Giants defense that was torched by the Colts on Sunday night and has a number of question marks to deal with at linebacker. This opens up opportunities for Scaife, who is usually a popular target of Vince Young and stands to be a potentially useful target on Sunday. The Giants have one of the worst red zone defenses statistically in terms of allowing opponents to score, and Scaife could be a promising target in those scenarios, as well as being a safety valve for Young to dump short passes to in case of pressure.
Donald Brown – RB Indianapolis Colts (vs. Denver Broncos)
Brad White/Getty Images
Brown and Joseph Addai are both in a carry-share program in the Indianapolis backfield, but Brown had the most explosiveness in their week 2 victory over the Giants. The Colts are a team that relies on the precision passing of one of the greatest quarterbacks of all time, but on the road at altitude they may turn to the running game to control the clock and wear down Denver's defense. With that possibility I see Donald Brown as another capable running back with the potential for a breakout week. He is an elusive runner capable of also powering past defenders, and he could prove a problem for Denver's defense.
Keep Reading

Denver Broncos: Like this team?