TNA Spoilers For 9/23 and 9/30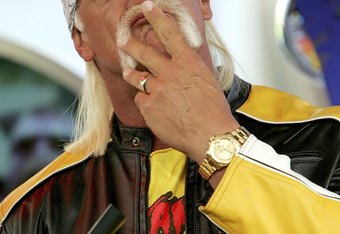 Paul Hawthorne/Getty Images
TNA Impact (Airing 9/23 on Spike TV):

* Rob Terry vs. Abyss. Winner via DQ, Rob Terry. Abyss used and kept beating on Terry. A bandaged and banged up Rob Van Dam appeared in the crowd and was held back by security. He hit one of them with a chair. Abyss tried to get to him and Al Snow, Simon Diamond and D-Lo Brown ran down with chairs to get Abyss to leave. RVD got in the ring afterwards and calls out Eric Bischoff. Bischoff comes down and RVD talks about all the love he's received. He appreciates it but doesn't want any sympathy. He prides himself on being able to take care of himself. Even though people think he's vulnerable. He's not. He wishes Angle, Anderson and Hardy good luck. RVD says he would've shown up within 30 days but whatever, things happen. He wants the winner of the tournament to put the title up against him. RVD says he also wants Abyss at 10-10-10. Bischoff says he'd like nothing more and it's a done deal.

* D'Angelo Dinero comes to the ring while Bischoff is still out there. He says since Bischoff is doing favors, why not do him a favor and tell him what the h--- is going on around here. He says Bischoff is full of it. Pope beat Kazarian in the fatal 4-way tag. Then he pinned Angle in this very ring. He says there was a hiccup at No Surrender but how can RVD get a title shot before him. How can Hardy or Angle get one when they didn't win their match? Bischoff says I hope you're insinuating what I think you are. He says they need to discuss this in the back and leave. The tone suggested Dinero was saying Bischoff is a racist.

* Jeremy Buck w/Matt Buck vs. Chris Sabin. Matt got thrown out immediately for tripping Sabin. Winner via schoolboy, Chris Sabin. Matt ran down afterwards to help Jeremy beat Sabin down. They did their double team top rope hanging DDT and then stole Sabin's tag team championship belt.

* TNA Knockouts tag title match, Lacey Von Erich & Velvet Sky vs. Taylor Wilde & Hamada. Winner via enziguri from Wilde to Lacey, Hamada & Taylor Wilde. The referee was distracted and Madison Rayne ran in and hit Lacey with a motorcycle helmet which led to the win. Angelina Love ran down afterwards to help Lacey to the back.

* D'Angelo Dinero vs. Samoa Joe. Jeff Jarrett comes out during the match to cheer Joe on. Sting and Kevin Nash then come out to beat up Jarrett. This distracts Dinero which leads to Joe locking on a choke for the win. An all out brawl then erupts with everybody except Dinero who stays in the ring. Security comes out to break things up. Dinero gets helped to the back by security.

* Mr. Anderson is out. He wants us a--holes to make some noise. He says this is a little more personal. He wants to bring out the only Olympic gold medalist in wrestling history, Kurt Angle. Angle joins Anderson in the ring. Anderson says Angle is the absolute best in this business. Angle reiterates that he would retire if he lost on the way back to the title. The thing you don't know is that what he does in this ring is who he is. Anderson says bring it on.

* Ladder match for the advantage in a Lethal Lockdown match, AJ Styles vs. Sabu. I'm not 100% sure if that's definitely the stipulation but that's what people around me think was said. Ric Flair and Matt Morgan are out with AJ. Mick Foley came out during the match and Flair flipped out. Morgan and Flair beat up Foley at one point. EV2 and Fourtune ran out and a giant brawl ensued. People were fighting everywhere as security tried to break it up. James Storm got in the ring and smashed a beer bottle on Sabu's head and then helped AJ up the ladder for the win.

* Abyss comes to the ring carrying an unconscious Jeff Hardy. He asks Rob Van Dam if he's wondering why he has his best friend Hardy with him? Abyss says seeing RVD was like seeing a ghost. He was never supposed to come back. Seeing him shows how pathetic he really is. Abyss' only mistake was he left RVD breathing. He'll correct that on 10-10-10 and THEY will finally reveal themselves and start their takeover of TNA. He says he and Janice will slaughter RVD but doesn't want to wait until 10-10-10. She wants a piece of meat so get out here RVD. RVD makes his way out slowly with a chair and starts beating Abyss down with the chair. Abyss hits a big boot and turns the tables on RVD. He grabs Janice to use but Ink Inc run out and make the save.

Xplosion:

* Orlando Jordan vs. Suicide. Winner after kissing Suicide and then schoolboying him, Orlando Jordan.

* Eric Young vs. Rob Terry. Winner via running powerslam, Rob Terry.

* Matt Morgan & Douglas Williams vs. Raven & Stevie Richards. Winner via evenflow DDT from Raven to Williams, Raven and Stevie Richards. Williams and Morgan beat Raven and Richards up after the match.
TNA Impact (Airing 9/30 on Spike TV):

* Kurt Angle is shown on the phone backstage talking to Hulk Hogan and saying the cage match against Abyss is taken care of and will be tonight. Angle hangs up and makes his way to the ring. He says he knows Hogan is in a hospital somewhere recovering from another back injury. He says Ken Anderson and Jeff Hardy are great competitors but Bound for Glory is going to be about him. He thanks Hogan for the faith he has in him and will take care of Abyss for him tonight. Abyss took out RVD and Hardy and is talking about 10-10-10 but what about 9-30-10, which is tonight, when he takes Abyss down. Abyss shows up and Angle goes after him. They fight to the back and are shown brawling everywhere till the video goes out.

* Abyss and Angle are shown fighting backstage again. They fight for five minutes until security and the agents break it up.

* Beer Money, Inc. w/Fourtune vs. Tommy Dreamer & Rhino w/Sabu, Mick Foley, Stevie Richards & Raven. This is a lumberjack match. Winner via DVD from Dreamer to Storm, EV2.0.

* A giant brawl erupted during the match and continued afterwards. Foley demands the fighting stops and he just wants two individuals in the ring. He says he and Ric Flair and had their differences so he wants Ric in the ring now to work out their differences. Fourtune and EV2.0 leave so Flair and Foley can talk. Flair asks Foley if he wanted to talk to Ric Flair the wrestling god? Foley says he wants to talk to Ric Flair the man. Foley says 10-10-10 will be great but they should think about 10-7-10. They should finally after 20 years meet in the ring. Flair takes a copy of Foley's new book from a fan. He then drops it and drops boots, knees and elbows on it and kicks it out of the ring. Flair asks who Foley thinks he is. Foley says he needs Flair to bring the best out of him. Flair says he makes everybody around him better. Flair threatens to hit Foley so Foley starts hitting himself and busts his face open. Flair says Foley's good friend Tommy Dreamer said he's hardcore. Foley says it took Flair 40 years to realize he's hardcore. Flair says he's going to rape and beat Foley. Foley asks for a last man standing match and Flair says you've got it, WOOOOOOOOO!

* Ink Inc. vs. Generation Me. Winner after Max Buck kicked Moore in the groin and schoolboyed him, Generation Me. They started to beat down Ink Inc afterwards but the Motor City Machine Guns ran out for the save.

* Following the match, there was a lengthy delay where The Motor City Machine Guns and Ink Inc. tossed about 50 DVDs to the crowd.

* Mr. Anderson vs. Samoa Joe. D'Angelo Dinero is on commentary as Sting and Kevin Nash watch at commentary. Winner via Mic Check, Mr. Anderson. After Anderson leaves, Nash comes to the outside of the ring with a bat and argues with Joe. Joe goes after Nash but security keeps him away. Sting, Nash and Dinero get in the ring. Nash says bad things happen to bad people. Amazing how Hulk Hogan is in a hospital right now. He says people have been duped by Hogan and Bischoff but the people in the ring know what's going on. Dinero says when you talk about some wolves who know how to run with the pack you talk about these guys. He says Bischoff is a no good lying son of a b----. He says Hogan and Bischoff are liars. Sting says this is about Hogan and Sting from January. No, this goes farther back to WCW. Are people here to see the good guys or the bad guys? At the Bound For Glory it's Sting and Nash against Jarrett and Joe but why not make it a 6 man. Nash, Sting and Dinero against Joe, Jarrett and Hogan. Bischoff comes out and says these three are out here showing their true colors. He says Nash is at the end of his career. Dinero should be careful since he has a lot to accomplish. Back in WCW Sting would pout if he didn't get his way. Nash at least has been consistent and always been self serving. Bischoff is most disappointed in Dinero. He had his shot and lost. There's no conspiracy, just the one in his head. Bischoff says he won't make the match but Hogan will be here live next week to address things.

* AJ Styles is backstage yelling about Brian Kendrick wanting to join EV2.0 and get in his business. Well he's dressed and ready to go so let's have a match tonight and see what's up.

* TV Title Match, Brian Kendrick vs. AJ Styles. Matt Morgan and Ric Flair came out before the match started. Flair joined commentary for a second and then joined Morgan at ringside. Winner via Styles Clash after interference from Morgan and Flair, AJ Styles.

* They're putting up the cage now. Jay Lethal is out to toss out more DVDs.

* Cage match: Kurt Angle vs.Abyss. During the match, Angle climbed the cage to dive off of it but Abyss chokeslammed the referee against the cage. Angle went to dive onto Abyss but he hit a Black Hole Slam. Mr. Anderson ran out and attacked Abyss but Abyss hit a Black Hole Slam on him too. Abyss went to leave but the door was chained so he ripped it off the hinges. Abyss went outside and got Janice but Angle came to and got her. He scared Abyss off and got back in the ring as Anderson came to. They had a stand off and Angle tossed Janice down. Anderson went for a hand shake but Angle left. This match is over. No winner.

Xplosion:

* Kyoshi & Okada vs. Ink Inc.. Winner via top rope neckbreaker/Samoan drop combo, Ink Inc.

* Sarita vs. Angelina Love. Winner via schoolgirl with a handful of tights, Sarita.

* Eric Young & Orlando Jordan vs. Suicide & Rob Terry. Winners via shot to the groin and schoolboy from Jordan to Suicide, Orlando Jordan & Eric Young
This article is
What is the duplicate article?
Why is this article offensive?
Where is this article plagiarized from?
Why is this article poorly edited?