Buzz In Boxing: The Top 12 Stories in the Sport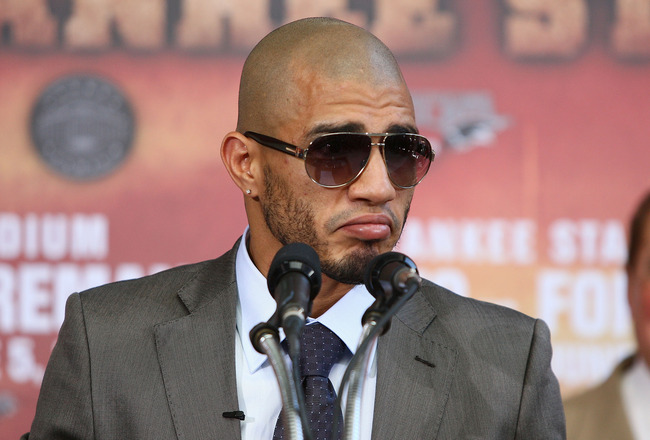 Mike Stobe/Getty Images
After a slow start to 2010, boxing is now buzzing with exciting storylines from flyweight to heavyweight, and new young champions are on the doorstep of superstardom.
After some lean years, there are finally reasons to be excited about American boxers and the heavyweight division. And the omnipresent saga of Floyd Mayweather, Jr. and Manny Pacquiao looms.
Old rivalries, new fighters, careers on the ropes and chances at redemption.
A slideshow of the 12 top stories in boxing today.
12. The Rebirth Of The Heavyweight Division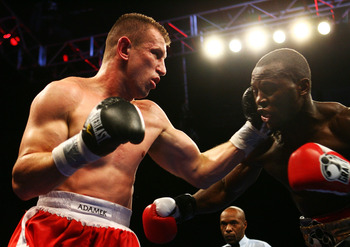 Al Bello/Getty Images
Yes, that heavyweight division. Remember when this used to be the premier division in boxing? Well, it's been dull lately for a number of reasons that have left the division on the dole.

It's still hard to argue that anyone other than Wladimir or Vitali Klitschko can beat either of these champions, and the two will never fight.
However, there are some exciting rumblings happening. Tomasz Adamek (pictured against Steve Cunningham) and his promoter Kathy Duva the most important woman in boxing today—have done a great job of booking frequent high-level fights for the newly-minted heavyweight contender.
Adamek—a light-heavyweight and cruiserweight champ—is joined by another top star moving up in weight who has already claimed a heavyweight title.
England's David Haye is another rising star. Unlike Adamek, who will fight anyone, Haye has been ducking the Klitschkos for a while, but he is a more marketable persona than anyone in the division, and if he can man up for a Klitschko or Adamek fight, we have a major heavyweight event on our hands.

Alexander Povetkin is the other fighter in the top five. He's undefeated and consistently impressive, but his trainer Teddy Atlas thinks he needs another year or two of maturation before he can tackle Vitali or Wladimir. But these three hot young stars have made the heavyweight division fun again.


11. The Fall of Britain's Finest: Hatton and Calzaghe's Cocaine Troubles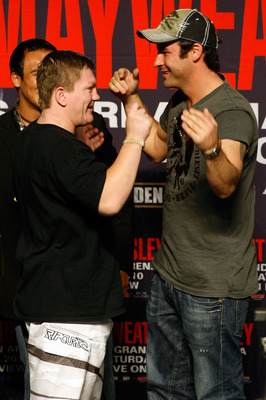 Hatton (left) with Calzaghe at the Mosley-Mayweather press conference
Ethan Miller/Getty Images
Three years ago, these were boxing's two "great white hopes." Both from the UK, both handsome, exciting and colorful fighters, and both considered top five pound for pound boxers by many observers. Eighteen months later, they were both out of boxing.

Joe Calzaghe retired on top, undefeated at age 36 after consecutive high-profile victories over Mikkel Kessler, Bernard Hopkins, and Roy Jones, Jr. Ricky Hatton's end was tough. A tough loss to Mayweather and a two-round battering at the hands of Manny Pacquiao in Hatton's final fight.

Yet recently, both have been exposed as cocaine users. There may not be much more to say. Neither seems to have fallen off the rails and they both recently partook in a charity soccer game that raised over $3 million for Unicef.
However, given their different fates and close proximity, it is at the very least an intriguing story that we want to know more about.
10. How Much Longer Will Pacquiao Fight?
Jeoffrey Maitem/Getty Images
Manny Pacquiao is a top pound for pound fighter and holds the record for titles held in the most weight divisions (7, going on 8). He is also now an elected Congressman in the Phillipines and has expressed interest in stopping after another one or two fights.
Given what's happening with Floyd Mayweather, there is a lot of pressure associated with making boxing's most-talked-about match happen.

I doubt Pacquiao would bypass an opportunity to fight Mayweather (if Floyd is willing), whether it's one or three fights from now, but Pacquiao is one of boxing's treasures and he is beloved by fans worldwide. How long will he stay a fighter?


9. The Next Great American Champion: Bradley, Alexander, Ward, Other?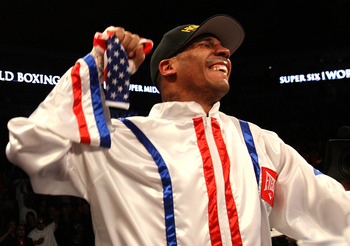 Jed Jacobsohn/Getty Images
Floyd Mayweather, Jr. is hands-down the best American boxer in any weight division right now, but the heirs to the throne are emerging now.
Timothy "Desert Storm" Bradley is hard to dislike. He fights quality opponents every fight, he's a hard-working and technically sound fighter, and he finds ways to win, on points or by knockout.
Devon "The Great" Alexander is being hailed as a future pound for pound number one. The St. Louis-based fighter raised some questions while beating Andriy Kotelnik recently, but will have a chance to answer all of those when he faces off against Bradley in January.

Andre Ward (pictured) is remarkably the only fighter remaining undefeated after two fights in the Super Six tournament. He has looked extremely impressive and exceeded our expectations.
He has a great schedule ahead of him. A fight against Andre Dirrell, then either Arthur Abraham or Carl Froch, and then hopefully Lucian Bute. If he can survive these three titans, you'll be hearing A LOT about Andre Ward.

And don't forget Chad Dawson and Andre Dirrell. They both have recently gained a loss on their records, but these were more tactical errors than physical liabilities. They'll have a chance to make some noise in the future.
8. Which Undefeated Champions Will Stay That Way?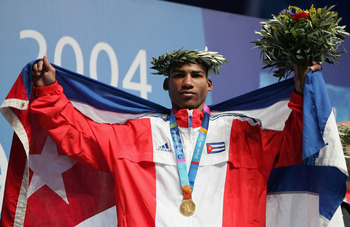 Al Bello/Getty Images
There is always a crop of undefeated champions in boxing, and it is intriguing because we feel we haven't yet found where their athletic limits lie.
Floyd Mayweather, Jr. is the highest-profile member of the group, but the more interesting stories lie with the other names on the list, including: Timothy Bradley, Devon Alexander, Yuriorkis Gamboa (pictured), Juan Manuel Lopez, Lucian Bute, Chris John, Andre Ward, Tavoris Cloud, Andre Berto and Alexander Povetkin.

Some will continue winning and see their profiles rise, others will see their limits exposed like Chad Dawson or Ivan Calderon did recently, and will have to address some new questions that arise. The fascinating part is figuring out which of these fighters those will be.

We know either Timothy Bradley or Devon Alexander will drop off this list after their fight in January, but we'll be keeping an eye open following the fates of all of these young fighters.
7....and Which New One Loss Fighters Will Bounce Back?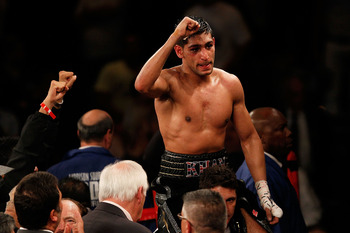 Chris Trotman/Getty Images

Just as intriguing as the undefeateds are the fighters who have recently suffered their first loss. Almost all top boxers lose in their careers, and one of the best parts about boxing is watching how these fighters handle adversity.

In the past year or so, we have seen numbers show up in the loss columns for Chad Dawson, Ivan Calderon, and Victor Ortiz (technically his second loss, but his first was a controversial DQ). These fighters all lost to worthy opponents.

We have also seen Amir Khan (pictured) and Jorge Linares get stunned in first round knockout losses to journeyman fighters. Who will claw their way back and who will fall off the radar? We'll find out soon.
6. Showtime's Super Six Conclusion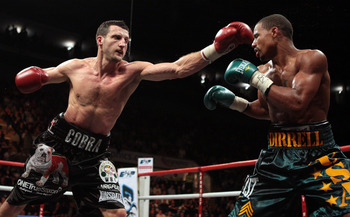 John Gichigi/Getty Images
The Super Six has been one of the best developments in boxing lately. No Pay Per View required (just the regular Showtime cable package), and top fighters facing off in every fight. It's now down to four fighters.

Jermain Taylor left early after two losses, and his replacement Allan Green went "one and done" after losing to tournament leader Andre Ward. Mikkel Kessler looked strong handing Carl Froch his first career loss, but recently withdrew due to an eye injury.

So it's down to four: Andre Ward is the only 2-0 fighter in the tournament and he was supposed to be facing close friend Andre Dirrell (pictured, against Froch) later this month.
The winner would face the winner of the Carl Froch-Arthur Abraham matchup in the tournament final. However, Ward and Dirrell seem uninterested in fighting each other at this point in the tournament, so it adds a new question: How will Showtime resolve this?
(Update [Oct 23, 2010]: Andre Dirrell has since withdrawn from the tournament citing neurological difficultues, and Ward is now set to face Sakio Bika on November 27th, the same day as the Froch-Abraham fight)
Whatever the case, the winner of this tournament should face Lucian Bute, currently the No. 1 ranked Super Middleweight in the world on most observers' lists. A lot of excitement to watch for in this deep division.
5. Living Legends Vs. Young Talent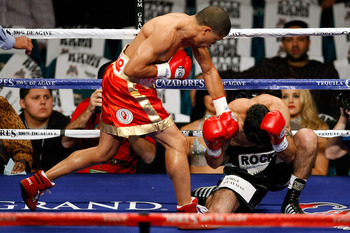 Ethan Miller/Getty Images
A number of big matches loom for living legends in the next few months. We have already seen Giovanni Segura defeat an aging Ivan Calderon. Sergio Mora, however, failed to impress against 39-year-old Sugar Shane Mosley, whose career survives to see another day.

We have a few similar fights coming up:
Grizzled veteran Rafael Marquez will try to hold off the thrilling Puerto Rican Juan Manuel Lopez (pictured) on November 6.

The oldest No. 1 in boxing-45-year-old Bernard Hopkins - takes on light heavyweight heir-apparent Jean Pascal on December 18th.

- The ageless Juan Manuel Marquez, after recently reaffirming his dominance over Juan "The Baby Bull" Diaz, is fighting rugged Australian Michael Katsidis on November 27th. Katsidis isn't really a big prospect, but if Marquez can pull off a win, then he'll have a true lightweight prospect waiting at his doorstep: Timothy Bradley, Devon Alexander, or Amir Khan.

These will be career-defining fights for all the participants.
4. Miguel Cotto's Revenge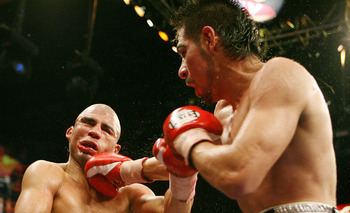 Ethan Miller/Getty Images
Miguel Cotto was an undefeated champion and one of boxing's top fighters prior to the upset loss that saw Antonio Margarito inflict the beating of a lifetime.
We all know what happened next: prior to Margarito's next fight against Mosley, the heavily-favored Margarito was caught with plaster in his handwraps and then underperformed, losing decisively to an underdog in Shane Mosley.

There was something strange about Margarito's upset over Cotto, and a lot of people now wonder if plaster casts were also used in the Cotto fight.

Cotto has gone on to win a close decision over Joshua Clottey, a well-fought loss against Manny Pacquiao, and a convincing win at Yankee Stadium against Yuri Foreman.
Cotto-Pacquiao was the best fight that Manny (or Floyd Mayweather, for that matter) has had in the past two to three years. But there's no doubt the Margarito loss severly hindered Cotto's career.

Once Margarito loses to Pacquiao in November, I'm sure a lot of fight fans would pay to see Cotto attempt to avenge a questionable, but career-defining loss against boxing's "bad guy", Antonio Margarito.
3. Paul Williams Vs. Sergio Martinez
Ethan Miller/Getty Images
All the recent matchups between top 10 pound for pound fighters have either underwhelmed (Mayweather vs. Mosley, Mayweather vs. Marquez) or have mysteriously fallen through in negotiations (Mayweather-Pacquiao obviously, but also Donaire vs. Montiel).

Except for one—Paul "The Punisher" Williams vs. Sergio Gabriel Martinez. Their first fight on December 5, 2009 was a fight of the year candidate, and they'll be stepping into the ring again this November 20th.
It's great to see a rivalry like this. Both Williams (pictured, with son) and Martinez saw their careers stall for various reasons, but this gives them both a career-defining rivalry and a chance to showcase their considerable skills on the world stage.

Martinez is a former three-sport star athlete who is known for his incredible heart and his handsome looks.
Williams is an unorthodox ring tactician who systematically breaks down opponents and for years was considered boxing's most avoided fighter.

Martinez vs. Williams II is a fight all boxing fans should be watching. It happens November 20th.


2. Floyd Mayweather's Legal Struggles

Handout/Getty Images
Although it isn't necessarily surprising that the brash Floyd Mayweather is being charged with 8 criminal offenses, it is certainly news due to his stature in the sport and a potential matchup with Manny Pacquiao.
The internet is abuzz with stories and speculation about this matter. Some think Mayweather can avoid prison time, others think he could be locked up for several years.
This is a major issue in boxing and puts huge pressure on the Mayweather-Pacquiao dream matchup fight fans are looking forward to sometime during the next year.
1. The Fight: Pacquiao vs. Mayweather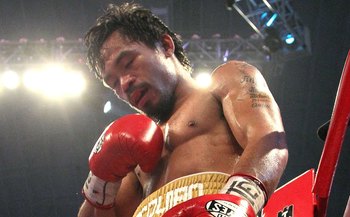 Jed Jacobsohn/Getty Images
Most fans could probably have predicted this. With all the ecitement that is going on in boxing, there is still one fight that the world wants to see, perhaps more than all other matches combined.
Floyd Mayweather's recent struggles are magnified because of the importance of his potential fight with Manny Pacquiao (pictured) in the eyes of many.
The appeal of this matchup is simple: it's very rare that you a fight featuring the two top fighters in the sport, at the peak of their careers, who are both at the same weight division.
The awesome storylines around the fight, as well as the controversy surrounding Mayweather and the anticipation that has built up, will just make this fight even sweeter when it happens, but a lot of the importance of this fight will be lost if it doesn't happen soon.

And is it just me, or is Pacquiao's trainer Freddie Roach getting bolder?
Keep Reading