TUF Season 12: Team St-Pierre Vs. Team Koscheck—Live Blogging the Madness, Pt II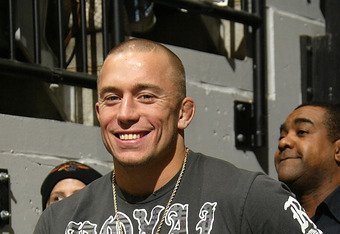 Dave Sandford/Getty Images
Alright fights fans, we only about 15 minutes away from the second installment of the Ultimate Fighting Championship's spearhead into the world of popular culture, The Ultimate Fighter reality series.
The first episode is always a little slow as 28 no-name fighters are whittled down to the 14 semi-unknowns who will be staying in the house. At one point, it was 32 down to 16, but the wild-card system has replaced the eighth pairing of contenders.
As always, the winner will get a six-figure, multi-bout deal with the UFC plus a hearty handshake and four-letter peppering of encouragement from the organization's president, Dana White.
Although the audience was teased with montages of flavor from upcoming episodes, it's too early to have much of a feel for the guys in the house. Alex Caceres made an immediate impression with a mild afro and blazing-banana-yellow bodysuit, Cody McKenzie also left a lasting dent in the consciousness with his submission and unique background (Alaskan fisherman), and Dane Sayers showed the raw tools to be a player this season (provided he's a quick study).
The rest, however, have some work to do to build their individual profiles. Along with Caceres, McKenzie, and Sayers, we've got:
—Jonathan Brookins
—Sako Chivitchian
—Michael Johnson
—Jeff Lentz
—Sevak Magakian
—Spencer Paige
—Nam Phan
—Marc Stevens
—Kyle Watson
—Aaron Wilkinson
Check back when the action starts and we learn a bit more about this season's cast.
That's it for Episode 2. Enjoy UFC 119 and see you next week for more life lessons from men who absorb brain trauma for a living.
Oh, and Josh Koscheck tells his team to get its "mind right." It'll be interesting to see how "Kos" dovetails that advice with the "mindless training" thing. Maybe "right" is synonymous with "empty" in this case. Can't wait to find out.
The teaser's a little tamer this time around, but there's an "Iron Mike" Tyson sighting as he tells us he's "just happy to be a part" of the show. If not for the minor detail of Tyson raping someone, I'd feel worse for the ex-champ—it's been a pathetic fall from grace to behold.
"Alex Caceres goes too far with his post-fight boasting." Yep, had nothing to do with the bottle of Jagermeister on the counter.
And Caceres immediately flips back to his arrogant jackass persona—you'd think the humility of a mediocre performance would last a tad longer.
Or was that someone else? I think it was someone else, without a goatee.
Its a little soon in the flow of the show, but wasn't Lentz the guy who said he'd never tap? That he'd go to sleep before crying "Uncle?"
Oops, Caceres locks in a nice triangle and survives Lentz' attempt to Rampage his way out of the submission before tapping.
Or maybe coffee is Lentz' secret. Strangely, it has yet to turn me into a pseudo-professional scrapper. But then, I've only been on that train for about five years now.
As we join back up with the show, it looks like conditioning is definitely a problem—for the athlete who does NOT puff away. This episode won't make it into any anti-smoking ads.
HughesNet satellite internet sounds really cool, but—if it's so sweet—why the hell do the commercials look like they were made in someone's basement? The production quality doesn't inspire confidence.
Anyone know why the Geico gecko has a British accent?
Wow, Bruce LeeRoy gassed significantly and allowed Lentz to finish the round with an impressive right to the face and takedown. Gotta give him that round, 10-9.
I'm not a fighter, so I'm not saying this with any authority, but a standing guillotine sounds and looks like a really bad idea. Granted, Efrain Escudero was just finished by a rear-naked choke while standing by Charles Oliveira and that's about the same.
Lentz is proving to not be total bluster whereas as Caceres ain't backing up his considerable amount of jawing—pretty boring fight, though, so nothing's decided yet.
One of the things that stinks about the taped nature of the show is that you generally know how a fight will go based on the time left in the episode. For instance, we've got 15 minutes (give or take) so we're almost certainly not going to see a stoppage unless the UFC throws a curveball.
This promo for UFC 119 begs a good question, why isn't anyone paying any attention to Antonio Rogerio Nogueira? "Little Nog" gets zero love, which is odd considering who his twin brother is.
"Robin Hood" with Russell Crowe is about to be released on DVD. FINALLY! I can stop marking off the days on my calendar. Why would you remake a movie that was a smash hit in the same generation?
Wait, Miller Lite has "vortex power?" Funny, I wouldn't think a beer that tastes so much better than all the others would need a dumb gimmick to sell itself. Now, if said beer tasted like a warm glass of elephant urine...
Incidentally, I've had friends who were smokers, but could run until everyone else was puking their guts out. This Lentz character looks like he might be one of those. My man does seem to have a little gas in his tank.
"Every second I'm coming for you," except when I've got a cigarette dangling from my grill. Those moments you're probably safe.
"Look a humming bird" gets juxtaposed with something about wiping a "f***ing smile of his face." Gotta love the magic of editing.
It looks insanely ridiculous and it doesn't make intuitive sense, but holding those poses is damn difficult.
Little lull here, so I thought I'd share my endorsement of yoga. It works.
I have no idea what to make of the Caceres kid, but I like him a whole lot better than a dude who spars with a cigarette in his mouth. We get it, you smoke.
This article is
What is the duplicate article?
Why is this article offensive?
Where is this article plagiarized from?
Why is this article poorly edited?