WWE Night of Champions Results: 10 Things We Learned From Daniel Bryan's Win
Last night at Night of Champions, Daniel Bryan "The American Dragon" captured gold for the first time in WWE.
While many of us expected this as the community on here is in mass agreement that Bryan is a far superior wrestler to The Miz, we all also know anything can happen in WWE.
Lets look at 10 things in regards to Daniel Bryan, his win, and where this takes the US Title.
Begin Slideshow

»
On the superstar page of WWE.com, the RAW roster only has two champions listed. Randy Orton the WWE champion and Daniel Bryan the United States Champion.
In one night the show lost the Tag Team belts and the Woman's Championship.
Is this due to Smackdown moving to the SyFy channel?
Put a giant list of champions on their page so that new viewers can see a lot of championship matches?
And if that's the case who else is moving to Smackdown and what other changes are in store?
Okay we got it, its called the LaBelle lock, named after a wrestler who wrestled with Lou Thesz, not Patti LaBelle the diva (google her, people, expand your mind)
How many times did we have to hear it, over and over and over again.
Was there any surprise that this was how the match ended?
Matt Striker brought us a history lesson showing us he educates himself in the history of wrestling, Jerry Lawler showed us how old he is by actually knowing the guy, and Michael Cole showed us he knows how to use Wikipedia.
Remember this guy? Carlito won the US Title his first time in a WWE ring.
No NXT, no build up of a story line, it was just a couple of videos the previous weeks, an apple spitting and New US champion.
So while some might say that he doesn't deserve it, he didn't put his time in to win a title, this path is not all that uncommon for the US Title.
The question now however is how long will he hold it?
Did I miss something?
He's been coming to the ring wearing his own "Awesome" T-Shirts right?
When did The Miz steal Edge's coat?
What's in store next for The Miz, we'll we see a lot of whining and crying in regards to losing the title and demanding a rematch at the next pay per view which is just a short two weeks away?
Or will he put the US Title behind him and make his move towards the WWE Title?
With the next Pay Per View being Hell in A Cell, you would think whomever is the champion after that match will be pretty banged up.
So either he goes for a rematch AND goes for the WWE Title hoping for having Double Gold once again, or he goes after just the one.
What are your thoughts?
Will we see NXT rookie Alex Riley make a run for the US Title?
His mentor defeated, will he attempt to avenge him and bring the title back to what he'll believe as their stable, only to have Miz take it from him?
Riley has been appearing everywhere with The Miz and he was a great performer on NXT.
Who's to say the Varsity Villain won't rise up and we will have NXT season 1 vs. NXT season 2?
John Morrison seems to get a lot of attention on RAW but nowhere to focus his matches on.
Will Morrison step up and say he only be the weaker half of their former tag team making Miz the 'Jannetty' of their duo.
While both are faces, Morrison could easily jump sides and go back to being a heel; he was much better at that anyway.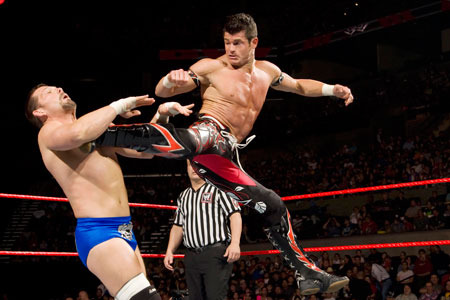 Why was Evan Bourne with Mark Henry last night?
That was the most bizarre random pairing.
If we need an outlet for Bourne, somewhere to showcase his skills put him in a run for the US Title with Brian and then you can change the title name to the WWE X Division and watch insane matches ensue.
Bourne needs something to do, and it sure isn't partnering up with Mark Henry, that was just silly, it would be like putting Koslov with Santino.... oh wait.
Another point the announcers felt they needed to go over was that Daniel Bryan was trained by Shawn Michaels.
According to his information page online, not only did Shawn train him, but he was also trained by William Regal.
Bryan has said he has wanted to model his style after Regal or Dean Malenko.
Well Daniel, maybe you should pick two guys who have had a bit more success in the WWE.
Malenko might have been the man of 1,000 holds, but the one hold he couldn't do was holding the microphone.
Let's hope you show some personality and entertain a bit more than Malenko and branch out a little further than Regal.
Otherwise you'll end up kissing McMahon's ass on TV and doing Goldust impersonations before you know it.
Since 2004, when Carlito won his title the night he premiered, there have been 16 different champions holding that belt.
Several of them having multiple runs within the last 6 years, however....
Of those 16 only 6 of those guys are still on the roster.
The remaining 6: John Cena, MVP, Kofi, The Miz, R-Truth and Matt Hardy.
The Miz just lost this belt and Kofi and Cena also had title shots that night, R-Truth and Hardy, well they show up sometimes, but holding that belt apparently isn't helping them right now.
The other guys: Orlando Jordan, Benoit, Booker, JBL, Bobby Lashley, Finlay, Mr. Kennedy, Shelton Benjamin and Bret Hart.
Jordan and Kennedy are over at TNA.
Lashley is in MMA.
Shelton is...?
Booker, JBL and Hart are retired, well Hart is sorta retired.
We all know about Benoit.
And Finlay, where the heck is Finlay? And what kind of a Dad is he that he left his kid back at the show?
Will the Nexus play a role in any of this?
Will Wade Barrett decide he's going former member Bryan to bring the title to the Nexus where it belongs?
It would get Nexus off the backs of the top superstars and play out a story that would make sense.
Maybe Peter Gabriel, or Justin Gabriel, whatever his name is can go after him, and it would be a battle of the high flyer vs. the grappler.