Fight For First: Atlanta Braves and Philadelphia Phillies Open Crucial Series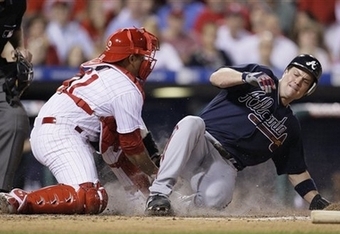 On Monday night, the Atlanta Braves and Philadelphia Phillies will open a three-game series in Citizens Bank Park and let their play on the diamond do the talking for them.
Enough talk. Enough watching the scoreboard in hope that the other team will lose. Enough expert analysis and bold predictions. It is finally time to find out who is top dog and who is a second-place wild card threat.
The last time these two rivals met, the Braves swept up an unhealthy, Oswalt-less Philadelphia team and left them in shambles.
Since then, key players such as Chase Utley and Ryan Howard have reignited the explosive lineup of the Phillies and transformed them into a team resembling the Phillies who traveled to the past two Fall Classics.
As for the Braves, a team that seemed to be bound for the playoffs with the rest of the NL East chasing behind them is now in second place, three games behind the Phillies and hanging on the edge of the cliff that is the National League East.
The Phillies have decided to order their rotation so that the Braves will have to battle Philly's "Big Three" while Atlanta has decided to stick with their normal rotation.
These are the pitching matchups:
Game 1
Hamels (11-10) vs. Jurrjens (7-6)

Recently, Cole Hamels has been the strongest of the three Philly aces. In his last 13 starts, he is 5-3 with a 1.79 ERA and in his last 31 1/3 innings, Hamels has allowed only one run.

Unlike his pitching opponent, Braves pitcher Jair Jurrjens has been shaky in his last couple of starts. In his last 8 2/3 innings, opposing hitters have 19 hits and 11 earned runs against Jurrjens. Jurrjens will look to return to his mid season form against the Phillies in the series opener.
Game 2
Halladay (19-10) vs. Minor (3-1)

Despite becoming one of the few pitchers in the MLB with 19 victories, Cy-Young contender Roy Halladay has "struggled" the last few times out on the mound. He has an ERA of 4.41 in his last five starts. If Halladay is credited with a victory, he will be the first Philadelphia pitcher to reach 20 wins in a season since Steve Carlton in 1982.
After impressing in his first four starts with the Braves, rookie pitcher Mike Minor seemed to be off-track and out of rhythm in his past three starts. However, Minor looked good his last time out against Washington - all four of the earned runs against him came off of a Justin Maxwell grand slam.
Game 3
Oswalt (13-13) vs. Hanson (10-11)
Roy Oswalt does not enjoy facing the Atlanta Braves. Oswalt is 0-3 with a 7.58 ERA in seven regular season starts against the Braves, but none of that matters on Wednesday night when all Oswalt will have to do to be successful is duplicate the dominance that he has shown with the Phillies since they acquired him in late July.
The last time Tommy Hanson faced the Phillies on May 31st, Hanson held the Phillies to just three hits in 6+ innings. Just like Oswalt, Hanson was lights-out his last time on the mound, making this the most intriguing pitching matchup of the series.The Braves are a sweep away from first place while the Phillies can create some breathing room in the division with a series win.
These two teams will meet in Atlanta for the last series of the regular season and just like the series on Monday, the NL East division title may very well depend on those three games.
No matter what happens between these two teams this week, it will be an ugly, scrappy fist fight, but it will undoubtedly be great baseball.
This article is
What is the duplicate article?
Why is this article offensive?
Where is this article plagiarized from?
Why is this article poorly edited?

Atlanta Braves: Like this team?