Heisman Trophy Watch: Denard Robinson, Jake Locker, Terrelle Pryor Lead The Way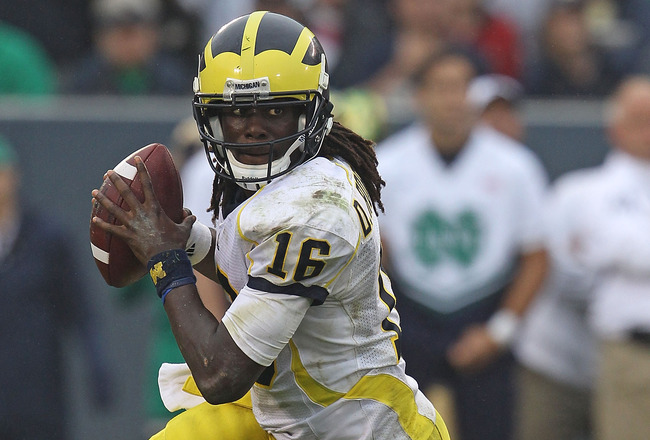 Jonathan Daniel/Getty Images
The Heisman Trophy has been under scrutiny in recent weeks, with the climax occurring days ago when the 2005 recipient, Reggie Bush, forfeited his after an investigation that revealed he accepted improper benefits during his time at USC.
In 2010, the preseason front runners for the award included Washington quarterback Jake Locker, who many believed would be the consensus No. 1 overall pick in the 2010 NFL Draft, had he entered following his Junior year.
Ohio State and Miami quarterbacks Terrelle Pryor and Jacory Harris were also highly touted as the prospective winners of this year's trophy.
After the first two weeks of College Football, the landscape has changed dramatically, and this slideshow takes a look at the top players battling for the title of the 2010 Heisman Trophy Winner.
Terrelle Pryor - Ohio State Buckeyes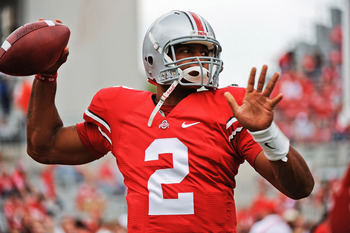 Jamie Sabau/Getty Images
After an outstanding performance in Ohio State's first game against Marshall, in which Terrelle Pryor passed for 247 yards and three touchdowns, he continued his road to the Heisman against the Hurricanes.
Last week, Pryor played extremely well, displaying pristine pocket presence and making plays. The 6'6" junior passed for 233 yards and a touchdown, while rushing 20 times for 113 yards and a touchdown.
Pryor has yet to turn the ball over this season, and looks to keep rolling as Ohio State faces Ohio this weekend.
Jake Locker - Washington Huskies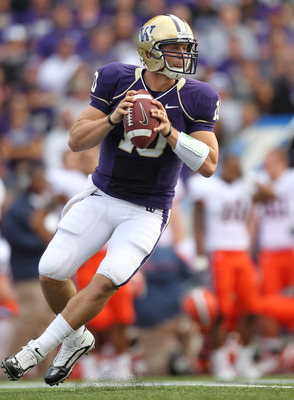 Otto Greule Jr/Getty Images
After passing for 2800 yards and 21 touchdowns last season, Washington quarterback Jake Locker decided to stay in school for another year, improving his draft stock for the NFL.
Locker looks and plays like an NFL caliber quarterback, using his strong arm and feel for the game to create plays.
This season, Locker has already thrown five touchdowns and passed for 550 yards in his two games against BYU and Syracuse.
This week, however, will prove to be a major test as the Huskies take on No. 8 ranked Nebraska, a team featuring as good of a defense as any team in the NCAA.
If Locker can continue his success, he has a great chance to not only win the Heisman, but also to be the No. 1 overall pick in the 2011 NFL Draft.
Denard Robinson - Michigan Wolverines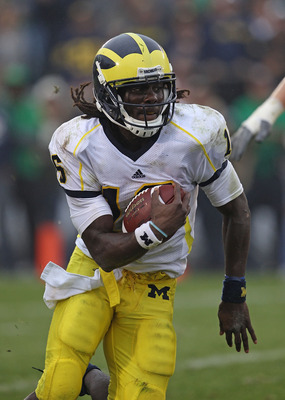 Jonathan Daniel/Getty Images
In 2009, Denard Robinson of Michigan only managed 188 yards, throwing two touchdowns and four interceptions while competing with Tate Forcier for the starting job.
This year has been a complete transformation, proving that he rightfully earned the starting quarterback job, gaining almost 1,000 yards of total offense in his first two games combined....more than nine of the Top 25 ranked teams in the country have managed as a whole.
Robinson destroyed Notre Dame last week, passing for 244 yards and a touchdown, while rushing for 258 and two touchdowns.
This week the Wolverines take on UMass, and Robinson is likely to shred their defense, and may have 1,500 yards of total offense in his first three games; a feat that definitely puts him at the top of the list for the Heisman Trophy.
Kendall Hunter - Oklahoma State Cowboys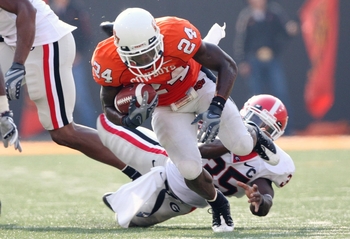 Christian Petersen/Getty Images
With Alabama and West Virginia running backs Mark Ingram and Noel Devine generating the most of the preseason hype, Kendall Hunter doesn't want to be forgotten.
The Oklahoma State senior has rushed for over 400 yards on just 49 carries, averaging 8.9 yards per carry, while scoring six touchdowns in his first two games.
With Ingram missing his first game, and now splitting carries with Trent Richardson combined with Noel Devine's slow start, Kendall Hunter may be breaking away from the running backs in the Heisman Trophy watch.
Jacory Harris - Miami Hurricanes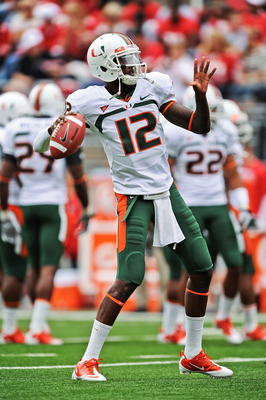 Jamie Sabau/Getty Images
Jacory Harris and the Miami Hurricanes entered the season with high expectations. Harris was a favorite in the Heisman race, and the Canes were believed to have a shot at the National Championship.
After going 12-of-15 for 216 yards and three touchdowns in just one half of play against Florida A&M, Harris significantly dropped in the Heisman rankings last weekend.
Taking on the Ohio State Buckeyes, Harris completed 22 of 39 passes for 232 yards and a touchdown. Sounds pretty good, right?
Oops. Forgot to add the four interceptions.
If Harris still wants to hold his pimp cup while accepting the Heisman Trophy, he really needs to have an outstanding performance this weekend when the Hurricanes take on the Pittsburgh Panthers.
Keep Reading

Michigan Wolverines Football: Like this team?