Carolina Panthers 2010: Overrated...and Underrated Players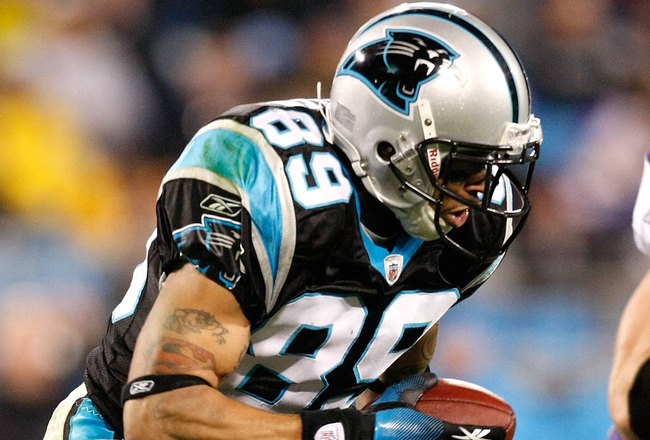 Kevin C. Cox/Getty Images
I'll admit it, this was a tough article to write.
Because when you're the Carolina Panthers, you could make a case for the entire team being underrated, considering there's never been a "mega-star" like a Peyton Manning or Tom Brady playing for the team.
So I cheated...a little.
I was supposed to come up with five underrated and five overrated players for Carolina.
I decided instead to do six underrated and four overrated, and even those were difficult.
After all, Jake Delhomme is gone.
Kidding aside, here are my thoughts:
Underrated: Steve Smith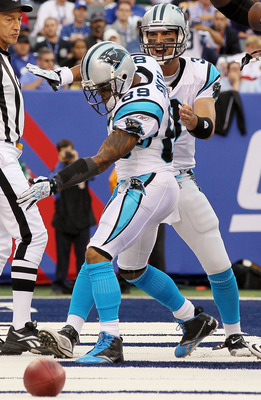 Jim McIsaac/Getty Images
Yes, that Steve Smith.
It's a shame there's another receiver by the same name, because it takes away the attention that Smith truly deserves.
It was one thing to do what he does game after game when Muhammed or a legitimate number two receiver lined up opposite him.
But for the last few seasons, Smith has continued showing up, not complaining (most of the time) about what he was doing, even when Delhomme threw the ball to the other team more last season.
Another big reason for his selection is Smith's toughness. He is by far one of the toughest in the league at any position.
What's surprising about it is his size. He's not some big physical phenom like Andre Johnson or Sidney Rice, but he's of a smaller stature, which makes his play all the more impressive.
Here's to hoping he goes to another Pro Bowl this season.
Overrated: Jonathan Stewart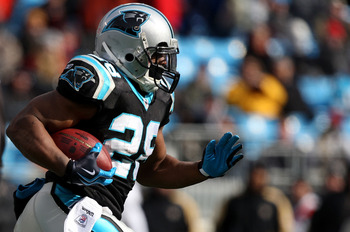 Streeter Lecka/Getty Images
I know I know.
The guy is very good. And he would be a featured runner on, say, the Browns.
But the reality is that the offensive line for the Panthers was amazing last season.
In fact, I talked to a big Panthers fan in passing the other day, and he said that the Panthers backup O-Line was good enough to be the starting O-Line for a lot of teams.
Whether that's the case or not, their O-Line was very good.
I also have another reason for this: DeAngelo Williams.
In my mind, given the comparison between Williams's body and Stewart's, what DeAngelo does is much more impressive. Could you imagine he'd be this good when they drafted him out of Memphis?
But you saw what Stewart could do in college.
So he's not overrated as a player per se, but on this squad, he gets a little too much credit.
Underrated: Jeff Otah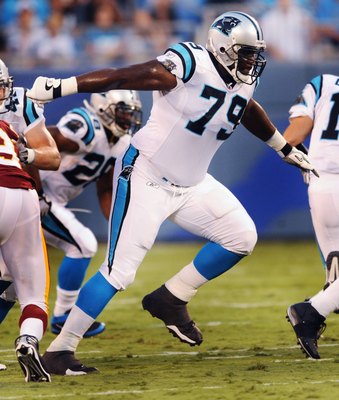 Steve Dykes/Getty Images
Stewart's draft mate, on the other hand, is in my mind a very underrated offensive lineman.
His injury at the beginning of the year seemed to spell a little doom for the run game.
I myself didn't believe it until I saw the stats from the Giants game. The Giants really struggled last year against the run, but not Sunday.
Can he get better any faster? DeAngelo Williams owners would appreciate it.
Overrated: Jimmy Clausen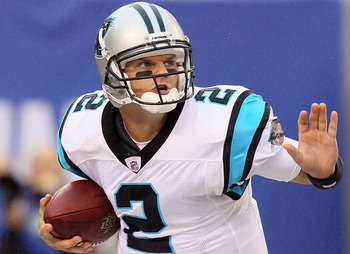 Jim McIsaac/Getty Images
I'll be honest: I just don't like the guy. (Not that Matt Moore did himself any favors on Sunday.)
I'm sure you heard all the reports in college about his cockiness.
He reminds me a lot of a guy named Leinart if you want me to be honest.
So remember that while Matt Moore struggles.
Sure, he looked good in the preseason, but so did Dan Orlovsky.
Carolina fans are clamoring for him right now, even though he hasn't played a pro game. That makes him overrated in my mind.
Remember, there's a reason he fell that far in the draft.
Underrated: Richard Marshall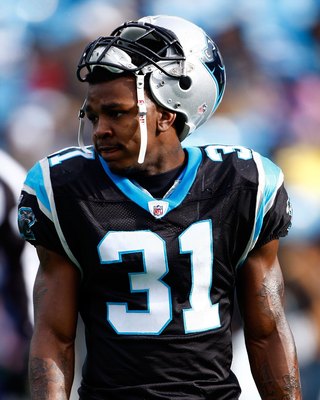 Scott Halleran/Getty Images
The Robin to Gamble's Batman, Marshall has toiled for the last few seasons, waiting for his chance.
He got it last year, and did very well for himself.
His four interceptions last year helped Carolina become one of the best pass defenses in the league.
But the truth is he's done this for a few years now, but just hasn't gotten any credit for his work.
Here's a bone for you Marshall: keep up the good work.
Underrated: Charles Godfrey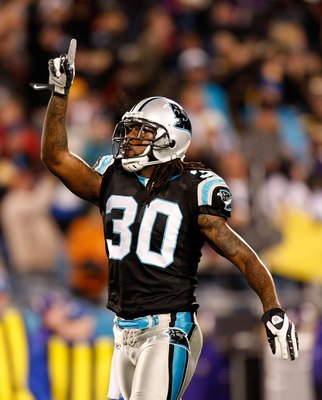 Kevin C. Cox/Getty Images
There's a reason the Panthers secondary gave up so few TD passes last season.
Sure, they have a great corner combination with Gamble and Marshall (as I've detailed earlier), but to give up that few TDs through the air takes a complete secondary effort.
But maybe even more helpful was his ball-hawking skills- he caused four forced fumbles last season.
And now that his safety mate, Chris Harris, is gone, the third year man from Iowa can really take front stage with his talents.
Overrated: Dwayne Jarrett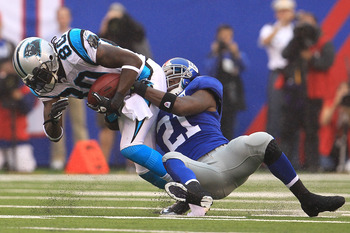 Chris McGrath/Getty Images
Can I get an amen?
Everyone in Carolina waiting for Jarrett to finally come to fruition is probably going to be disappointed.
And while I could go to how overrated a lot of USC players are coming out of school, we'll focus on Jarrett in particular.
He's had chance after chance to take the starting job opposite Steve Smith.
Granted, he doesn't get as many looks as Smith, but there's a reason for that.
For Jarrett, this season may be last chance saloon.
Underrated: Dan Connor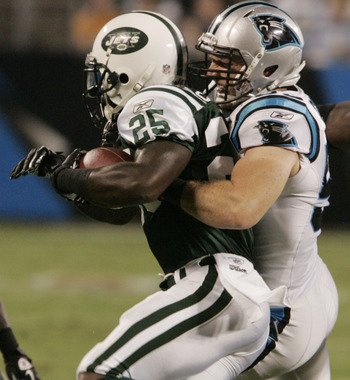 Mary Ann Chastain/Getty Images
Connor's importance to the team will come shining through this year due to some serious injury issues.
But there is a reason that the team was comfortable moving Beason to weakside linebacker to move Connor to the middle.
And Connor responded with 13 tackles last week versus New York.
I'm sure the Panthers would rather have Beason in the middle linebacker spot, but right now, they're certainly glad they have a player the caliber of Connor to put there.
Overrated: Chris Gamble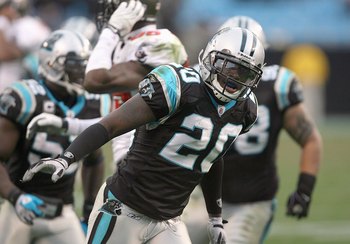 Streeter Lecka/Getty Images
This may seem like a contradiction, but hang with me.
The only reason I put Gamble here is I think he gets too much credit.
Granted, he has really grown as a cornerback, and become one of the top corners in the league.
But on Carolina's team, there are days where he is clearly not the best cornerback.
And besides that, I really didn't have anyone else that was remotely close to overrated.
Did I mention this was a hard slideshow to do?
Underrated: Mike Goodson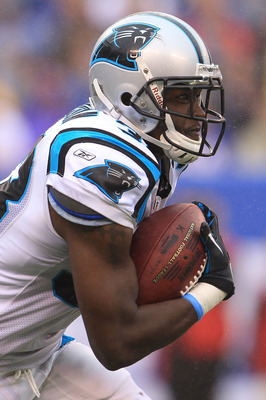 Chris McGrath/Getty Images
His value to the team is much more than just returning kickoffs.
He's become a valuable third down receiver out of the backfield.
Not to mention he was the only Panther to score in the preseason this year.
If the Panthers were to lose Stewart or Williams to injury, like they did last season, Goodson would show his true value yet again.
Keep Reading

Carolina Panthers: Like this team?