TUF Season 12: Team St-Pierre Vs. Team Koscheck—Live Blogging the Madness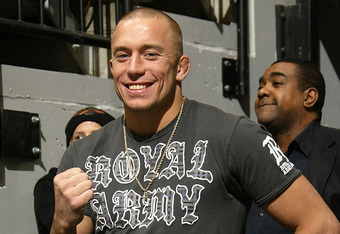 Dave Sandford/Getty Images
With the 12th season of the Ultimate Fighting Championship's reality show about to kick off, Bleacher Report thought it would be wise to keep a running commentary going to mark what could be a historically epic season for The Ultimate Fighter.
How wise a decision it was to hand the assignment to yours truly remains to be seen...
Regardless, this season has the potential to be one of the best ever.
Not only will we get a title fight between the coaches, UFC Welterweight Champion Georges St-Pierre and No. 1 contender Josh Koscheck, but there should be some serious fireworks.
That's nothing new—a good amount of controversy and scandal are staples of the reality genre.
However, those of us who were on board for Season 1 of TUF will remember that "Kos" was one of the show's original bad boys. He did his best to single-hosedly drive Chris Leben bonkers—granted, not a far drive, but still unnecessary.
The insurgent to the 170-pound throne has done a substantial bit of evolving and maturing since those days, but the self-destruction of Paul Daley should serve as a lasting reminder that the provocateur is still alive and well.
In other words, there should be some good friction between the coaches. Not Quinton Jackson-Rashad Evans friction, but certainly a clash of personalities and styles.
And where the coaches go, their fighters tend to follow.
The action starts in 15 minutes.
That's it from me, but I'll be back next week for what looks like the official start of the rollercoaster. Like I said, it should be good.
Nothing gets the blood pumping like a bunch of quick cuts that show grown men totally losing their minds. Caceres, Paige, Koscheck, and (it looks like) one of GSP's coaches all get in on the extra curriculars.
Ah man, the montage. Who doesn't love the montage?
I'm not sure who Alex Caceres keeps talking to, but he seems to think a lot of people out there in tv land were doubting him.
Dane Sayers—remember that name. If he can put some shine on his game, he could be a force because he's got the heart and chin.
The mic'd peanut gallery is rightly infatuated with the Native American kid—he's been on fumes since early in the first, but he's not quailing.
Sayers vs. Sexton are back at it for another round. As soon as I figure out who is who, I'll let you know.
Look at that, they ARE still boxing these days...
I'd make a snide comment about "The Virginity Hit," but I'm afraid I'm starting to sound a little cynical.
More ads—that's, what, the 10th break? And we get another dose of Burger King's mind-numbing stupidity. What a concept—make the country fatter and dumber all in one swoop.
However, the subsequent slam had better success. The participants are on their feet now and Mr. Mohawk (not because he's Native American; he's actually wearing one) looks to be gassing. Or maybe he's just uncomfortable on his feet because he finishes the round in better shape.
Quite the eclectic group tonight—we've now got a Native American entrant, who comes out in some sort of spinning, rolling kick. Bizarre and not effective.
Yeehaw, the Alaskan wins by guillotine choke, which St-Pierre absolutely called before the fight. McKenzie explains his tweak on the move; not your stereotypical fighter, which is usually a good reason to keep an eye on the dude.
Hey, "Rush" gets some attention from Dana White. For a guy who's basically controlled the welterweight division for a while now, GSP doesn't seem to get a lot of love from the CEO.
Second round of promos for UFC 119—can't say I'm breathlessly awaiting the card, but the UFC match-makers have earned the benefit of the doubt from me.
Miller Lite again, just stop it. Please. I'm begging you.
Do have to give DirecTV credit; they've got pretty good commercials.
Man did they get the wrong kid to play the main role in "The Social Network." Can you imagine sitting through two hours of that weaselly little punk condescending in 50-foot high definition? No gracias.
Cody McKenzie is a commercial fisherman in Alaska and Amir Khillah hails from Cairo, Egypt. He aspires to be the "Bisping of the Middle East"—there's a ton of unintentional comedy in that phrase, I'll leave it to the commenters.
Poor St-Pierre, guy is so good and so classy, but he's getting about 10 seconds of camera time for every 60 seconds Koscheck gets.
The roster is filling out nicely—Kyle Watson gets the W and the spot in the house. He drops a Matt Hughes in his interview.
Michael Johnson puts on a nice display of wrestling, which the powers-that-be spare the audience. Plus, we've got a Brit in Aaron Wilkinson.
Caceres doesn't lack for confidence, which makes him the early leader to star as the fighter heel to Koscheck's coaching version.
Not sure his striking is on par with his grappling, but he's got talent and he's a little nuts. That can be an effective combo.
He's currently also exhibiting some pretty slick grappling, transitioning well while maintaining control. All kidding aside, that was pretty impressive.
This article is
What is the duplicate article?
Why is this article offensive?
Where is this article plagiarized from?
Why is this article poorly edited?