Denard Robinson, Terrelle Pryor Running Wild: Power Ranking the Big Ten QBs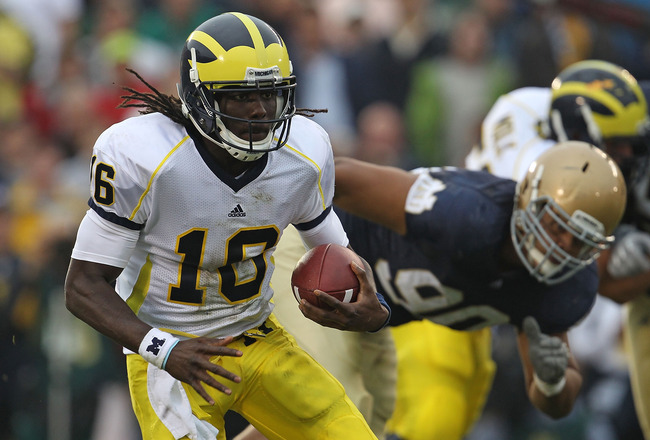 Jonathan Daniel/Getty Images
Week 2 of college football is in the books, and we are beginning to learn more and more about who's going to be a contender and who'll be a pretender.
There has been a lot of impressive play among Big Ten quarterbacks in particular. Some of those who were projected to step up this season are filling their roles, some are disappointing, and others are jumping out to the surprise of many.
Now that we've had two weeks to watch and observe, lets power rank the Big Ten quarterbacks.
No. 11: Robert Marve, Purdue Boilermakers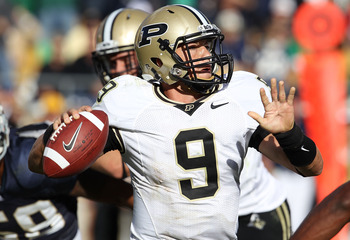 Jonathan Daniel/Getty Images
Passing: 54/76, 71.1 comp %, 391 yards, 1 touchdown, 3 interceptions
Rushing: 16 carries, 31 yards, 1 touchdown
Record: 1-1
Robert Marve has fallen a long way since high school.
Marve was one of the top ranked quarterback prospects coming out of the prep sport, and began his collegiate career in Miami, FL.
As Marve spent more and more time playing for Miami, tension grew greater and greater with the team and coaching staff. Marve was soon a disgruntled quarterback just looking for a home.
Marve transferred to Purdue University and would finally get his chance to begin on a new slate in 2010.
Things have not gotten off to the best start for Marve as turnovers have been the biggest issue for him.
Purdue has been using the spread offense, one that Marve is very comfortable with, and it should be a matter of time before the quarterback begins to settle in and his production picks up.
No. 10: Nathan Scheelhaase, Illinois Fighting Illini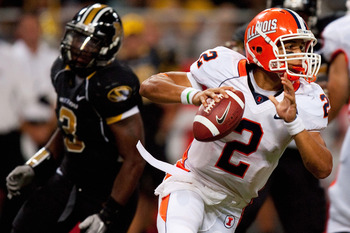 Dilip Vishwanat/Getty Images
Passing: 23/41, 56.1 comp %, 310 yards 3 touchdowns, 3 interceptions
Rushing: 23 carries, 80 yards
Record: 1-1
Illinois hasn't fielded a winning team in some time now, and head coach Ron Zook is in the hot-seat.
Unfortunately, Illinois just doesn't have enough built up yet to take that next step to redeeming the program and Zook's job position.
Illinois has done a nice job of compiling a lot of young, fast talent. It may not be long before it's fielding a team that will allow the Illini to compete on a high level with other Big Ten teams.
No. 9: Robert Bolden, Penn State Nittany Lions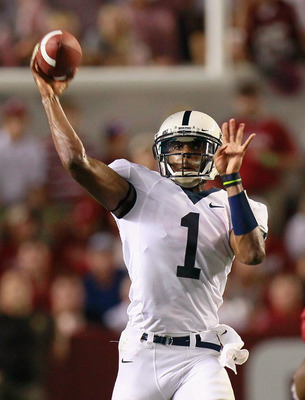 Kevin C. Cox/Getty Images
Passing: 33/58, 56.9 comp %, 383 yards, 2 touchdowns, 3 interceptions
Record: 1-1
The minute true-freshman Robert Bolden came into Penn State summer football camp, Joe Paterno and the coaching staff had high hopes.
Considering how long Coach Paterno has been at Penn State, it is unbelievable that Bolden is the first and only freshman quarterback to ever start during his tenure.
Bolden had a nice showing in his first career start against Youngstown State, but was forced to face a completely different beast in the Alabama Crimson Tide defense.
Taking on the defending National Champions, Bolden had a chance to really put himself on the map, and jump into the eyes of the nation. But in no surprise, the gritty and loaded Alabama defense was too much for the young, inexperienced quarterback.
Keep the name Robert Bolden tucked away in the back of your mind, because it may make its way to the front of your thoughts very soon.
No. 8: Ben Chappell, Indiana Hoosiers
Andy Lyons/Getty Images
Passing: 16/23, 69.6 comp %, 182 yards, 2 touchdowns, 0 interceptions
Record: 1-0
Ben Chappell had a great showing in his first contest with Indiana, but we can't get too carried away considering the game was at home and against Towson, a CAA team.
Ben Chappell and Indiana may surprise some teams and make some noise with their offense this season.
Any team would appreciate the luxury of having a senior quarterback behind center making the decisions for your team's offensive unit.
Indiana should be able to improve to 2-0 in Week 3, taking on another easy contest in Western Kentucky.
If Chappell hopes to remain at No. 8 in the Big Ten quarterback power rankings, he'll need to show up and lead his team to victory in another easy contest.
No. 7: Scott Tolzien, Wisconsin Badgers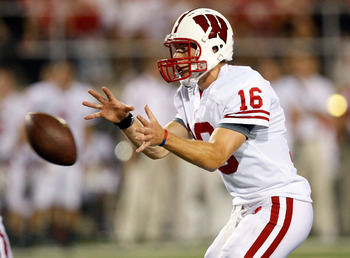 Ethan Miller/Getty Images
Passing: 30/42, 71.4 comp %, 388 yards, 1 touchdown, 2 interceptions
Record: 2-0
Wisconsin began the 2010 season with high hopes for quarterback Scott Tolzien. Tolzien was the most efficient passer in the Big Ten last season, and helped lead the Badgers to a nice bowl win against the University of Miami in the Champs Sports Bowl.
Tolzien has not looked like his 2009 form so far in the 2010 campaign.
Inconsistent play combined with a lack of rhythm has slowed Tolzien from starting the season strong. Tolzien fumbled the ball three times in his last game against San Jose State, luckily recovering all three of them.
If the Badgers are going to live up to some of the expectations and hopes they have in 2010 they'll need Tolzien to get his act together, quick.
Big Ten play is just around the corner. Time to take care of the "cupcakes" and get yourself competitive for the always-tough Big Ten Conference schedule.
No. 6: Adam Weber, Minnesota Golden Gophers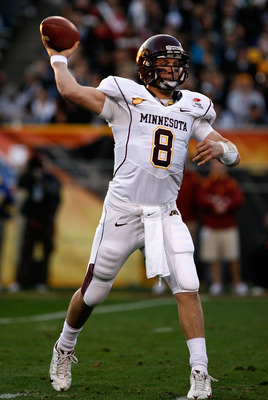 Christian Petersen/Getty Images
Passing: 31/48, 64.6 comp %, 408 yards, 3 touchdowns, 0 interceptions
Record: 1-1
Adam Weber didn't have to do much in the opening game of 2010 as teammate and running back Duane Bennett carried the load.
Weber was able to air it out in Week 2 against South Dakota and looked excellent completing the majority of his passes on his way to throwing for 258 yards and three touchdowns. Unfortunately, Weber's efforts came in a loss.
The Gophers will need to do their best to rebound their spirits and get back on track as powerhouse USC comes into town in Week 3.
There's no better time to have a senior quarterback like Weber than in situations like this.
It will be interesting to see if Weber can carbon-copy his performance in Week 2 and show up big for the Gophers against the Trojans.
No. 5: Kirk Cousins, Michigan State Spartans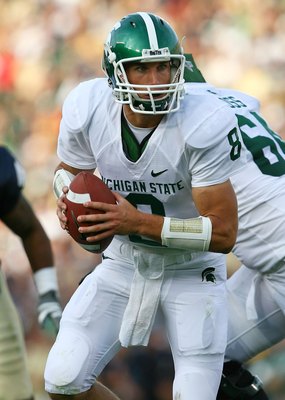 Jonathan Daniel/Getty Images
Passing: 22/38, 57.9 comp %, 328 yards, 2 touchdowns, 1 interception
Record: 2-0
Cousins and Michigan State could turn into one of the "feel good" stories of 2010 in the Big Ten.
After two impressive performances from both the junior quarterback and the Spartans, things remain optimistic for Michigan State faithful.
In Week 3, Cousins will have a huge spotlight to showcase what he and the Spartans are truly capable of as Notre Dame pays a visit.
Other big games for Cousins this season will include October 2nd hosting Wisconsin and October 9th as the Spartans visit Ann Arbor for the big in-state rivalry.
No. 4: Ricky Stanzi, Iowa Hawkeyes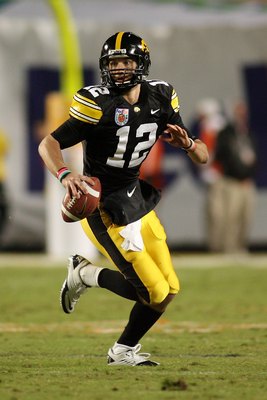 Marc Serota/Getty Images
Passing: 29/41, 70.7 comp %, 433 yards, 3 touchdowns, 0 interception
Record: 2-0
Iowa's "golden boy" Ricky Stanzi has big weight on his shoulder as he is expected to lead the Hawkeyes to big things in 2010. He's done a nice, consistent job of answering the call so far.
Many view the Hawkeyes to have one of the best schedules in the Big Ten. All the big matchups are in their favor as Penn State, Wisconsin, Michigan State, and Ohio State all pay trips to Iowa.
Stanzi will have the home crowd on his side in each of these matchups, and hopefully will capitalize and produce nice showings.
One problem could arise with the emergence of Michigan and quarterback Denard Robinson. It should be a great showdown October 16th when Stanzi leads the Hawkeyes into "The Big House" to face the Wolverines and their fleet-footed QB.
No. 3: Dan Persa, Northwestern Wildcats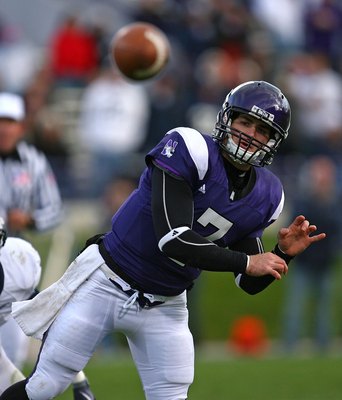 Jonathan Daniel/Getty Images
Passing: 38/44, 86.4 comp %, 462 yards, 5 touchdowns, 0 interceptions
Rushing: 24 carries, 95 yards, 1 touchdown
Record: 2-0
The sneaky and quick Northwestern Wildcats are one of those teams you never want to end up playing in the Big Ten. When you have high hopes at the beginning of the season, they shatter them. When you are just a few wins away from a BCS bowl game, they burst your bubble.
Quarterback Dan Persa will be leading the Wildcats and their exciting and tricky offense in 2010. Quarterback Mike Kafka carried the main load in 2009, and many were not quite sure of how Persa would produce in his first year taking over the bulk of the snaps.
So far, so good.
Persa has produced by far the highest completion percentage in the Big Ten through two weeks, and has only thrown a staggering six incompletions. Add on five passing touchdowns and 462 yards through the air and you have an impressive two week total.
No. 2: Terrelle Pryor, Ohio State Buckeyes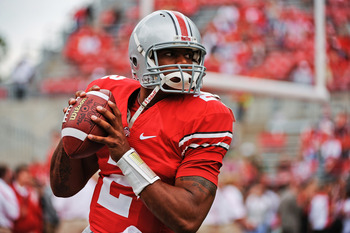 Jamie Sabau/Getty Images
Passing: 29/52, 55.8 comp %, 480 yards, 4 touchdowns, 0 interceptions
Rushing: 28 carries, 130 yards, 1 touchdown
Record: 2-0
The Big Ten Preseason Offensive Player of the Year has done a nice job so far in solidifying the preseason honor.
Pryor and the Buckeyes are coming off an impressive home victory over Top 25-ranked Miami, and still have goals to reach a Big Ten Conference title and a National Championship.
The development and leadership shown by Pryor will be key to the Buckeyes season. So far he's looked like someone who can lead a team with high expectations and not fold to the pressure.
Watch closely as 2010 rolls on and Pryor is matched up in more big-time games against big-time teams. Pryor took a lot of heat from media and the fanbase based off his performances in the big games last season. How he performs in those same situations this season will be key.
No. 1: Denard Robinson, Michigan Wolverines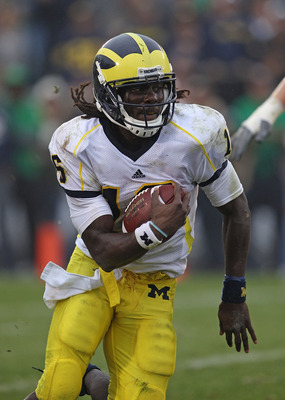 Jonathan Daniel/Getty Images
Passing: 43/62, 69.4%, 430 yards, 2 touchdowns, 0 interceptions
Rushing: 69 carries, 351 yards, 5 touchdowns
Record: 2-0
That's 895 total yards for Denard Robinson in just two weeks of action.
Oh, you need more of an explanation than this?
Well, how about leading his team on a game-winning drive, on the road, against rival Notre Dame.
To make things even more humorous, Robinson does all this without even tying his shoes.
It's no doubt Wolverines' quarterback Denard Robinson has been the surprise of the Big Ten so far. It's just scary to think of how much more he and Michigan could do.
Robinson has rejuvenated the Wolverines and has brought excitement back to "The Big House."
One possible concern with Robinson could be his health. With all the running he does, and all the hits he has and will take, Robinson's health should be watched closely.
Keep Reading