Arizona Cardinals Vs. St. Louis Rams: 10 Things We Learned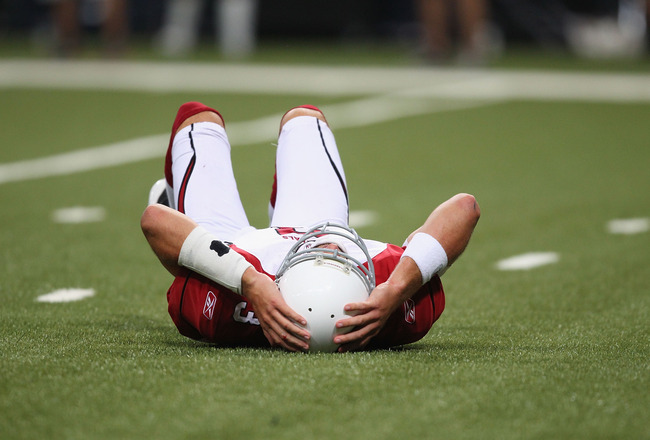 Dilip Vishwanat/Getty Images
Boy this left a bad taste in everyone's mouth didn't it?
I'll admit it, I turned to a friend of mine while watching the game and said, "This has to be one of the uglier games I've seen."
But for the Arizona Cardinals, an ugly win is still a win.
However, the most important thing you can do from a game like this is to learn. Not only for the players, but as fans.
You learn a lot about your team when you play badly, but still win. And in my mind that's exactly what the Cardinals did.
Still, there are a lot of things to take from the game, and a lot of them are negative.
1. Derek Anderson Still Struggles With Inaccuracy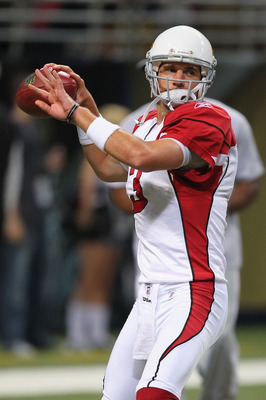 Dilip Vishwanat/Getty Images
Here's one thing that did shine through to Cardinals fans: Derek Anderson is still inaccurate.
Many of his 19 incompletions were because the throws weren't where they needed to be. A couple nearly were interceptions. In fact, a few of his completions, many of which were behind the target, were because of the Cardinals great receivers.
Anderson started out really well in the first quarter, and drove the Cardinals into Rams territory early. But in the second half, there was a period of time where he missed on eight of nine passes.
In all, Anderson finished 22 of 41 for 297 yards. It didn't feel like it though. You Cardinals fans know what I'm talking about.
How many times did you pick up something in your hand, wanting to throw it at the TV?
Or call for Whisenhunt to put in Max Hall?
I'll admit it. I did both of those things frequently.
In the end, Anderson did just enough.
But before you call the Cardinals front office, demanding that the Cardinals start Hall in week 2 versus Atlanta, let me say one thing...
2. This Was Larry Fitzgerald's First Game With Anderson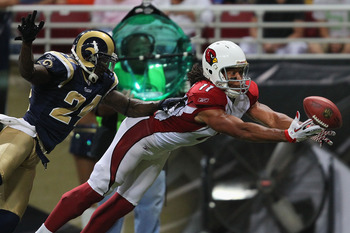 Dilip Vishwanat/Getty Images
You need to keep this in mind.
I'm not 100% sold on Derek Anderson either, but if you think about it, the fact that Larry and Derek never had any time in the preseason played a huge factor in the passing game.
Clearly Anderson wanted to go to Fitzgerald, as he threw to him 15 times. However, just three were complete.
Now, granted, you can make the same case for Sam Bradford and Mark Clayton, and they did just fine.
But Fitzgerald didn't do a lot of underneath routes. He did a lot of upfield and/or deeper routes, and Anderson just didn't do a good job of putting it near him.
So most of the blame goes to Anderson. But it's not all his fault. In fact, Fitzgerald did drop a TD pass in the fourth from Anderson that he could've caught.
In the end, it worked out though, as Anderson made a big throw for the winning score to Fitz.
Throw in the fact that Fitzgerald is coming off an injury, and I think that not all is Anderson's fault. And once these two get on the same page, it will be all the better for the Cards.
3. The Cardinals Miss Beanie Wells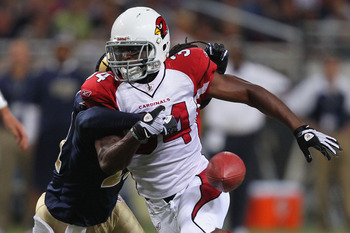 Dilip Vishwanat/Getty Images
When it was announced before the game that Wells would be inactive, I definitely groaned out loud.
But then I remembered that Tim Hightower looked good in the preseason, and had great success (two 100 yard games) in the past against St. Louis.
However, it only took one possession for me to change my mind.
After Tim Hightower fumbled on Arizona's opening possession, I say what I said so many times last year:
"Take him out of the game!"
I said that after Hightower's many fumbles (okay it seemed like a lot) last season, and wished it could've happened in this game.
But with Wells injured, Hightower was the go-to guy. And Whisenhunt is a coach that likes to give his guys another shot.
But I can't imagine he was happy with the first fumble. And he was definitely not happy with the second at the end of the game.
Here's to hoping you're better next week Beanie.
4. LaRod Stephens-Howling Earned Playing Time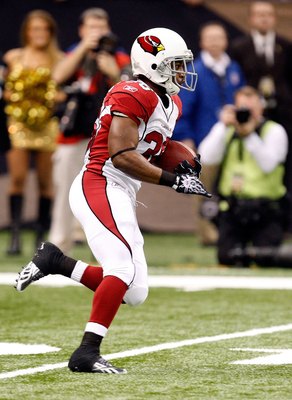 Ronald Martinez/Getty Images
If there was an offensive revelation from this game, it was Stephens-Howling.
He finished with seven carries for 49 yards, and added three catches for 16 yards.
But those stats don't tell the story. LSH looked very quick on the outside, having several opportunities to get in space on some running plays.
Sure, he's still small, but he also wasn't afraid to go up the middle and take a hit. The coaching staff had to be pleased with his effort.
And the crazy thing is he had at least two longer runs called back due to holding calls.
The Cardinals have to find ways to get him the ball this season (I wouldn't be opposed from taking touches away from Hightower). If there's one thing you can't coach, it's speed, and LSH has it.
5. The Run Game Sputtered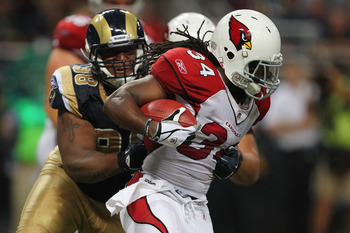 Dilip Vishwanat/Getty Images
I'll admit it: I love watching a team run the football.
Sure, the passing game that the NFL has transitioned to the last few years is exciting, but I like to see a team pound the ball.
So when the Kurt Warner retired, I thought it might be time to see Pittsburgh East, i.e. to see the Cardinals pound the ball.
I mean why not? They have a solid O-Line, Russ Grimm as an offensive coordinator, questions at QB, a great go-to guy in Wells, etc.
But the stats after the game say that this isn't the case yet: 21 runs. 41 passes.
It's a bit surprising, considering the Rams defense. But you have to give the coaching staff of the Rams props, as they kept constant pressure on the Cardinals, sending constant blitzes.
And as a result, other than the touchdown drive which covered 76 yards in the second quarter (all runs), the Cardinals couldn't establish the run.
This has to be concerning for the Cards, since, again, it's the Rams we're talking about.
It's a definite concern, but before you go panicking, realize that Wells wasn't there, the Rams constantly blitzed, and several holding calls limited success for the Cardinals in the run game.
Let's see what they do next week against the Falcons.
6. Steve Breaston Stepped Up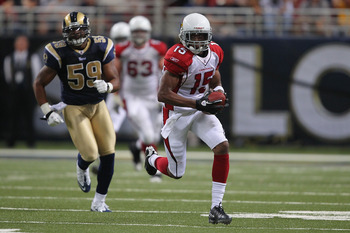 Dilip Vishwanat/Getty Images
If Breaston keeps this up, he could be in for a huge year.
While Fitzgerald was struggling to find a connection with Anderson, Breaston looked just fine.
In fact, many think that Breaston bailed out Anderson. I tend to agree.
Breaston has been mostly overlooked by many, including myself, with Fitz and Boldin there the last few years.
And when Boldin left, instead of Breaston being designated as Boldin's replacement, many dubbed Early Doucet as the eventual replacement of Q.
Not so fast.
With seven catches for 132 yards, Breaston proved huge for the Cardinals offense, especially on the game winning drive.
Not only that, but he made perhaps the Cardinals biggest play by stripping Clifton Ryan inside the five yard line before he could score for the Rams.
Breaston certainly endeared himself to the Cardinals faithful with his performance on Sunday.
7. The Cardinals Played Sloppy Football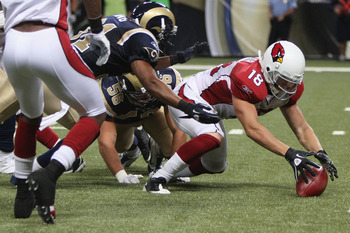 Dilip Vishwanat/Getty Images
72 yards in penalties.
For the NFC West Champions, that's probably too many.
Yes, it was the first game, but the Cardinals certainly have to feel like they played some sloppy football.
Many of the penalties were huge ones.
One nulled a fumble recovery inside the 20 yard line while the Rams were driving. The Rams ended up with three points.
Another couple disallowed a pair of nice runs by LaRod Stephens-Howling (one of which was the only mistake Steve Breaston made on the day).
Another roughing the passing call allowed a Rams drive to continue.
There were fumbles (although three were by rookie Max Komar), fumbles not recovered (Darnell Dockett should've recovered one that Sam Bradford ended up recovering), passes dropped, etc.
These mistakes will be drilled into the team by the staff over the next week I'm sure.
8. Adrian Wilson Is a Beast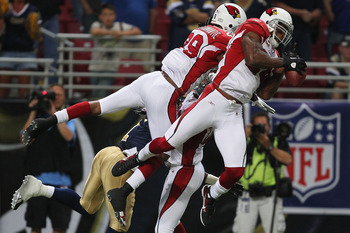 Dilip Vishwanat/Getty Images
Seriously.
Is there anything this man did not do on Sunday?
He blocked a kick.
He didn't just sack Sam Bradford. He took his lunch money.
He picked off two passes (although one was on a last second heave to the end zone).
And he blocked a kick.
In fact, Wilson became the first player to do all three things in a game since Julius Peppers in 2004.
I know who my Pro Bowl vote will be for already.
9. The Defense Won This Game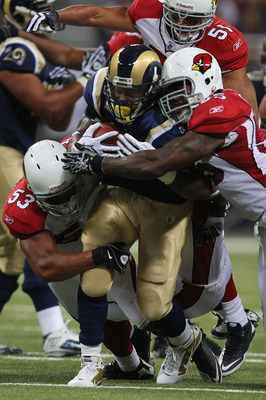 Dilip Vishwanat/Getty Images
While the offense had issues, the defense definitely kept the Cards in the game.
When it seemed like time and time again the Rams might actually take the lead, or take control of the game, the defense stepped up.
Greg Toler in particular showed why he earned a starting spot, getting 13 tackles and a forced fumble.
Daryl Washington also looked good, helping keep Steven Jackson in check throughout the game, especially in the passing game.
The entire defense did a good job of getting consistent pressure on Sam Bradford, with Calais Campbell getting a sack, along with Wilson.
And the secondary made huge plays, with Wilson getting two picks, and newcomer Kerry Rhodes getting a huge pick in the red zone late in the game.
If the defense continues playing this well, Cardinals fans won't be missing Karlos Dansby and Antrel Rolle for long...
10. Sam Bradford Impressed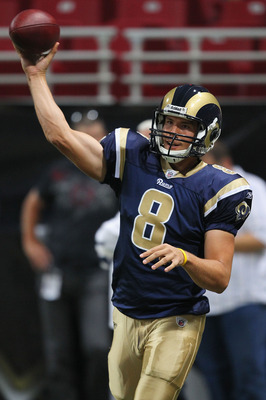 Dilip Vishwanat/Getty Images
I know this is a Cardinals focuses slide show, but I have to give some major props to the rookie.
He may be the best QB in the NFC West before the season's end.
Sure, the numbers weren't outstanding.
But as I told someone, his debut was more impressive than Matt Ryan's because Ryan actually had decent receivers.
I'll be frank. Sam Bradford has Steven Jackson. That's it.
So even though I'm a huge Cardinals fan, and glad that they won, I'm a fan of Sam Bradford.
Don't hate me too much.
Keep Reading

Arizona Cardinals: Like this team?