WWE Night of Champions Preview: The Undertaker's 10 Best Title Bouts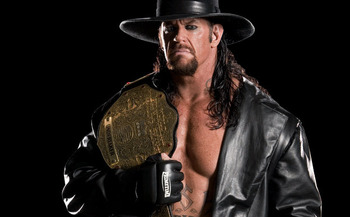 10 of the best.
Hello everyone, Andre Harrison here, part of the columnist team covering this weekend's Night of Champions.
So to get ready for this upcoming event, here's a list that I devised, showing the Top 10 Title Matches that the Deadman has been, in anticipation for his No Holds Barred Match for the World Heavyweight Championship against Kane this Sunday.
So sit down, and enjoy a Harrison's Analysis: The Top 10 Undertaker Title Matches!
10) Undertaker vs. Batista (World Championship, Wrestlemania 23)
I don't know about you, but I was as very surprised with this match, and I still argue that is one of Batista's best singles matches to date...If you ignore 2010 anyway. I'll be honest, going into it, I didn't have very high expectations going in.
However, These two men were determined to prove all the naysayers wrong and produce a great match and they definitely delivered. The match was packed with lots of brawling, intensity and drama. There were a couple times that it seemed like Batista might actually end the WM undefeated streak of The Deadman, but 'Taker was once again able to pull it out at Wrestlemania...
...Not for the first time and it sure as heck wouldn't have been the last. I believe this match was vastly underrated by some people, but as time goes on it will become more greatly appreciated. A great big man brawl that proved that The Undertaker doesn't have to be in the ring with a technical marvel in order to produce a great match...*coughs* Bret *coughs*...


9) The Undertaker Vs. Bret Hart (Royal Rumble 1996)
Bret Hart and The Undertaker always had great chemistry together and this was another prime example of that as this match at the 1996 edition of The Royal Rumble was an instant classic. Bret came into this match as the WWE Champion and 'Taker was trying to dethrone him, despite wearing a face mask due to having his face crushed by Yokozuna in the previous month.
Bret did what he did best in this match and that was exploit a body part on his opponent, in this case The Undertaker's knee, and work on in mercilessly. Undertaker sold the beatdown to his knee beautifully as he limped all around the ring and even failed to hit a Tombstone on Bret due to his knee being in such bad shape. The match ended when 'Taker finally was able to hit the Tombstone, but Diesal came and pulled out the referee which caused a DQ. This was just a fantastic match that fans of matches with psychology attached to them would love.


8) The Undertaker Vs Bret Hart (One Night Only 1997)

Even in 1997, WWF Video Packages were DA BOMB!

This was a rematch to their Summerslam 97' Championship Match which ended in controversial fashion after Shawn Michaels accidentally cost The Undertaker the match. This match took place in the UK (Win!) so the crowd was mainly behind Bret because of his Anti-America, Pro-everywhere else stance.
Undertaker dominated early with some power stuff, including hurling Bret with a wicked irish whip sternum-first into an exposed turnbuckle. Bret was able to gain control of the match by working on UT's legs, including some sick chopblocks and a figure-4 on the ringpost. (You should have seen me marking out when Cody Rhodes did that to HBK at Breaking Point last year)
Bret continued working over UT's leg, but 'Taker fought back and the two had a back and forth match from that point on. Undertaker seemed to have the advantage after a double clothesline, but after he went for a legdrop, The Hitman caught the leg and turned it into one of the best Sharpshooters, I've ever seen.
The Undertaker was able to power out of it, which was unheard of, and regain control of the matchup. The rest of the match featured some great spots like Taker propelling Bret over the top rope with his foot and into a camera man and UT whipping Bret side-first into the steel pole. The ending came Bret got his head caught up in the ropes and the ref called for a DQ because The Undertaker kept on hitting Bret despite the ref trying to back him away.
What stops from being a little higher is the clunker DQ Finish. Boo!
7) The Undertaker Vs. Edge (Wrestlemania XXVI)
One of the best matches of 2008, and these two had some work to do, after The Big Show and Floyd Mayweather killed the crowd to an extent.
This started very slow and the crowd didn't seem to care at all, but credit to both men for turning in one hell of a match down the stretch. I loved the story of Edge always being one step ahead of Taker throughout, only for Taker to come back like always, resorting to a desperate Edge using his Edgeheads to try to win. When that failed he tried a Double Spear, but his anxiety got the better of him, forcing him to tap to the Hell's Gate.
It was when Edge was on the offensive that he made his fatal mistake. Those two would feud the rest of the summer and really never had a bad match. Hell In A Cell and TLC anyone?


6) The Undertaker Vs. Kurt Angle Vs. The Rock (Undisputed Title, Vengeance 2002)

Who needs Unbreakable 2005?

Until Wrestlemania XX (HHH vs HBK vs Benoit), this was my favourite Triple Threat Match of all time. This match was absolute excellence and was so good in fact that it turned a lot of naysayers, who stated before the match that triple threat matches were played out, into believers that triple threat matches can be great when done correctly.
All three men held their own in this match by providing non-stop action and displaying some innovative and intuitive spots for near 20 Minutes. The Undertaker played his role to perfection as he was a complete badass throughout and dominated for the majority of it as the Champion The E included this match on their History of The WWE Championship DVD and it's for good reason because this match is a joy to watch. The perfect definition of a fun match.
(PS: I still marked out when they were doing each others finishers...What, I was 10, cut a guy some slack!)
5) The Undertaker Vs. Mankind (Buried Alive 1997)
This was the first ever Buried Alive match and in all honesty, it was the only good one. It was just hard-hitting action all throughout. Both men delivered and took some of the sickest chairshots I've ever seen. 'Taker put on his moon boots for this one as he not only did a dive off of the top rope onto the floor, but also dived over the steel railing onto Mankind. The brutality continued throughout the match as The Undertaker slammed steel steps into the back of Mankind as well as chokeslammed him into the gravesite.
The Undertaker eventually won the match by covering Mankind with a thin sheet of dirt, but once the ref tried to stop him, UT knocked him out and continued covering Mankind. The Executioner then made his debut and knocked The Undertaker out with a shovel and then approximately 9,547 (or 15) wrestlers came out from the back to help Mankind and The Executioner bury The Undertaker. They proceeded to completely cover UT and it seemed like The Deadman was gone forever. But then a lightning bolt struck the grave and UT's hand popped out of the grave in a truly memorable moment. A great match + an unforgettable finish = A can't miss encounter.


4) The Undertaker Vs. Kurt Angle (No Way Out 2006)
Raise your hand if you thought this match was going to be as great as it was. Liars, all of you! I don't think any of us expected a match this good from a burnt out Kurt Angle and an aging Undertaker. Most of us were hoping that they would recapture the magic of the Smackdown match they had from a few years ago, but this match far succeeded even that one.
You had Undertaker, who was hell bent on capturing the World Heavyweight Championship against Kurt Angle who refused to let anyone even dream about taking his title. It was just an awesome affair that saw Taker beating the crap out of Kurt, but Kurt would keep fighting back and everytime it seemed as though Taker was about to put Kurt away, Angle would find a way to counter it. Seriously, that Tombstone counter into the Anklelock is one of the greatest reversals I've ever seen.
Like the preceding Bret Hart match, it ended with a screwy, non-sensical finish, it didn't take away from the greatness that preceeded it. This match proved why Kurt Angle is the one of the best ever and Undertaker is probably the best big man to ever set foot in the squared circle.
3) The Undertaker Vs. Brock Lesnar (WWE Championship, No Mercy 2002)
Now, for in-ring work, this wasn't as good as the Edge Hell In A Cell I mentioned earlier, but for historical significance and hype, this was off the charts. This feud was all about respect as Brock Lesnar had shown The Undertaker zero respect and The Deadman was determined to beat it into him and take Lesnar's newly won WWE Title as well. After an intense conclusion at Unforgiven where 'Taker threw Lesnar through the stage setting and after Brock ambushed 'Taker and broke his hand, this feud reached a boiling point where only one thing could resolve it. Hell In A Cell.
The Undertaker dominated the early portions of this matchup, using his HIAC experience as well as the cast he had on his broken hand as a weapon. The tide would turn, though, when Brock slammed steel steps into The Undertaker's head and busted The Deadman WIDE OPEN. And when I say wide open, I mean it. Blood poured out of 'Taker's head like a faucet and it was one of the most gruesome things I've ever seen in a wrestling ring.
Despite the huge amount of blood loss, 'Taker was still able to valiantly fight back and at some points it seemed like he was going to pull off the victory against Lesnar. But the youthful energy and brute strength of Lesnar proved to be too much as he was able to ward off The Undertaker's best shots and deliver the F-5 for the win. A lot of people crapped on 'Taker at the time for not jobbing to Brock at Unforgiven, but I think this victory was a hell of a lot more significant as Brock beat 'Taker at his own game. And when does Taker ever LOSE a Hell In A Cell match?
2) The Undertaker Vs. Shawn Michaels (Royal Rumble 1998)
This match is mainly remembered for being the one that caused Michaels to miss four years of action due to a back injury he sustained in it, but what is amazing is the fact that he sustained that injury fairly early in the match and was still able to put on a damn good match. This match was a casket match and it featured some absolutely brutal action which included 'Taker getting a piledriver on steel steps,
'Taker taking a wicked shot to his knees on the steel steps, and HBK getting backdropped onto the casket which would turn out being the move that made him retire for four years. The match ended when Kane, seemingly out to help his brother, turned on The Undertaker and chokeslammed him into the casket which allowed Michaels to pick up the win. This match featured remarkable action that was even more impressive considering that Michael's had a severely damaged back for the majority of it.


1) The Undertaker Vs. Bret Hart (WWF Championship, Summerslam 1997)
Bret Hart's third appearance. Also, this match is one of the most historically important matches ever even though you may not realize it at first. This match was the direct cause of so many important occurrences in WWE history. The formation of DX. Hell In A Cell. The Montreal Screwjob. It can all be traced back to this match.
The Undertaker came in as the champion and Bret was the EVIL heel challenger. Shawn Michaels was the special guest referee and the stipulation behind the match was that if Shawn didn't call the match fairly, he could never wrestle in the U.S. again. Bret Hart also guaranteed a title win and said that if he didn't win, he would never wrestle in the U.S. again. This was a fantastic match that saw Bret work over the leg for the majority and 'Taker make some powerful comebacks. It seemed like Bret had the match won after he nailed UT with a hard chairshot when Michaels back was turned. Michaels saw the chair in the ring and confronted Bret about it and after Bret denied it, he spit on Michaels which was enough to make HBK swing for the fences, but he missed Bret and instead accidentally cracked The Undertaker over the head with it. Bret covered and Shawn had no choice but to count the pin. Awesome ending that actually MADE SENSE.
That would lead to UT being pissed at Michaels which would make Michaels turn heel. After he turned heel, Michaels aligned himself with HHH and Chyna and they went on to become DX. After constantly avoiding getting his ass handed to him by UT, Michaels was finally trapped when the first Hell In A Cell match was made. After winning that match, Michaels rode that momentum into meeting Bret Hart for the WWE Title at Survivor Series and the rest, as they say, is history.
Conclusion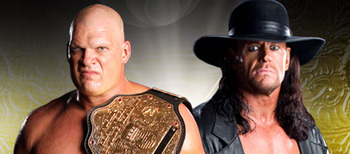 As for this Kane vs Taker match of Night of Champions, I'm not expecting amazing things from it like my Top 10, but the build up has been second to none since Summerslam, so I'm still pretty hyped for it.
Anyway, I hope you enjoyed the read, and let me know what other Undertaker Title Matches deserved a mention within the Top 10 I just had. But for now, I've been Andre Harrison and this was your Analysis. Thanks for reading, and Sayonara.
Keep Reading