Top 10 Fights This Boxing Fan Wants To See In 2011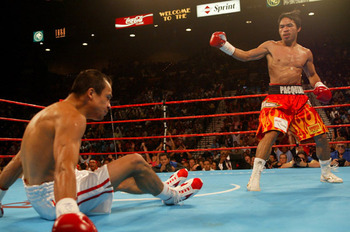 Photo via affleap.com
The top ten boxing matches that could (and should) take place in the near future. There are some obvious picks and some that have so far flown under the radar. These matches were chosen for a combination of notability, storyline, and most importantly the potential to produce a thrilling Fight of The Year candidate for 2011. Only true boxing fans should read any further.
10. Juan Manuel Lopez vs. Yuriorkis Gamboa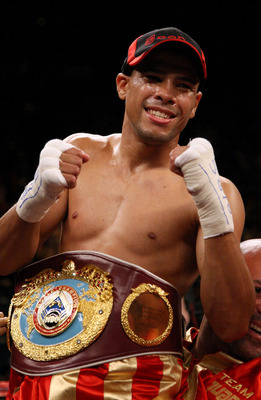 Juan Manuel Lopez
Jed Jacobsohn/Getty Images
Two young, undefeated titlists who are at the doorstep of the Pound for Pound lists, they have impressed us with their power but also raised some questions. Both have a KO rate of over 80%, but they've also tasted canvas against journeyman opponents.
Lopez (pictured) is Puerto Rico's newest hero and used his last fight against Bernabe Concepcion to raise money for breast cancer awareness. (Auctioning off the fighters' ring attire and pink gloves, as well as donating some of his prize money).
It could be scheduled soon. Gamboa just had a good points victory over Orlando Salido and Lopez is fighting legendary Rafael Marquez in December. If Lopez wins that fight, then a match with Gamboa should be on the radar. It will be a marquee fight for either of these 126 pound fighters.
9. Sergio Martinez vs. Paul Williams II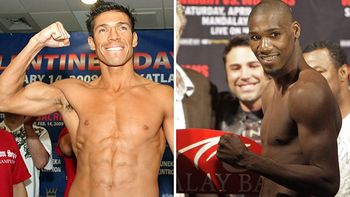 Photo via boxingrepublic.com
They are two of the top ten fighters in any weight class right now, and they had a great battle last December. The second fight could be even better. Martinez lost the first fight by majority decision, but looked great against Kelly Pavlik recently, and Williams looked good against Kermit Cintron before that fight was called off.
Both boxers are great fighters but their careers would be bolstered by a notable rivalry. It seems like a clear choice for Martinez and Williams, and this fight is inching closer and closer to reality.
8. Yuri Foreman vs. Paulie Malignaggi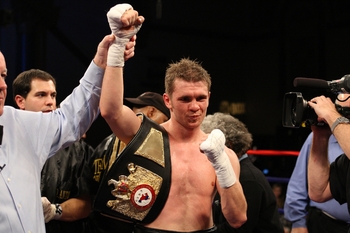 Photo: Tom Casino, Showtime
They have both lost to Miguel Cotto and been exposed as weak punchers and limited fighters against world-class opposition.
So why is this fight so intriguing? Because both fighters have quick, technical, Willie Pep-like styles, and would be well-matched against each other. It would be a boxing clinic, and Yuri Foreman (pictured) and Paulie Malignaggi could both use another good fight against a well-recognized name.
They're currently about 15 pounds apart (Foreman at 154 and Malignaggi at 139), but they could easily meet at a 147 pound catchweight. With a combined 13 KOs out of 55 wins, nobody expects a knockout, so power will be less of a concern than it is in most cross-division fights.
This fight would sell well in New York City. Think of it: the Jewish Rabbi-in-training versus the Brooklyn-born Italian-American king of sound bites. It would be a beautiful technical boxing match in America's largest city.
7. Miguel Cotto vs. Antonio Margarito II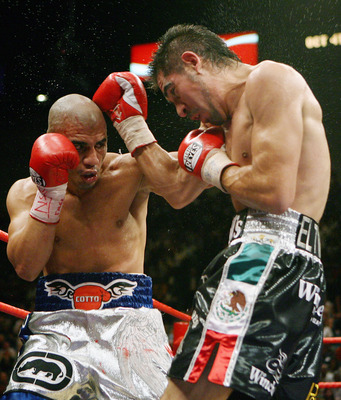 Ethan Miller/Getty Images
Storylines and talent sell fights, and this match has both. In the first fight, Margarito destroyed Cotto, who emerged looking broken with his confidence and reputation shaken. But then Margarito was caught with plaster in his handwraps before his next fight against Sugar Shane Mosley, and he lost in surprising fashion. People now question whether Margarito beat Cotto through similar means.
Everyone knows Cotto is a world-class fighter, and no one has had a better fight against Pacquiao in the last 2+ years. (This includes De La Hoya, Clottey, Hatton and Diaz) But his career definitely took a hit because of the loss to Antonio Margarito.
Whatever you think Margarito knew about his handwraps or not, he's a natural "villain" - a rough fighter, egotistical, unapologetic and cocky. None of these words describe Cotto, who is one of boxing's "good guys". If storylines sell fights, then a good guy getting a chance at redemption against a controversial adversary is one of the best stories in boxing right now.
6. Manny Pacquiao vs. Juan Manuel Marquez III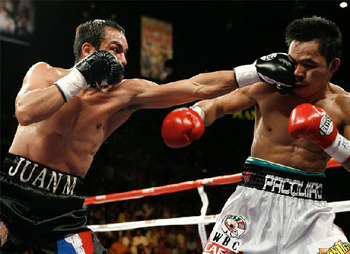 Marquez vs. Pacquiao II
Trilogies usually happen when fighters split their first two fights, so this is an unlikely trilogy following a draw and a narrow decision victory for Pacquiao, but there are people who suggest that Marquez could have won either fight.
That's debatable, but what's not debatable is the fact that Marquez has been the best Pacquiao opponent in years, and possibly ever. An ageless 37-year-old, Marquez is coming off a convincing win against a surprisingly resilient Juan Diaz and is also the only person Floyd Mayweather can claim to have beaten more convincingly than Pacquiao did.
The latter debate may be settled by the time Pac Man and JMM step into the ring again, but Pacquiao is having trouble finding willing and well-matched opponents. Marquez has already proven himself to be just that, and deserves another shot at Manny.
5. Top Heavyweights (Klitschkos, Haye, Adamek) Fighting Each Other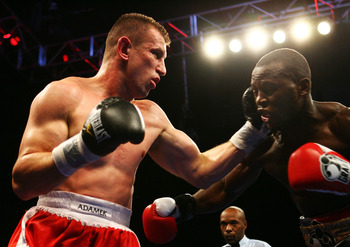 Al Bello/Getty Images
Yes, the heavyweight division is stagnant, but it's not just because of the Klitschkos' dominance or conservative fighting styles. It's also because so many top fights seem not to be happening. Wlad and Vitali won't fight, but there are new faces in the division's top 5.
New titleholder David Haye is fast, surprisingly strong, and charismatic, and he beat Russian giant Nikolay Valuev a year ago. He's considered the man who can bring new life into the heavyweight division, but his act will soon run sour if he doesn't start booking real fights instead of facing guys like Audley Harrison.
However, Tomasz Adamek (pictured) is the jewel of this group. A former cruiserweight and light heavyweight champion, he brings exciting matches and interviews as well as surprising skill for a heavyweight. He already beat Chris Arreola and 6'7" Michael Grant, but most importantly… he wants to fight anyone in the division.
Adamek vs. Vitali Klitschko is looking like a real possibility. If it happens, heavyweight fans should be grateful to see some good brawls again.
4. Andre Ward (or Super Six Winner) vs. Lucian Bute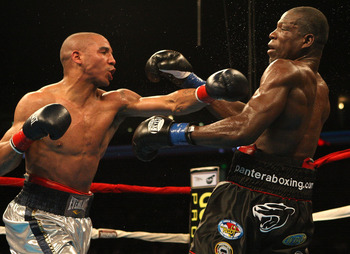 Jed Jacobsohn/Getty Images
It has had its issues, but the Showtime Super Six tournament has been a successful experiment and a welcome addition to a modern boxing environment where top prospects tend to handpick their opponents. It has breathed new life into the super middleweight division.
Thus far, Andre Ward (pictured, left) has been the star, winning twice and looking good while doing so.
But the looming specter of #1 ranked Lucian Bute has prevented Ward from being declared the best super middleweight in the world. With a bout against Andre Dirrell this month and then the tournament final afterwards, the natural step is for Ward (or whoever the winner is: Ward, Dirrell, Carl Froch or Arthur Abraham) to face off against Quebec-based Bute for Super Middleweight supremacy.
3. Devon Alexander vs. Timothy Bradley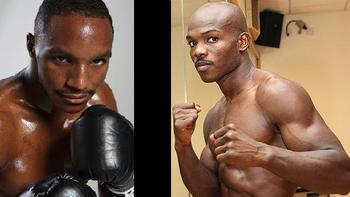 Devon Alexander and Timothy Bradley
These two guys are the future of American boxing. Two immensely talented light welterweight champions who have yet to disappoint.
27-year-old Tim "Desert Storm" Bradley (right) is a no-nonsense, technical fighter with great hand speed, a penchant for pulling off upsets in difficult scenarios, and has an excellent sense of how to win against varied opponents.
Devon Alexander (left) is a top talent from St. Louis who has a big shot at living up to his nickname, "The Great". He has vanquished four world champions over the past three years and Manny Steward and Max Kellerman think he's the most talented 140-pound fighter already at the young age of 23. He raised some question marks in his last fight against Kotelnik, but obviously possesses the necessary tools for world domination.
Both guys could also be good opponents for Floyd Mayweather down the line.
This fight is scheduled for January 29, and every true boxing enthusiast should be watching this fight.
2. Fernando Montiel vs. Nonito Donaire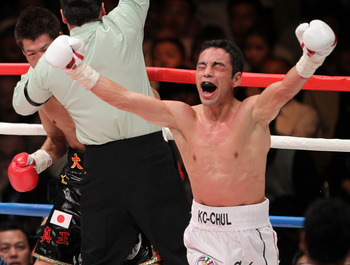 Fernando Montiel upset Hozumi Hasegawa earlier this year
Koichi Kamoshida/Getty Images
The number 4 (Donaire) and number 9 (Montiel, pictured) pound for pound fighters in the world are both looking to climb the ranks. They both also had upset wins over #1 ranked fighters in their weight divisions on their way to the top.
This fight is one that boxing enthusiasts are clamoring to see. The 5'6" Donaire fights at 115, the 5'4" Montiel at 118. Montiel is a Fighter of the Year candidate and Top Rank's Donaire could use another high profile matchup.
Plus, it's a tried and true formula: a 5'6" Filipino puncher versus a gritty Mexican who has never backed down from a top 10 opponent. Sound familiar?
Either of these guys could be a pound-for-pound number 1 a few years down the line.
1. Manny Pacquiao vs. Floyd Mayweather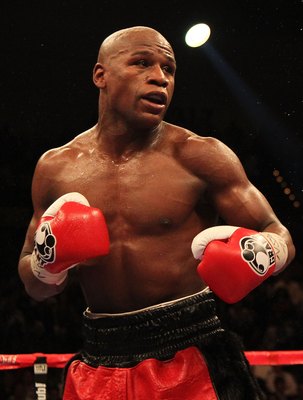 Jed Jacobsohn/Getty Images
What is more exciting than two top pound for pound fighters squaring off? The top two pound for pound fighters facing each other in the ring.
This is the obvious pick, and there's no way around this being the most significant fight that can be made right now. However, the debate is getting really boring really quickly. Fans can take only so much "breaking" non-news and trivial updates about this fight before we lose interest.
Pacquiao has now agreed to everything including the drug testing right up to the day of the fight. This is the most publicity Floyd has gotten for a fight in his career and it's still just theoretical. If he doesn't take this fight, his legacy will be tarnished. His whole camp is brushing it off as though it is an insignificant match, but you can't fool all people all of the time, and the whole world is watching.
Contrary to what some people say, boxing doesn't "need" this fight, but it is the most entertaining, engaging and compelling matchup that can be scheduled in the sport today. If it doesn't happen, many people will remember Mayweather (pictured) as the talented champion who backed off from his most significant competition. Let's all hope that doesn't become his legacy, because 2011 could be the year that fans get rewarded with one of the most significant fights in boxing's deep and storied history.
Keep Reading