NFL Predictions Week 1: Picking the Top Tight Ends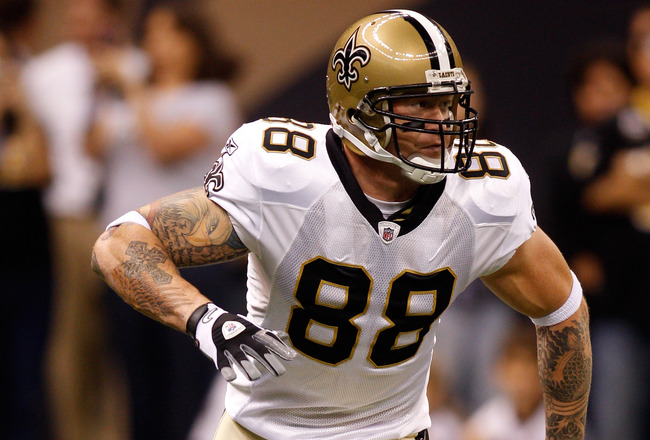 Chris Graythen/Getty Images
The 2010-2011 NFL season gets under way tonight when the Minnesota Vikings take on the New Orleans Saints in a rematch of last year's NFC Championship game.
The start of another football season also signals the start of another fantasy football season as well.
For fantasy owners wondering which tight ends are going to have a big first week, this list of tight ends should help alleviate some stress.
Antonio Gates, SD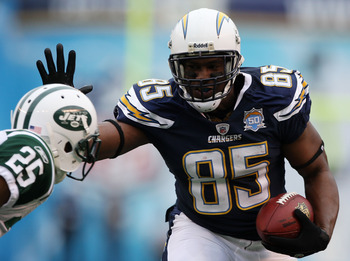 Donald Miralle/Getty Images
The Chargers open their season on the road against the Kansas City Chiefs, a team that Antonio Gates tore up last season.
Besides selecting Eric Berry, who was regarded by some experts as the most talented player in this draft, fifth overall, a Chiefs team that was 4-12 in 2009 did not do much to better themselves in 2010.
With all of the drama surrounding Vincent Jackson and his contract, it is obvious that Antonio Gates is the clear number one throwing target for Philip Rivers.
In two games against the Chiefs in 2009, Gates had 173 receiving yards and two touchdown receptions. Look for Antonio Gates to duplicate his success against the Chiefs this season and especially in week one.
Prediction: +80 Receiving Yards & 2 TD's
Dallas Clark, IND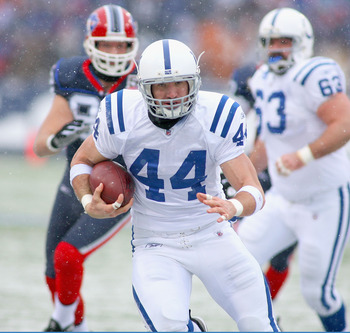 Rick Stewart/Getty Images
Peyton Manning and company open their season against the division rival Houston Texans.
Last season Dallas Clark posted his second highest total receiving yards and by far his highest number of receptions against the Texans.
The Texans are also going to be missing Dunta Robinson, who left via free agency, and linebacker Brian Cushing, who is suspended for the first four games for violating the substance abuse policy.
Looking to avenge last season's Super Bowl loss the Colts are hungry to get back on the field and take another shot at the title.
Dallas Clark has been one of Peyton Manning's favorite targets over the past few seasons and that won't change in 2010. Look for Dallas Clark to have another good showing against the Texans.
Prediction: +50 Receiving Yards & 1 TD
Visanthe Shiancoe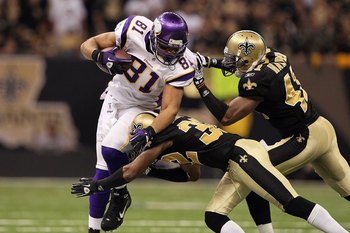 Jed Jacobsohn/Getty Images
Tonight's season opening matchup has a tight end candidate that could have a good game, Visanthe Shiancoe.
Although New Orleans had a very good defense last year, the Vikings are hurting at wide receiver, which opens the playbook for Shiancoe a little bit more.
Shiancoe caught 11 touchdown passes from Brett Favre last season. Expect that connection to be revisited in week one against the New Orleans Saints.
Despite not having a touchdown reception in last year's NFC Championship game, Shiancoe still had 84 receiving yards.
Prediction: +40 Receiving Yards & 1 TD
Vernon Davis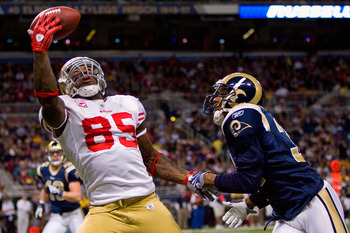 Dilip Vishwanat/Getty Images
Vernon Davis had a breakout season in 2009 and playing his season opener against the Seattle Seahawks shouldn't pose a problem for his stats.
The division rival Seahawks did not present a challenge for Vernon Davis last season as he caught the ball eight times for 143 yards and one touchdown.
The Seahawks have a new head coach in Pete Carroll, but still do not have the roster to be successful in 2010.
Expect Vernon Davis, last season's leader in touchdown receptions at the tight end position, to have a good start to the 2010 season.
Prediction: +70 Receiving Yards & 1 TD
Sleeper Pick: Greg Olsen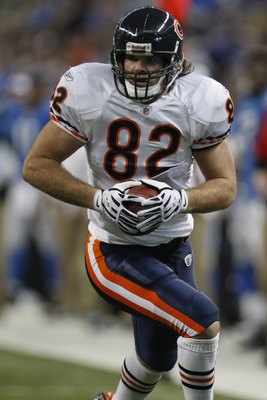 Gregory Shamus/Getty Images
Greg Olsen is the best receiving target on the Chicago Bears this season. If someone had to be considered a favorite target of Jay Cutler during his first season with the Bears it has to be Greg Olsen.
In 2009, Olsen had his best season as a pro with career bests in both receiving yards (612) and touchdown receptions (8).
Against the Detroit Lions in 2009, Greg Olsen caught the ball six times for 95 yards and two touchdowns.
The Chicago Bears offense was hard to watch during the preseason and is a giant question mark for this team in 2010, but Jay Cutler should still be able to find Greg Olsen against the Detroit Lions.
Although Jay Cutler does throw a lot of interceptions, expect some of his passes to be caught by players on his own team, specifically Greg Olsen.
Prediction +40 Receiving Yards & 1 TD
Keep Reading