Who's Going to Dallas? The 2010 NFL Preview.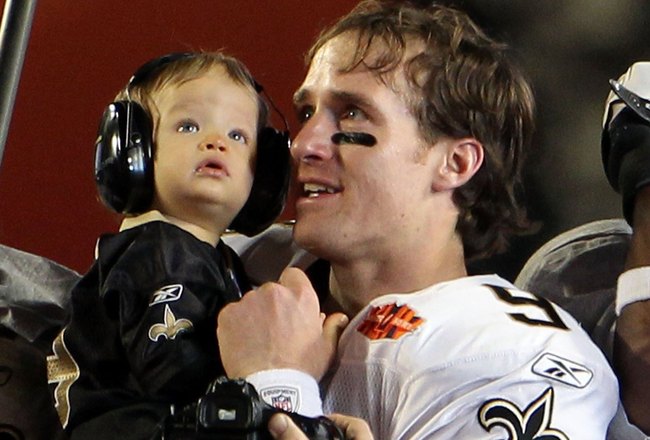 Drew and Braylen Brees celebrating The Saints Super Bowl Victory
Elsa/Getty Images
After months of waiting, the football season is finally here!
In this slide show I'll tell you the records of each team as well as who's going to the playoffs and who will win it all, while at the same time offering my thoughts on other sports related subjects. Plus I added something never seen before in a B/R article.
COMMERCIALS!
Not that I'm getting paid, they're more for amusement and act as bookends from topic to topic.
So without further adieu, here's my predictions for 2010-2011...right after this.
And Now a Word From Our Non-Sponsor
The Hitachi, err, humidifier? Air purifier? Fischer Price My First Vaporizer? Whatever, if the Hulkster says buy it, buy it. And take your vitamins, drink your milk and say your prayers, can't forget that either.
NFC West

Frank Gore will lead the 49ers to an NFC West Crown...at least in Thomas' eyes.

1. San Francisco (11-5, 5-1)
2. Arizona (8-8, 3-3)
3. Seattle (5-11, 3-3)
4. St. Louis (3-13, 1-5)
I'm starting with the crappiest division. A division that will give the 49ers home field advantage in the Wild Card round where they'll host a better team (I'll get to that later.)
Then there's the Cardinals, who won't be bad, but not good either. However, they will be a mediocre playoff team because of a weak division and weak NFC as a whole (yes even counting the NFC East.)
Seattle is rebuilding and won't do a terrible job, but won't do too great either.
St. Louis will be improved, but its like an ugly girl getting a boob job, you spent good money on plastic surgery, but you're still pretty ugly, you have a lot of work to go.
AFC West

Raiders look to return to glory in 2010

1. Oakland (9-7, 4-2)
2. San Diego (9-7, 2-4)
3. Denver (6-10, 3-3)
4. Kansas City (4-12, 3-3)
Ok maybe THIS is the worst division in football. Oakland is coming back this year, by default but still.
There's a lot to not like about San Diego, and Denver has way too many question marks.
The Chiefs seem to be trying harder to be New England West, minus the success. Weiss will at least make them a high scoring team.
NFC North

Rogers hopes to throw more beautiful passes this year, possibly from Green Bay to Dallas.

1. Green Bay (13-3, 6-0)
2. Detroit (8-8, 3-3)
3. Minnesota (8-8, 3-3)
4. Chicago (3-13, 1-5)
Yes I have Detroit going .500 and in second place. I like what they've done the last two off-seasons and with their schedule they will surprise people, including the Vikings, whom they will keep out of the playoffs by beating not once, but twice.
This will be Favre's last year. Their opening schedule is too much of a killer.
Favre's former team though? Destination Dallas? Maybe, keep reading.
AFC North

The Ravens hope to celebrate the ten year anniversary of their first Super Bowl with their second.

1. Baltimore (12-4, 5-1)
2. Pittsburgh (9-7, 4-2)
3. Cincinnati (8-8, 2-4)
4. Cleveland (4-12, 1-5)
I honestly don't know what to say about the Bengals. I'm not going to waste your time with some half-assed joke about them leading the league in Reality Shows. Nor will I joke about Big Ben with the Steelers, or Cleveland as a whole.
But the Ravens do have the tools to not just win their division, but dominate it, which is why I have them winning their division by three games.
More predictions after this message.
Don't Smoke In Bed
Smoking is bad, mmkay...smoking in bed is bad, mmkay. Back to the preview.
NFC East

Will The Cowboys Be The First Team to Play a Super Bowl In Their Home Stadium?

1. Dallas (11-5, 4-2)
2. Washington (8-8, 3-3)
3. Philadelphia (8-8, 3-3)
4. New York Giants (5-11, 2-4)
Cowboys have a much easier path to the NFC East crown then you think. I expect the Giants to be the most disappointing team in the NFL. Washington will improve, Philly will have growing pains, but neither will regret the McNabb trade. However Washington will continue to regret the Haynesworth signing.
The Cowboys have an easy path to the NFC East, but what about the NFC or Super Bowl?
AFC East

Phins-Pats was one of the best games of the year last year, and will be the rivalry that decides the AFC East and maybe the AFC.

1. Miami Dolphins (11-5, 5-1)
2. New England Patriots (11-5, 4-2)
3. New York Jets (8-8, 3-3)
4. Buffalo Bills (3-13, 0-6)
If you expected the video to be a Hard Knocks scene, I'm sorry, but I'm sure you noticed a theme, a video of the FIRST PLACE team will go up, and since I have the Patriots and Dolphins tied with the best record (Dolphins getting the tie-breaker) then why not use a video of their game last year.
The Jets will also disappoint. Well they won't disappoint Jets fans, who are used to it, but the pundits that penciled them into the Super Bowl. What people forget is that the Jets are in a tough division, with a Patriots team that doesn't want to say die, and a Dolphins team that's ready to take the leap.
Speaking of the Leap, expect Henne to do that. I usually don't take the pre-season too seriously, but I liked how he handled himself last season when the team was down, this Pats game was an example of that.
I don't have anything to say about the Bills other than, ugh.
Now For A Break To Talk About NBA/Obligatory LeBron Section To Get Comments Up

When You Want The B/R Community to React, Just Show A Video of These Three, and Wait For The Insanity to Ensue

This is an attempt to get cheap reads. The very mention of LeBron has created a Pavlovian response amongst Bleacher Report, either to furiously defend him, or to quickly denounce them. This turns into name-calling, taunting, and even the chilling possibility of sports terrorism highlighted in this article (shameless self-promotion.)
What I don't get is this, not too many LeBron arguments are smart. They're all the same. Is he better than Kobe? Is Kobe better than him? Is he a punk for what he did? Jesus Christ! I'm sick of it, and I'm a Heat fan!
Then there's the whole "I hate how they did it, I hate superteams" thing a lot of you are on, while praising the Boston Celtics. Oh but there's a difference, Danny Ainge traded for them. Funny because, last I checked, KG had a no-trade clause in his contract and turned down the first trade to the Celtics. It wasn't until Ray Allen was added to the mix that KG agreed.
In joining up together, even if it was in their own choice and not masterful planning by Pat Riley (which it was in a sense) they did something that's completely American; they decided to play together to create a team using the current rules in place.
Now I've seen a so-called "business major" on here saying that companies don't do that. Yet I distinctly remember in the 1990's that a former Disney executive, a record mogul and Hollywood's best director did just that and started their own studio. They're now known as Dreamworks. What they did was capitalistic and American in every sense of the word, it showed individual freedom, and people who jumped at the opportunity to do something special. If its ok for a GM to do it via trade, then it's completely ok for players to do it themselves via FREE agency, key word, FREE!
The point is, LeBron is so hated, but one of the things he's hated for is that he's an "attention whore" who's "bigger than the game." So to show your anger at LeBron for this, you spend your time commenting on any article that has LeBron in it, criticize his every tweet and every move, and thereby giving him your attention. How the hell am I supposed to take YOU and your cockamamie arguments seriously?
See LeBron isn't the punk, no haters, YOU ARE THE PUNKS! Get a life! Focus on your fantasy teams, your NFL team, your girlfriends, boyfriends, wife, husband, kids, grandkids, or dog. If you hate LeBron so much and hate that he's commanding so much attention, then STOP GIVING HIM YOUR FULL AND UNDIVIDED F**KING ATTENTION YOU POSERS!
Then there's the "Legacy" thing everyone throws up with LeBron. Here's my answer as to whether he's going to "tarnish" his legacy by going to Miami, provided by Merriam-Webster and verified by dictionary.com, Oxford, and The American Heritage Dictionary.
Legacy noun,plural: anything handed down from the past, as from an ancestor or predecessor: the legacy of ancient Rome.
HIS LEGACY HASN'T BEEN WRITTEN YET YOU BOZOS! Legacies are written when everything is said and done! If you overzealous nutjobs took your heads from out of your backsides and picked up a damn dictionary for once in your life, you'd see that! A Legacy is anything handed down FROM THE PAST! LeBron is the PRESENT AND FUTURE! So why all the talk about legacy when we don't know?
I know this is long and coming off harsh, just I didn't want to deal with writing another stupid article about it, which I just did in the middle of what's supposed to be an NFL preview. If you read it this far, congrats, here's a treat from across the pond coming up next. If you didn't, you missed out on someone go ham using common sense and logic. We'll be back after this.
Those Freshly Waxed Floors Can Kill You!

Ouch!

Polish a floor, put a rug on it...you might as well set a MAN-TRAP!
And to think, he had just come home from the hospital!
*Scary British Accent* That was a public information film.
AFC South

How much better will the Colts be than these kids?

1. Houston (11-5, 4-2)
2. Indianapolis (11-5, 4-2)
3. Tennessee (9-7, 3-3)
4. Jacksonville (4-12, 2-4)
Its a division tie that I'm giving to Houston. But don't think for a second that I'd count out Peyton Manning and the Colts. The titans will be exciting on the ground but not too great, and Houston will finally break through. (I know, I know, everyone has been saying that since the Oilers were in town, well at least it feels that way.)
As for the Jaguars? See them in Los Angeles in a couple of years!
NFC South

Saints winning their first Super Bowl, but will they repeat?

1. Atlanta (14-2, 4-2)
2. New Orleans (12-4, 4-2)
3. Carolina (7-9, 3-3)
4. Tampa Bay (2-14, 1-5)
A shock! I don't have New Orleans winning the division. But they are still a playoff team, 3rd best in the NFC. Why do I believe Atlanta will be so good? They just look solid. But Super Bowl solid? We'll see.
Playoff Predictions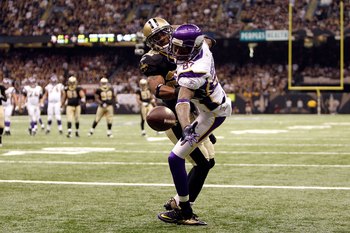 Saints will be in the playoffs, but not the Vikings. Who will join the defending champions?
Chris Graythen/Getty Images
AFC
1. Baltimore Ravens (12-4)
2. Miami Dolphins (11-5)
3. Houston Texans (11-5)
4. Oakland Raiders (9-7)
5. New England patriots (11-5)
6. Indianapolis Colts (11-5)
NFC
1. Atlanta Falcons (14-2)
2. Green Bay (13-3)
3. San Francisco (11-5)
4. Dallas Cowboys (11-5)
5. New Orleans Saints (12-4)
6. Arizona Cardinals (8-8)
Wild Card Weekend: Cardinals vs. 49ers

Niners came on top in this regular season game last season, but how will they do in the playoffs?

The Cards will travel to San Fran to meet the NFC West Champion 49ers. They'll leave proving that they don't belong in the playoffs. Unlike in the video it won't be a quick drive, but a full-on assault.
49ers 35 Cardinals 10
Wild Card Weekend: Colts vs. Texans

Peyton lead a comeback last year, but how would he do this year?

The Texans bugaboo for the last few years have been the Colts. It was the even the Colts who both directly and inderectly kept the Texans from the post-season (if the Colts go for 19-0, it might've been the Texans and not the Jets that go to the playoffs.)
In the first home playoff game in Texans history, it again goes down to the wire, but with a different result: the first time the new overtime rules come into effect.
Texans 41 Colts 38.
Wild Card Weekend: Saints vs Cowboys

Cowboys ended the Saints undefeated dreams, but in 2010 they'll collide in the playoffs.

With high electricity in the air in Arlington, Dallas will look to take one step towards becoming the first team to play a Super Bowl in their home stadium.
But due to the defending Super Bowl champions, the Cowboys will again find themselves on the outside looking in.
Saints 38 Cowboys 21
Wild Card Weekend: Patriots vs. Raiders

Raiders fans, you might want to skip to the next slide.

It will not be a controversial call that keeps the Raiders from being the Pats. It will just be the fact that the Raiders are a product of a bad division, and the Patriots will be hungry to prove that the AFC is still their domain. No snow, sunny skies in Oakland, and the black hole. It won't matter, still the most lopsided game of the playoffs.
Patriots 28 Raiders 3
Division Weekend: 49ers vs Packers

Young to Owens no more, but a classic playoff match up.

The names and faces have changed, but seeing these two teams duke it out on the Frozen Tundra (hopefully at night) would be a treat. It will be a treat. 49ers will actually have the weather advantage with a better cold weather team (how ironic) but the Packers will be victorious in the end in a closer than anticipated game.
Packers 27 49ers 24
Division Weekend: Dolphins vs. Texans

What team would the Dolphins never want to face in the Playoffs? The Texans, who are 5-0 against the fins.

The defenses may as well stay home for this one. A battle between two young up and coming QBs, and between two of the best Wide Recievers not named Fitzgerald.
But ask any Dolphins fan, and this game scares them. It scares me. The Texans never lose to the Dolphins, never. They always find a way to win. Well, until the playoffs.
Dolphins 38 Texans 10
Division Weekend: Saints vs. Falcons

They split the division and are probably the two best teams in the NFC. But who comes out of this rivalry game alive?

When you think of great playoff rivalries, you think Colts-Patriots, Cowboys-Redskins, Steelers-Raiders, and of course Saints-Falcons.
Oh, they've only met once? In 1991? And the Falcons won by 7?
Well this game will make it a memorable playoff rivalry. I see the second OT playoff game of the year, only this time the score will come quick and the Falcons won't be able to respond.
Saints 37 Falcons 31
Division Weekend: Patriots vs. Ravens

Baltimore messed New England up last year in the playoffs. But thanks to new nano technology, Belichick has figured out how to fit smaller cameras into Ravens camp. Its a joke Pats fans chill.

Still clinging onto the past, the Patriots decide to let Joe Flacco win the game for the Ravens.
An idea that works to perfection as for the first time Flacco is expected to shoulder the Ravens. The pats get their revenge for last years embarrassment.
Patriots 27 Ravens 6
Pre-Championship Weekend Break.

I know what happens after the freeze frame, but its just too painful to think about.

OUCH! British People are sick! I mean do they love mind-torturing their citizens in PSA's (sorry, Public Information Films.) So far I've shown you the tame ones, there are some outright terrible sickening ones!
NFC Championship Game: Saints vs. Packers

Last time these two teams met it was lopsided. This time? Not so much.

The Saints run to a repeat Super Bowl appearance ends in the Frozen Tundra. The Packers defense will neutralize the Saints potent offense, but the Saints defense won't do the same. Green Bay on their way to a Super Bowl, while Aaron Rogers plays with an F-U Favre smile the whole time.
Packers 31 Saints 14
AFC Championship Game: Patriots vs Dolphins

We're going back for this one. Really couldn't find a good wrap up or distinct play from the 85 AFC Championship game. Sorry Pats fans.

The game featured was a week 1 game, and one of the best games I've seen. A true QB shootout, a young up and comer vs. a future hall of famer.
I see the same thing happening in this game, but with the same score going the same way in the same building.
Dolphins 39 Patriots 35
Pre-Super Bowl Break

Now you knew that for a pre-super bowl ad I had to chose a Super Bowl classic right?

Still one of the best ads ever.
Super Bowl XLV: Dolphins vs. Packers

Too bad I couldn't get the new one, please someone on YouTube, post a Packers celebration from Madden 11 to fit my predictions.

Its not blind homerism, I really honestly think that the Dolphins are Super Bowl good. But I really honestly think that the Packers will be the best team in the NFL this year.
Packers 38 Dolphins 28.
That's All Folks

Nice to see Rex Ryan has a backup plan if this Head Coaching thing doesn't work out.

That's all folks! Have a comment? Leave one. About anything! Especially if you disagree!
And follow me on twitter, @thomasgalicia
Keep Reading

Miami Dolphins: Like this team?