2010 Heisman Trophy Rankings: Kellen Moore the New Leader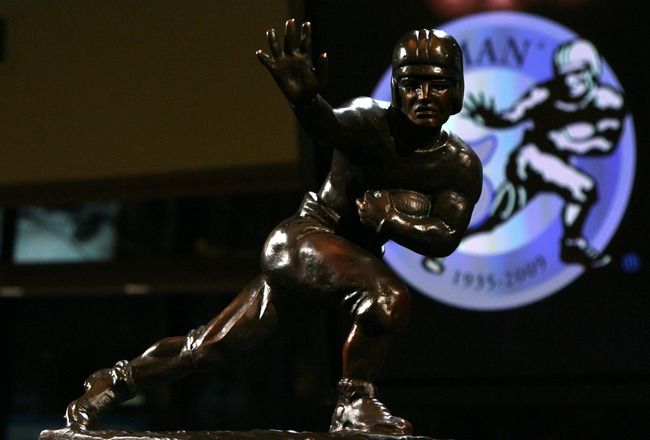 The race for the most prestigious trophy in sports is heating up
Chris Trotman/Getty Images
It's time for the latest edition of Bleacher Report's 2010 Heisman Trophy Rankings, presented by Heismanpundit.com.
The Heismanpundit.com Heisman Poll is made up of 13 Heisman voters from across the country. They vote for three players each week. Tabulations are made on a 3-2-1 basis, with three points awarded for a first-place vote, two points for a second-place vote and one point for a third-place vote. The past two years, the Heismanpundit poll was the most accurate in the country, picking five of the top six finishers in the Heisman vote in 2008 and the top four in 2009.
Members of the panel include: Mike Bianchi of the Orlando Sentinel, Teddy Greenstein and Brian Hamilton of the Chicago Tribune, Olin Buchanan and Tom Dienhart of Rivals.com, Jenni Carlson of The Oklahoman, Bruce Feldman of ESPN.com, J.B. Morris of ESPN the Magazine, Austin Murphy, B.J. Schecter and Stewart Mandel of Sports Illustrated, plus Dick Weiss of the New York Daily News.
Chris Huston, owner of Heismanpundit.com and a Bleacher Report contributor, coordinates and also votes in the weekly poll.
The poll is featured here on Bleacher Report each Tuesday during the college football season.
Here are the top players in the poll heading into week two...
No. 10: Matt Barkley, QB, USC; Trent Richardson, RB, Alabama (One Point)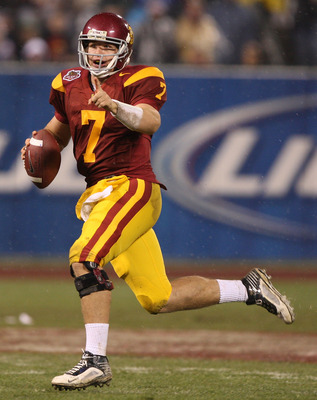 Barkley is 10th in this week's poll
Jed Jacobsohn/Getty Images
USC sophomore quarterback Matt Barkley and Alabama sophomore running back Trent Richardson make their 2010 debut in the poll, landing in the 10th spot with one point each.
Barkley is off to a hot start so far this season, as he went 18 of 23 for 257 yards and five touchdowns in USC's 49-36 win over Hawaii last Thursday.
Richardson ran for 66 yards and two touchdowns on 10 carries against San Jose State. With 2009 Heisman winner Mark Ingram sidelined, Richardson stands to benefit statistically.
With a relatively easy schedule in the coming weeks, Barkley has a chance to pile up some good numbers and move up in this poll. Richardson will be featured in the Tide's big tilt against Penn State, so we might be hearing more from him soon.
No. 9 Kenjon Barner, RB, Oregon (Two Points)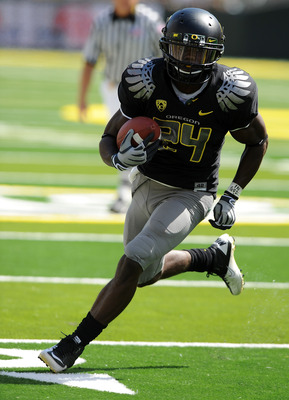 Barner scored five TDs against New Mexico
Steve Dykes/Getty Images
Oregon sophomore running back Kenjon Barner made the most of his starting opportunity brought about by the one-game suspension of LaMichael James, picking up two points in this week's poll.
Barner tore through the New Mexico defense for 147 yards and four scores on the ground and added another touchdown on a 60 yard catch and run. He scored all five of his touchdowns before the first half was through.
The question now is whether he'll get another chance to show his stuff now that James is set to return against Tennessee. If James reasserts himself, it's unlikely we'll see Barner on this list again.
No. 8: Andrew Luck, QB, Stanford (Two Points)
Luck is third nationally in passing efficiency
Ezra Shaw/Getty Images
Yet another Pac-10 star makes the list.
Stanford sophomore quarterback Andrew Luck picked up two points in the poll after going 17 of 23 for 316 yards and four touchdowns in the Cardinal's opening game rout of Sacramento State.
Luck led the Pac-10 in passing efficiency last year as a redshirt freshman and so far appears to be picking up the offensive slack left by the departure of 2009 Heisman runner up Toby Gerhart.
This week offers Luck a chance to burnish his Heisman credentials as Stanford takes on UCLA in its Pac-10 opener.
No. 7: Ryan Mallett, QB, Arkansas (Two Points)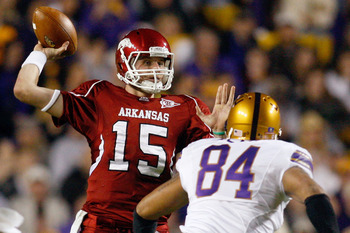 Mallett was 21 of 24 in the opener
Chris Graythen/Getty Images
Junior quarterback Ryan Mallett of Arkansas totaled two points in this week's poll.
The 6-7, 240-pounder completed an amazing 21 out of 24 passes (88 percent) for 301 yards and three touchdowns (with one pick) against Tennessee Tech on Saturday.
Mallett is coming off a 3,600-yard, 30-touchdown sophomore season and should shatter almost every Arkansas passing record before he is through.
His first major test of the season comes two Saturdays from nowa road game at Georgia.
No. 6: Case Keenum, QB, Houston (Two Points)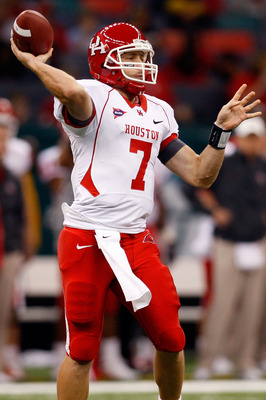 Keenum will soon be the NCAA's all time passing leader
Chris Graythen/Getty Images
The beat goes on for Case Keenum, who also garnered two points in this week's poll.
The senior signal caller moved ever closer to the all-time NCAA passing yardage mark, throwing for 274 yards and five touchdowns on 17 of 22 passing in just one half of play against Texas State. He also had a couple interceptions.
Keenum is now just 3,893 yards from the all-time record, which he should hit sometime in game eight, if he keeps to his pace.
He has a chance to make some noise in the race a couple weeks from now when Houston travels to the West Coast to play UCLA.
No. 5: Kendall Hunter, RB, Oklahoma State (Three Points)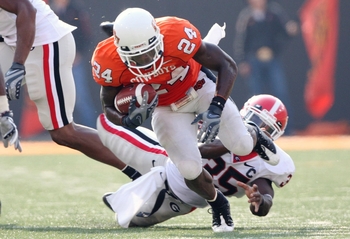 Hunter is back
Christian Petersen/Getty Images
Oklahoma State senior Kendall Hunter burst back onto the college football scene on Saturday, rushing for 257 yards and four touchdowns on just 21 carries in a rout of Washington State.
For his efforts, he received three points, including a first-place vote, in this week's poll.
Hunter was an All-American as a sophomore in 2008 when he rushed for 1,555 yards to lead the Big 12. An ankle injury in 2009 limited him to just 382 yards. But after Saturday's performance, it's safe to say he's healthy and ready to make an impact again.
OSU's schedule offers few challenges to Hunter until a late October matchup with Nebraska in week seven.
No. 4: Daniel Thomas, RB, Kansas State (Four Points)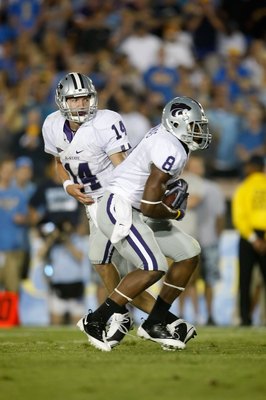 Daniel Thomas is the nation's premier power back
Jeff Gross/Getty Images
Kansas State senior running back Daniel Thomas totaled four points in the poll after gashing UCLA's defense to the tune of 234 yards and two touchdowns on 28 carries.
Thomas has been flying under the radar nationally despite piling up 1,265 yards and 11 touchdowns for the Wildcats in 2009.
At 6-2, 230 pounds, Thomas has quickly transformed himself into the nation's premier power back. Most impressive is the fact that he played quarterback in junior college and is still learning the tailback position.
He should be a top pick in the next NFL draft, but not before he makes some more noise in this Heisman race.
No. 3: Denard Robinson, QB, Michigan (Four Points)
Robinson had an amazing game against UConn
Stephen Dunn/Getty Images
How can someone who has barely played make it on to this list so quickly?

Well, if you saw Denard Robinson in his first start for Michigan, you'd understand.
The sophomore, who received four points and a first place vote in the poll, rushed for 197 yards (setting a Wolverine QB record) and passed for 186 as he led Michigan to a convincing win over a solid Connecticut squad.
Robinson's quick feet and accurate passing kept the Huskies on their heels all afternoon and conjured up images of another great Rich Rodriguez protege: Pat White.
With a high profile game coming up against Notre Dame, it's easy to see how Robinson could be a force in this race...so long as he keeps doing what he's doing.
No. 2: Terrelle Pryor, QB, Ohio State (26 Points)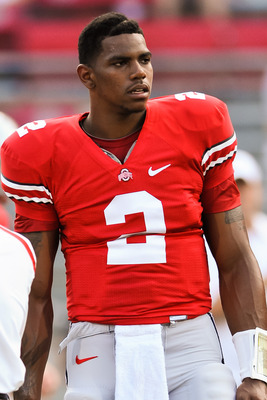 Pryor is No. 2...for now
Jamie Sabau/Getty Images
Ohio State junior quarterback Terrelle Pryor is a solid second in this week's poll with 26 points and three first-place votes.
In the Buckeyes' opener against Marshall, Pryor went 17 of 25 for 247 yards and three scores, with no interceptions.
As the top player on a traditional power that is expected to challenge for the national title, Pryor assures himself of being in the thick of the Heisman race all season, so long as he keeps performing as he has been.
He'll get a chance to make a lasting impression with Heisman voters this Saturday when Ohio State hosts Miami. If he passes that test, he might be on top of this poll next week.
No. 1: Kellen Moore, QB, Boise State (31 Points)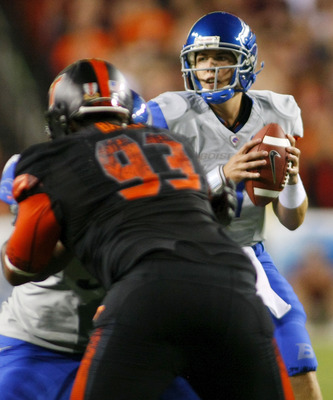 Moore Tops This Week's Heisman Poll
Geoff Burke/Getty Images
Boise State junior quarterback Kellen Moore leads this week's edition of the Bleacher Report Heisman Rankings.
Moore collected 31 points and eight first-place votes following his leading the Broncos to a come-from-behind win over Virginia Tech on Monday night.
He finished the game with 218 passing yards and three touchdowns and ran his career record as Bronco starter to a stellar 27-1.
With a heroic comeback under his belt and a soft schedule ahead of him, Moore might've at least secured a trip to New York come December.
Can he win? That all depends on what the other candidates do. Right now, however, he is doing to the Heisman race what Boise State is doing to the BCS establishment.
Full Poll Results
Total Points (with first place votes in parentheses)
1. Kellen Moore, QB, Boise State—31 (8)
2. Terrelle Pryor, QB, Ohio State—26 (3)
3. Denard Robinson, QB, Michigan—4 (1)
Daniel Thomas, RB, Kansas State—4
5. Kendall Hunter, RB, Oklahoma State—3 (1)
6. Case Keenum, QB, Houston—2
Ryan Mallett, QB, Arkansas—2
Andrew Luck, QB, Stanford—2
Kenjon Barner, RB, Oregon—2
10. Matt Barkley, QB, USC—1
Trent Richardon, RB, Alabama1
Keep Reading