What BYU Learned Saturday Night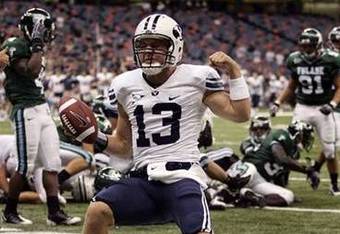 The BYU players, coaches and fans learned a few things in Cougars' 23-17 victory over the Washington Huskies on Saturday night.

1) The two quarterback approach may indeed work for this team.
Riley Nelson showed that he is a winner and a leader. His throwing of two touchdown passes and his tough running won over many of the Cougar faithful gathered at Lavell Edwards Stadium.
Both quarterbacks threw for 131 yards in the game, but it was Nelson who was able to get the Cougar offense into the endzone on Saturday night.
Nelson utilized his legs to make big plays, including a hard-nosed effort to pick up a a two-point conversion in the first half. That run tells you just about everything you need to know about Nelson, as he used a strong second effort to get the ball across the goal line.
In a live, on-set, interview with the CBS College Sports after the game, Riley explained that he played the game Saturday the only way he knows how.
Jake Heaps showed flashes of what BYU fans can expect to see from him as his career moves forward. Heaps showed some first game jitters in the first half, but seemed to settle down some in the second half. He was off target on some key passes that thwarted drives and his receivers didn't help him out either with a number of drops.
What Heaps did show is a strong arm. In fact, he may have had too much zip on a few of his passes Saturday night. It's worth noting that some of the recruiting gurus knocked Jake in high school for having just an average arm—go figure.
Jake also showed a good grasp of the offense for a true freshman and he demonstrated good poise for a guy straight from high school.
It was very interesting that both guys rotated series throughout the night, even when the game was on the line. Had the coaches handled that any differently, it may have been an indication that one quarterback was separating himself from the other. As it is, it appears that the plan is to continue the rotation for the foreseeable future.
Another impressive thing about these two is that they didn't turn the ball over. Neither quarterback threw an interception and they combined to complete 60 percent of their passes. Not bad considering their relative inexperience and the fact that the two had to split practice reps during the week.
The two quarterbacks look like they have forged a good working relationship and the two-QB approach has seemed to unify a team that had some definite divisions when fall camp started. You could see that both Riley and Jake were pulling for each others success.

2) BYU's defense will be just fine this year, thank you.
Despite starting the season having to replace most of the front seven, the young Cougar D was impressive in the second half, shutting out the Huskies and bottling up Jake Locker. The Cougars were very disciplined in their assignments and rush lanes the entire game.
The Heisman hopeful had just 29 yards rushing while struggling with his accuracy in key situations. BYU forced Locker to try to beat them with his arm, and he could not do it.
The Huskies did have some success in isolating wide receivers on the BYU linebackers throughout the night, but the Cougars rose to the occasion when needed in every instance in the second half.
The Cougars also have a beast at nose tackle in Romney Fuga. He was able to dominate the interior of the Washington offensive line, making plays and keeping Washington's offensive linemen off of BYU's inside linebackers.
The rotation at inside linebacker of Hunter, Ogletree, Leung-Wai, and Jorgensen played well through most of the game with Shane and Brandon getting much of the playing time.
As expected, outside linebacker Jordan Pendleton showed why he will be a candidate for MWC defensive player of the year honors this season and Andrew Rich lived up to his preseason accolades as one of the best strong safeties and most feared head hunters in the land.
Meanwhile it looks like opponents may finally be developing a healthy respect for Brian Logan. The 5′6″ senior was challenged throughout last season and ended up second in the nation in pass break-ups. Washington did not single him out in this game, in fact they seemed to go away from him much of the night.

3) The Cougars will survive without Harvey Unga.
In fact they may have found a budding star in junior running back JJ Di Luigi, who accounted for 152 total yards from scrimmage. He averaged 5.3 yards per carry and caught four passes out of the backfield for 83 yards and a touchdown against the Huskies.
Di Luigi has the ability to run the ball inside or outside, as well as being a dangerous weapon on pass routes coming out of the backfield.
True freshman running back Josh Quezada also scored on a pass from Riley Nelson, and Brian Kariya looks like he can be relied upon to get the tough yards this season.

4) Despite the loss of several key players on both sides of the ball, the Cougars still know how to win.
Under Bronco the Cougars have developed a culture of winning that appears to be flowing over year-to-year now. The big difference between the two programs on Saturday is that BYU expects to win, while the Huskies hope to.
That was impressive to see from a team that was faced with having to replace so much production and leadership from the 2009 team.
As the season progresses there is every reason to expect that the will to win will continue to grow as this group gains additional experience.

5) The Cougars are now poised for a legitimate run at a fifth straight double-digit win season.
Many had surmised that the Cougars could get off to a slow start against an opening slate that included Washington, at Air Force, at Florida State and Nevada. With the Washington win neatly tucked under their belts, the Cougars look like a 3-1 start is well within their reach.
The Cougars have dominated the Falcons in recent years and it seems unlikely that Nevada could come into Lavell Edwards and beat this team. The only early-season contest that the Cougars should be underdogs in is the game at Florida State.

6) Finally
If you think that the Cougars' exodus from the Mountain West Conference is not a step in the right direction, consider a few final scores on Saturday that involved MWC bottom feeders:
Oregon 72 New Mexico 0
Wisconsin 41 UNLV 21
Colorado 24 Colorado St. 3
Wyoming 28 Southern Utah 20
This article is
What is the duplicate article?
Why is this article offensive?
Where is this article plagiarized from?
Why is this article poorly edited?

BYU Football: Like this team?