Jacksonville Jaguars 2010 Preseason Win vs. Falcons: Top 10 Players Facing Cuts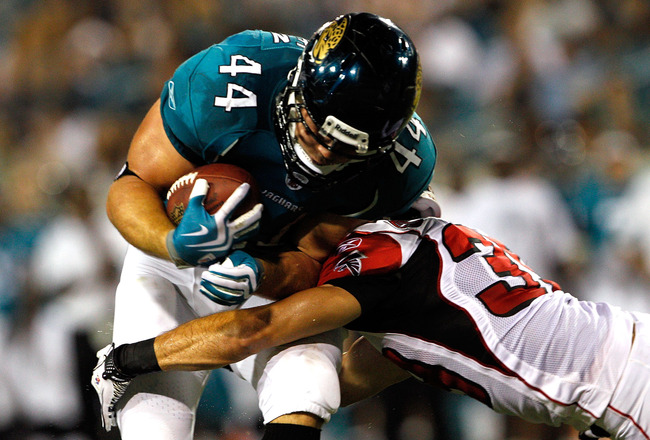 Sam Greenwood/Getty Images
The list of big names who didn't dress for the Jaguars' 13-9 win over the Atlanta Falcons Thursday night would make a great fantasy football team.
Matt Ryan, Maurice Jones-Drew, Michael Turner, Roddy White, Mike Sims-Walker, and Tony Gonzalez all spent the night in street clothes as their backups slugged it out.
Tellingly, the game's only touchdown—a 16-yard run by second-string Jacksonville fullback Brock Bolen—came on the heels of a fumble recovered at Atlanta's 39-yard line.
While the stakes were at their lowest for the two teams and their stars, the spotlight couldn't have been brighter on those who suited up.
Ahead of the NFL-mandated roster cuts on Sept. 4, which downsize teams to 53 players, it was the last job interview of the summer for some.
After the jump, check out the top 10 players who might not play another game for the Jaguars.
10. DT Atiyyah Ellison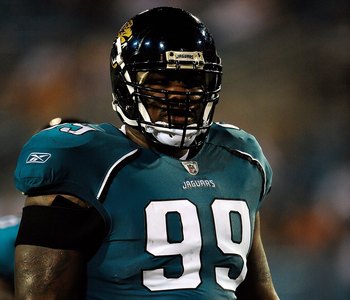 Sam Greenwood/Getty Images
Considering Jacksonville's lack of depth at defensive tackle, it's hard to imagine more than one player getting cut at that position Saturday.
Behind rookie first-rounder Tyson Alualu and second-year nose guard Terrance Knighton, the Jaguars have Ellison, journeyman Walter Curry, and street free agents Leger Douzable and Kommonyan Quaye—and that's it.
Douzable has played well since signing with Jacksonville in August, and Quaye (6'1", 307 pounds) is the only potential body double for Knighton among the backups.
That leaves Curry, who has played football in San Francisco, Berlin, and several stops between in five years as a pro, and Ellison fighting for fifth place.
Having started six games for the Jaguars in 2009, Ellison will be banking on experience to save his roster spot.
9. LB Tony Gilbert
Al Messerschmidt/Getty Images
Jacksonville's offseason overhaul at linebacker has been nothing if not thorough. Of the 10 linebackers on the Jaguars' current roster, only three—Daryl Smith, Justin Durant, and Russell Allen—are holdovers from last year.
Along with starting middle linebacker Kirk Morrison, all three are safe heading into this weekend's downsizing. In picking one or two players to slot in behind them, Jacksonville will get the best value by keeping special teams contributors.
To that end, the Jaguars signed journeymen Tony Gilbert and Rod Wilson recently as competition for the gaggle of undrafted free agents and low-upside veterans on their roster.
Gilbert, a mainstay on Jacksonville's special teams from 2003-08, might have a spot with his name on it, despite very limited upside as a defensive player.
8. DE Jeremy Mincey
Sam Greenwood/Getty Images
Back in January, Jeremy Mincey's roster status seemed pretty solid.
When Mincey signed with the Jaguars after the 2009 season, he was penciled in on the depth chart somewhere just below projected starters Derrick Harvey and Reggie Hayward.
Jacksonville figured to make a few moves in the offseason, but not enough to give Mincey the boot.
Enter $24 million free agent Aaron Kampman, rookies Larry Hart and Austen Lane, and undrafted standout Aaron Morgan, and Mincey's fighting to make the last preseason cut all over again.
Last year, undrafted rookie Julius Williams beat him out with a lion-hearted showing in the preseason. With Williams gone, it'll likely be Morgan whose upside costs Mincey an NFL day job in 2010.
7. OT Jordan Black
Bob Levey/Getty Images
You'd figure that getting a nickname from the head coach would be a sign of security.
But Jordan Black, a sixth-year veteran affectionately dubbed "Wolverine" by Jack Del Rio, could end up on the outside looking in Saturday.
Part of the problem is the play of Paul McQuistan, a swing backup with more versatility and a Del Rio nickname ("Big Red") of his own.
A mid-season signing in 2009, McQuistan started a few games for the Jaguars this August as right tackle Eben Britton played it safe with a calf injury.
Add a strong training camp showing by undrafted rookie tackle Kevin Haslam, and Black should be at least a bit uneasy about Del Rio's roster cuts.
6. CB Don Carey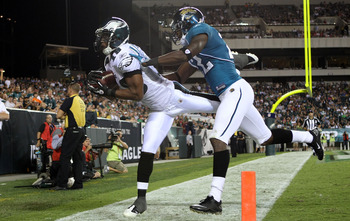 Nick Laham/Getty Images
A year after snagging Don Carey off the Cleveland Browns' "waived/injured" list, Jacksonville must decide if the second-year defensive back deserves a roster spot this weekend.
To stick, he'll have to displace either Michael Coe or Willie Middleton, both of whom have been standout performers on the Jaguars' impressive special teams unit.
The situation is complicated by the faux pas involved in Carey's acquisition, a signing that ignored the "wink-wink" precedent among NFL teams to allow each other unofficial injured reserve spots.
Technically, Carey had been released, but general manager Gene Smith cost Jacksonville a fair bit of goodwill by grabbing him.
As a developmental prospect, the Jaguars will lean toward deciding he's worth it.
5. WR Tiquan Underwood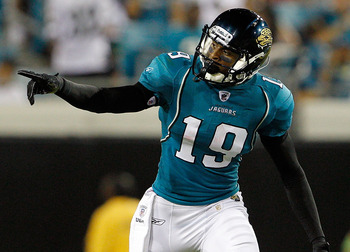 Sam Greenwood/Getty Images
A seventh-round draft pick in 2009, Tiquan Underwood has size (6'1", 183 pound) and speed (4.4 seconds in the 40-yard dash) for days.
If he had hands for even a second, he'd be a shoo-in to make Jacksonville's roster.
Behind Mike Sims-Walker, fellow second-year receivers Mike Thomas and Jarett Dillard, and ace special-teamer Kassim Osgood, Underwood has battled former first-rounder Troy Williamson to be the Jaguars' fifth receiver this summer.
It's conceivable, though unlikely, that Jacksonville could keep six receivers around. Underwood's biggest ally in winning his offseason battle will be Williamson's hands, which are legendary for being unreliable.
4. FB Brock Bolen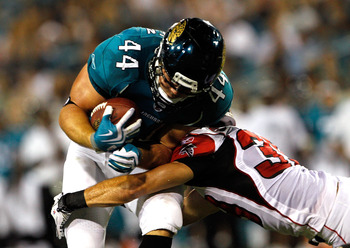 Sam Greenwood/Getty Images
If there was a star in the Jaguars' 13-9 yawn-fest against Atlanta, it was Brock Bolen.
On a 16-yard touchdown run in the first half, Bolen took a pitch from Luke McCown toward the outside, cut back through the middle of Jacksonville's offensive line, and shed two Falcons defenders before crossing the goal line.
Live-blogging the game, Jaguars beat writer Vic Ketchman remarked, "You don't cut that run."
But as a general rule, you don't carry three fullbacks, either—especially on a team with plenty of special teams talent.
To retain Bolen behind starter Greg Jones and special teams captain Montell Owens, Jacksonville will have to be pretty optimistic about his potential.
3. S Sean Considine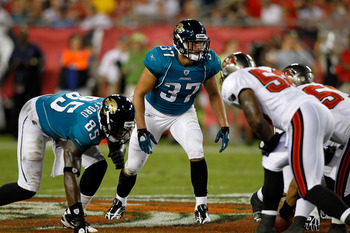 J. Meric/Getty Images
As the Jaguars' cloudy situation at safety begins to clear up, the deck seems stacked against veteran safety Sean Considine once again.
In naming Anthony Smith the prohibitive favorite for one starting job, Jacksonville shortened Considine's odds considerably.
Lacking the top-end speed to play free safety, the try-hard Iowa product has been cornered into a battle against Gerald Alexander and Reggie Nelson.
Were Considine to come out on top, he'd push Smith to free safety, where he's most famous for getting torched against the near-perfect 2007 New England Patriots as a starter for the Pittsburgh Steelers.
Meanwhile, also-ran Courtney Greene has all but locked down a backup safety spot with tenacious play on special teams. Caught between athletes and role players, Considine looks like the odd man out.
2. TE Ernest Wilford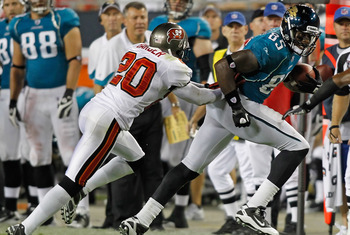 J. Meric/Getty Images
Necessary though Ernest Wilford's position switch to tight end was in 2009, it's not doing him any favors in keeping a roster spot this year.
Last season, Wilford (6'4", 234 pounds) fit the bill for the Jaguars alongside starter Marcedes Lewis, standing out from Jacksonville's pack of taller, stiff-hipped blocking tight ends with his background as a wide receiver.
But last night, the Jaguars might have uncovered one who can catch. Zach Potter, who spent most of his rookie season in 2009 on the New York Jets' practice squad, snagged two passes for 33 yards against the Falcons.
At 6'7" and 280 pounds, Potter is practically a sixth offensive lineman in front of workhorse running back Maurice Jones-Drew.
Throw in the increased minutes given to athletic H-back Zach Miller, and there might not be a role left for Wilford in 2010.
1. OG Vince Manuwai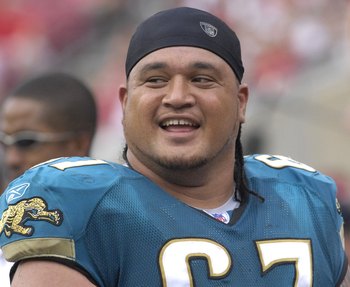 Al Messerschmidt/Getty Images
If Vince Manuwai played his last game for Jacksonville Thursday night, it'll be a tragedy.
Not because of Manuwai's current form, mind you. Despite rebounding from a poor showing in the Jaguars' spring mini-camp, he's done little to distinguish himself from injury-hampered Justin Smiley and 2009 backup Kynan Forney.
But merely two years ago, Manuwai entered September in tip-top shape and was primed for a Pro Bowl campaign.
Before Albert Haynesworth, then with the Tennessee Titans, mangled Manuwai's knee in the first quarter of Jacksonville's 2008 season opener, the University of Hawai'i product was arguably the NFL's best pulling guard.
After missing that entire season, he was reduced to the straight-line blocker who's very much on the chopping block this weekend.
If the Jaguars keep Manuwai around, it'll be because they're convinced he can continue climbing back toward the player he was.
Keep Reading

Jacksonville Jaguars: Like this team?