WWE Best of Best, Part 1 of 8: The 10 Greatest Brawlers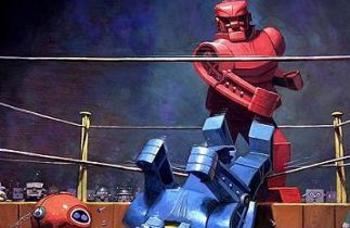 It is too hard to get a consensus on who is the best wrestler in WWE history (from 1982, when it became WWF). So I decided to create seven slideshows featuring six different styles and one with the women; then, to conclude the series, I will try to determine the "Top 10 Biggest WWE Stars".
The following wrestlers may have some other abilities, but they are specialized in street fights, using their fists as primary weapons. They also use kicks in the mid-section and big boots as secondary attacks.
In addition, they all share the same "rough 'n' tough" character in the ring and they never hesitate to drastically put their bodies on the line to entertain the fans.
The brawling wrestling style is not elegant, but many of the most iconic wrestlers fall in that category as well as some hardcore legends.
If I missed anyone on the list, don't hesitate to use the comment section because I only mentioned the wrestlers I have already seen in action.
10- Raven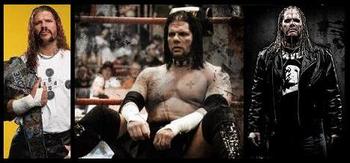 The hardcore legend held the Hardcore Championship for a record of 26 times.
Raven made a huge mark in the WWE hardcore world in the early 2000's but his best years were behind him, when he was in ECW and WCW.
But still he was a great brawler and he always put his body on the line, match after match, for a well deserved spot on the current list.
9- Big Bossman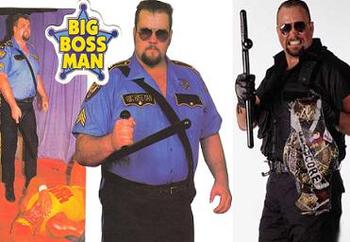 The Big Bossman started his WWE career in 1988 as a heel prison guardian and he often used his nightstick to beat his opponents after his matches.
When he later became a face, he kept his brutal in-ring style but without the nighstick aggressions.
He could also be considered as a powerhouse wrestler, but some of his signature moves such as the uppercut and the big boot and his future hardcore run place him in the brawler's category.
He left the WWE in 1993 to come back in 1998, with a new mercenary bodyguard gimmick and a SWAT looking uniform.
Despite being involved in many feuds over the WWE Championship throughout his career, he never touched the gold and his biggest accomplishment was as Hardcore Champion.
The Big Bossman is the wrestler who had the longest Hardcore Title reign with 97 days and he is ranked second for the most combined days (154).
8- Sgt. Slaughter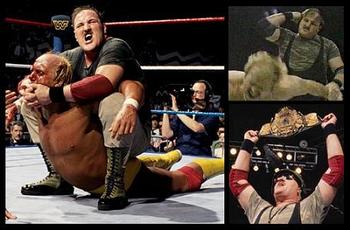 If many of the younger fans only remember him as Commissioner Slaughter, the sergeant was a real tough brawler.
In his first years with WWE, from 1980 to 1984, he became an hardcore legend and one of his "Alley Fight" match against Pat Patterson has been crowned by Pro Wrestling Illustrated the match of the year in 1981.
He started as a heel but, in 1984, he became the second most popular face in WWE, behind Hulk Hogan.
Slaughter came back in 1990 as one of the most infamous heel in pro-wrestling history. With his new anti-American gimmick he won his only WWF Championship at the 1991 Royal Rumble to lose it at the next Wrestlemania against none other than Hogan.
With the military man character he always portrayed during his career, his brawling style perfectly fit him. He was far from being a technical wrestler despite he always used submission holds as his finishing moves. He was a pure brawler and his signature moves were the clothesline, the multiple elbow drops and the gutbuster.
7- Demolition (Ax and Smash)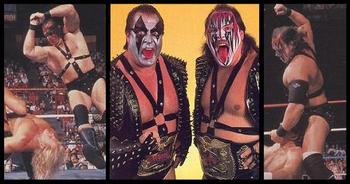 In their three years with WWE, from 1987 to 1990, the duo of Ax and Smash dominated the tag team division like no other team ever.
Their brutal style combined with their pure strength led them to three Tag Team Titles.
They hold the record for the most combined days as champions with a total of 698. They also have the longest reign in WWE history with 478 days.
Their double-team signature moves were not elegant at all and were far from being technical. However, with the way they worked in the ring, they made their arsenal looking great.
Their finisher, the "Decapitation" was a simple backbreaker hold combined with a diving elbow but it looked so painful and devastating. Their other trademark move was a repeated double axe handle hits on a grounded opponent.
6- JBL / Bradshaw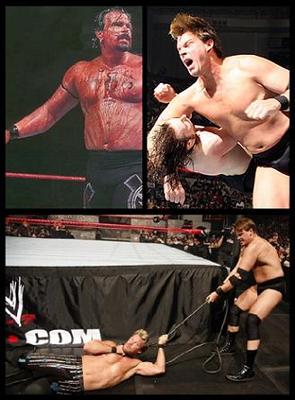 Like him or not, JBL is a real tough man. No matter his gimmick over the years, he has always been a brutal wrestler.
He was big, tall and strong, but not very agile. His grueling style compensated for his lack of technical abilities and he mastered perfectly his characters to generate heat as JBL or to be liked as Bradshaw in the APA.
He also became a street fight specialist, winning the Hardcore Championship 17 times.
In addition to be a great brawler, he had an undeniable overall talent because he is a Grand Slam Champion, a feat only accomplished by nine other wrestlers in WWE history.
5- The Dudley Boyz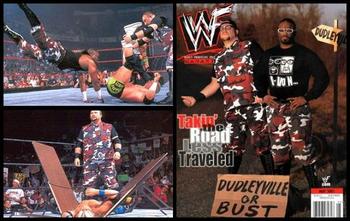 One of the rare, if not only tag team that can be tagged as "hardcore". The two brawlers, with their unique style, brought in WWE the Tables-Ladders-Chairs (TLC) match type.
They battled in multiple classic TLC bouts and they won nine Tag Team Championships. Bubba Rey Dudley also won the Hardcore Title eight times in his short singles run.
Their most famous signature move was a double-team superbomb through one or more tables. Their arsenal comprised many double-team brutal attacks such as the double chokeslam, the double flapjack and the "Deadly Device" (an electric chair drop / diving clothesline combination).
No great finesse in the ring could be expected from them, but they were spectacular and insanely brutal.
Despite their grueling style, they were able to deliver outstanding top quality matches; not many can brag to have won two "Best Match of The Year" PWI Awards but they did it in 2000 and 2001, both times at Wrestlemania.
4- Triple H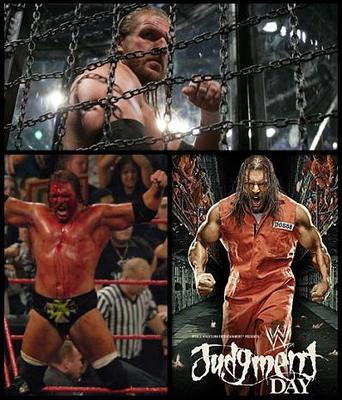 The Game built his reputation with his aggressive and intense style. He used to shine in hardcore matches such as various steel cages or basic no disqualification bouts.
He always displays that seed of violence he has in him and it takes uncommon means to keep him down. And when he receives a beating by one or many rivals, he always come back with vengeance in mind and his dear sledgehammer.
He might be considered over-rated and favored due to his link with the McMahon family, but no one can deny he always gives the best of himself every time he gets in a ring.
The 13-time World Champion might have won some Titles due to his relations; however, his dedication and his outstanding intensity make him rightfully deserving his place in the top 5 of the greatest brawlers in WWE.
3- Mick Foley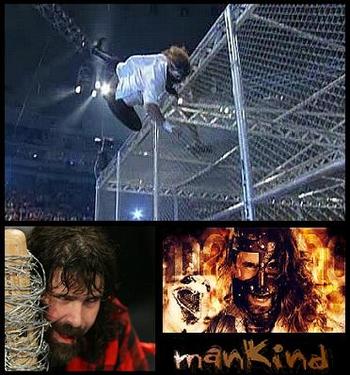 As Mankind, the hardcore legend brought a revolutionary era of violence in WWE.
In 1996, when he joined the WWF, he quickly became the first to really push The Undertaker to the limits and they had together one the most violent rivalry in pro-wrestling history.
Mick Foley is the greatest example of "putting his body on the line". No matter if he was Cactus Jack, Mankind or Dude Love, Foley always found a way to mesmerize the crowds with the body punishment he accepted to receive night after night.
With the countless uncovered shots he received on the head, it's a miracle he still can wrestle. It's even hard to believe he is still in one piece after all those years as the hardcore king.
If you have never watched the classic King of The Ring 1998 Hell In A Cell match against The Undertaker, I suggest you to find a way to watch it to discover a jewel of ultra-violence, far from today's PG era.
2- "Stone Cold" Steve Austin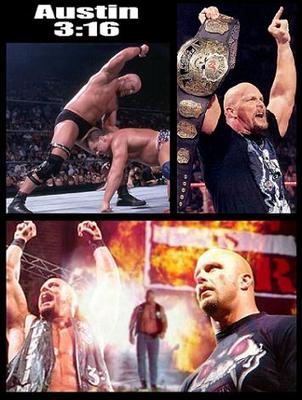 There is no need for long explanations to understand why Stone Cold is so high on the greatest brawlers' list.
As one of the icons of the Attitude Era, he made his mark with his unforgettable promos and his feuds with Vince McMahon.
His in-ring style was the reflection of his "Tough S.O.B." character. His moveset was mainly composed of elbow drops, slugfests and clotheslines.
He never wasted time with submission holds and he always hit his signature kick to the mid-section before executing his famous "Stone Cold Stunner".
1- The Undertaker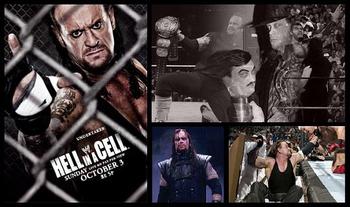 He is often referenced as the greatest pure striker in WWE history by the announcers and it happens to be true.
You could count on the fingers of one hand the times he lost a slugfest in his nearly 20 years ongoing career with WWE.
It's not even necessary to talk about all the championships he won or his legendary 18-0 streak at Wrestlemania to explain why The Undertaker is the greatest brawler in WWE history.
His epic proportion career fills a full chapter in pro-wrestling history. His feuds with Mankind, HHH, Stone Cold, Bret Hart, The Rock, Kurt Angle and HBK are just a few examples of why he is the best in his category.
Keep Reading