Jonathan Toews- Top 5 Goals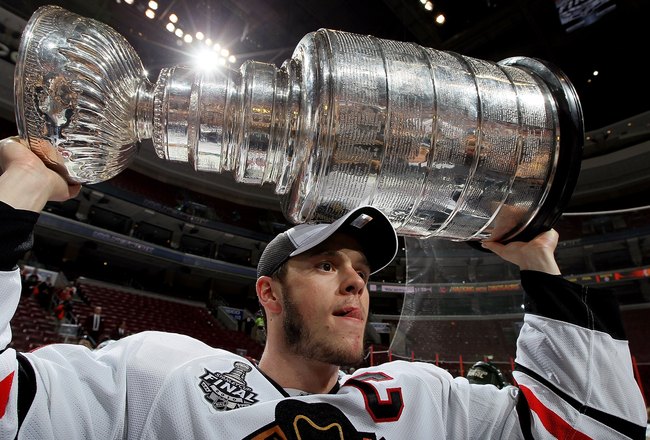 Jim McIsaac/Getty Images
As Summer dies out and Fall approaches, so does the 2010-11 NHL season. It's been nearly 3 months since Jonathan Toews shook Gary Bettman's hand and was given the Stanley Cup. Let's go through the Top 5 goals of Jonathan Toews' career as we wait for the first puck to be dropped in October.
5. First Career Hat Trick

First Career Hat Trick

Not just one goal, but three, and he had to do it twice. The first "third" goal was disallowed after they ruled it to be a high stick. His second "third' goal was set up by Cam Barker's slap pass and Toews threw the puck into the net and the ice was rained with Kenny Construction helmets for the second time that night.
4. Detroit Move
After shaking past Dan Cleary who got stuck back on defense Toews put an amazing forehand to backhand move on Ty Conklin and slid the puck into the open net.
3. Nashville Flop
Toews barely managed to stay on his skates and keep hold of the puck after getting by Dan Hamhuis, but was able to corral the puck and beat Pekka Rinne on the forehand to then fall on his stomach after scoring.
2. First Career Goal
First game. First shot. First goal.
1. The Colorado Goal
A nice breakout pass from Kane and Toews was able to take the puck, dance through 3 defenders, and then make Jose Theodore look silly on this unbelievable goal. A sign of things to come in his rookie campaign. Hands down the greatest goal of his career up to this point.
Keep Reading

Chicago Blackhawks: Like this team?