PGA Tour: John Daly and the 15 Worst-Dressed Golfers of All Time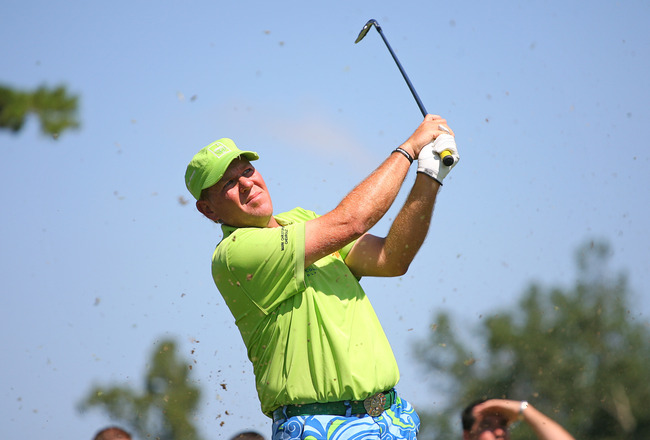 Hunter Martin/Getty Images
Throughout the years of professional golf, we have seen an assortment of thrilling tournaments and events at every level. Most of the winners you see sport a casual look, just trying to fit in with the rest of the golf field.
However, there are the handful of players who have no limits to their attire and go all out to cause provoking discussions about what they are wearing.
Sound like anyone you know?
John Daly is known for the way he dresses rather than his performance on the golf course.
Is that a bad thing?
Maybe, maybe not. At least Daly is an iconic figure in the sport of golf; however, no one is really impressed by his play, unless you include his mediocre driving ability.
Daly is not the only "weirdo" that we have seen in the history of golf.
Here, I have comprised the 15 worst-dressed golfers in the sport.
Feel free to add comments and suggestions because there are so many bad-dressing incidents out there that it's hard to keep up with them.
Follow Garrett Tucker on Twitter @GTuckersports
15) Bubba Watson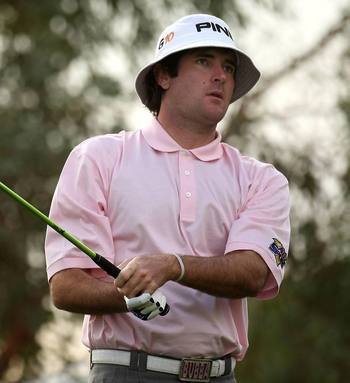 Bubba Watson is known for his long drives and strength as a whole, but on this day at the Bob Hope Chrysler Classic in 2009, he was known for his bucket hat, as shown.
I'm not one to judge hats, but he looks a little goofy, doesn't he?
Also, check out that belt buckle.
Not something everyone sees at first glance, but I have to give him props on it. It looks nice with the belt and outfit as a whole.
As for the hat....not so much.
Just stick to the visors, Bubba.
14) Duffy Waldorf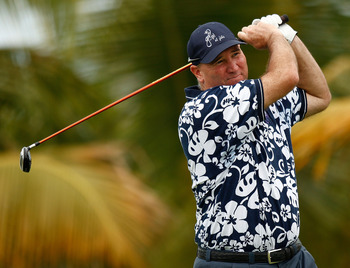 Mike Ehrmann/Getty Images
Duffy Waldorf is known for sporting his Hawaiian shirts, and while some may not consider this a horrific style, sometimes he can cause it to be.
People want to see this in the Hawaiian Islands or somewhere along the lines of Hawaii, not somewhere like New York or Wisconsin.
Who is that guy with the Hawaiian shirts in the cold cities that fans see?
That would be Waldorf.
You have to have another look every once in a while, right?
13) Jesper Parnevik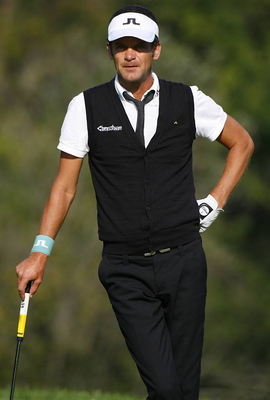 Ties are great to wear to church, business meetings, and weddings, but in golf?
Jesper Parnevik brought this new fashion to the PGA Tour in September of 2006 and showed he was not afraid to make a statement and try to look good.
However, I hate to say, I don't think the tie goes along too well with the rest of his attire.
On the other hand, does that black vest and pants match?
I think not. Embarrassing stuff right there.
Then again, we have seen worse.
12) Nick Faldo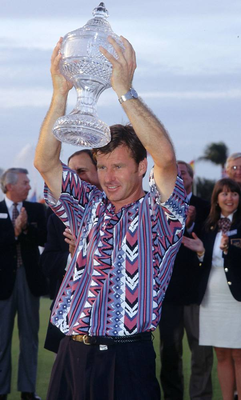 Nick Faldo was always an exceptional golfer back in the day, as he racked up some very notable wins, but most of the time, he didn't look the best, as shown.
Sir Nick!!! At least look good when you win event after event.
Anyways, how about that shirt?
Now that is definitely a different color combination.
11) Bernhard Langer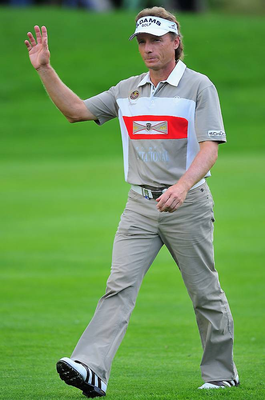 As a golfer, it always helps to have sponsors, and good ones at that.
However, golfers need to wear them correctly.
I'm sure many people were letting German Bernhard Langer know about this after he finished his round.
10) Rory Sabbatini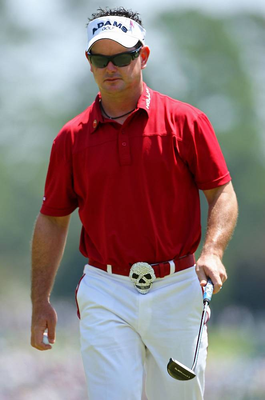 South Africa has produced some good golfers in the past, especially as of late.
Louis Oosthuizen is a prime example as he won the British Open recently, and Ernie Els and Retief Goosen are veterans who have proved to the world that they can play.
Despite those top-notch guys, the country still has its faults.
Rory Sabbatini wore this belt buckle during the Masters in 2008.
At least the belt and buckle match the rest of his attire...
Just trying to think positive.
9) Chi Chi Rodriguez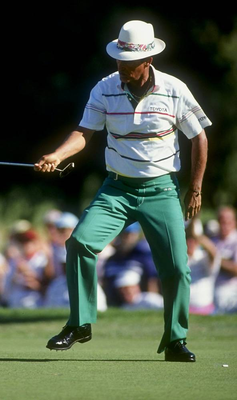 Chi Chi Rodriguez looks to have made a putt in 1990, but that isn't the best thing about it.
I'll let the people choose.
Which is better?
The dance he's trying to pull off, or the green pants and his hat?
I'll let you be the judge on this one.
8) Shingo Katayama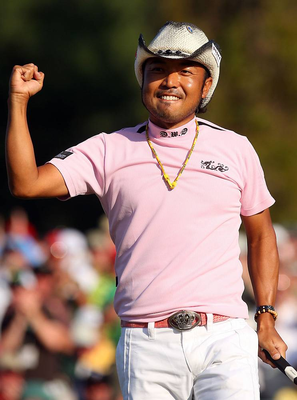 Shingo Katayama is from Japan and known for wearing his cowboy hat while he is on the golf course.
If that isn't bad enough, check the pink shirt and belt.
I have never been one to wear either a cowboy hat or pink, but I'm pretty sure they don't go too well together, as the picture shows.
Just stick to wearing the cowboy hat, Shingo.
7) Lee Trevino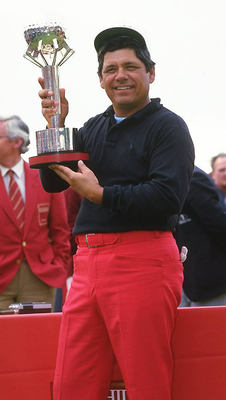 There is a lot of red in this photo, and it looks like Lee Trevino just wanted to fit in.
However, I think the red suits the scorer's table and the official's jacket a little bit better than the red pants Trevino is sporting.
The pants probably weren't going good for him this day, but something went right, as he apparently won an event.
Maybe Tiger should starting wearing red pants on Sunday instead of the shirt?
6) Hale Irwin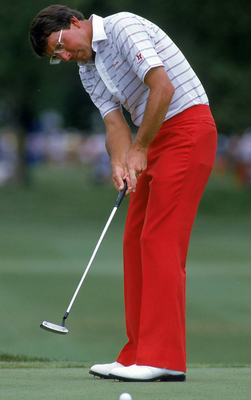 Here, we go from one pair of red pants to another.
Although it was the 80s, poor Hale Irwin is a little bit of an embarrassment.
Would you be wearing those?
Luckily, Irwin was known for his consistency, not his dressing etiquette.
5) Greg Norman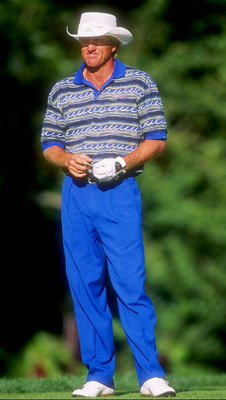 Have cowboy hats become a necessity for all golfers out there? Well, here's another.
Greg Norman, known as "The Shark" has a little water or aqua look going on, but where does the hat come from?
I guess he needs to gather up his shark cattle and take them to the aquarium or something.
Thoughts?
4) Doug Sanders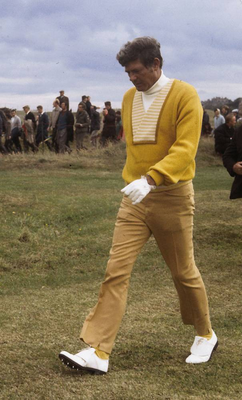 During the 1970 British Open at St. Andrews, golfers had to do anything to get more publicity than the eventual winner, Jack Nicklaus, but Doug Sanders may have not attracted a crowd for the right reason.
Yes, I know this was the 70s, but this is one of those "c'mon man" moments.
I'm just going to be blunt about it, that sweater is hideous.
Maybe it wouldn't have been so bad if it wasn't yellow.
Throw that one out of the closet, ladies and gentlemen.
3) Payne Stewart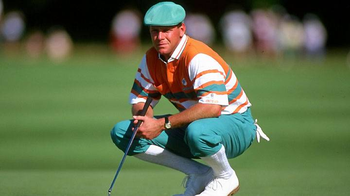 During the U.S. Open in 1991, the NFL sponsored Payne Stewart, and in return, Stewart wore a variety of team colors that were as follows:
Thursday: Vikings
Friday: Bills
Saturday: Dolphins
Sunday: Vikings
I've always liked the Dolphins, but I've never been crazy about their team colors, and that picture doesn't help at all.
So, why doesn't the NFL sponsor more golfers nowadays?
2) Ian Poulter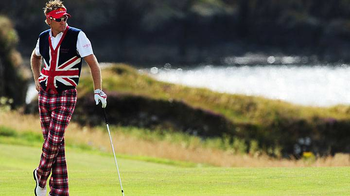 Ian Poulter is following in the footsteps of none other than John Daly.
At a young age, he has put some crazy stuff together that somehow looks good, while we all still get a laugh.
The picture shows it all, as he is representing his country with not only his play, but his clothes as well!
Poulter has plenty of other combinations to be talked about. Just Google him and see what you find.
1) John Daly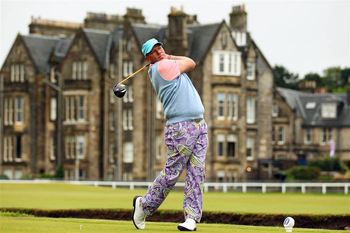 John Daly is the undisputed, No. 1 worst-dressed golfer in the history of golf.
First off, I want to say, how in the world does that go together in the picture?
None of it matches at all, but somehow he pulls it off, and it actually looks like a so-so attire choice.
If this were anyone else, they would have been booed off the golf course.
Daly is known for his dress code, so he is able to pass.
However, I think I would want to be known for my play, not how ridiculous I look.
Keep Reading