Manny Pacquiao: 10 Reasons He'd Fare Better in UFC Than James Toney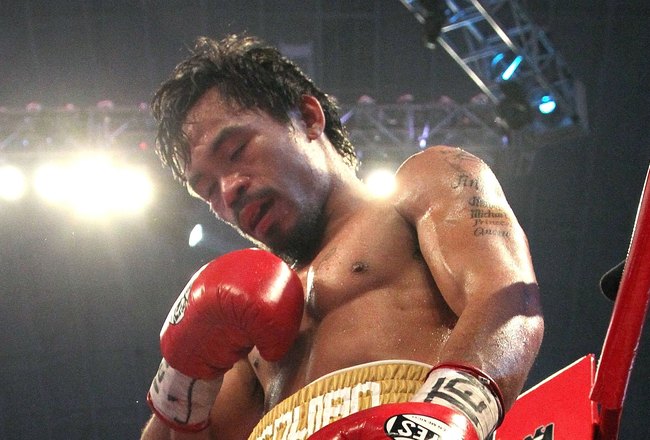 Jed Jacobsohn/Getty Images
Manny Pacquiao is arguably one of the best pound-for-pound fighters there is today. Whether you want to say "boxer" or whether you want to say "fighter" is a matter of opinion.
Sure he's dominated just about everyone he's faced, with exception to Floyd Mayweather, as both of these guys can't seem to agree on a deal that would match these two "fights" together once and for all.
If Pacquiao would do what James Tony just did, try his luck in UFC, how would he fare?
Now, admittedly, I'm not a UFC guy, but I think Manny would fare much better than Toney did the other night.
Here are 10 reasons Pacquiao would fare far better than James Toney.
No. 10: Speed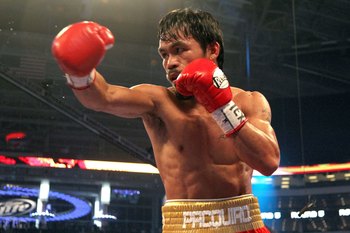 Jed Jacobsohn/Getty Images
Manny Pacquiao has arguably the best speed of any fighter in his class. That speed, at least maneuvering, would help him get around slower opponents.
No. 9: Talent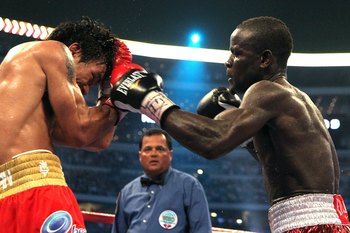 Jed Jacobsohn/Getty Images
His defensive ability, able to block even the swiftest punches, and ability to turn an opponent's offensive move into an offensive move of his own.
He's going to need every bit of his talent to make it work.
No. 8: Ability Talks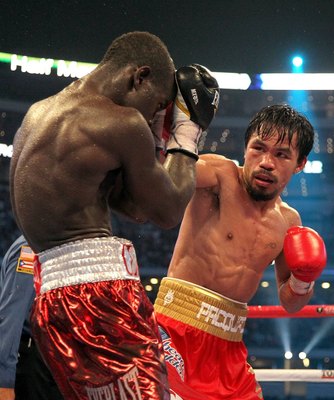 Jed Jacobsohn/Getty Images
Manny isn't one to talk like James Toney did before he got his ass handed to him. Manny can let his abilities speak for themselves.
No. 7: Punching Power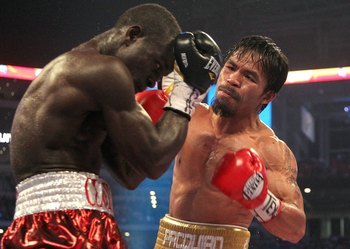 Jed Jacobsohn/Getty Images
Sure, you need more than punching power to be successful in the UFC, but when you're a guy like Manny Pacquiao, that may be one thing you can use to your full advantage.
Catch someone off guard with a powerful right cross, and the match could be over before it started.
No. 6: Speed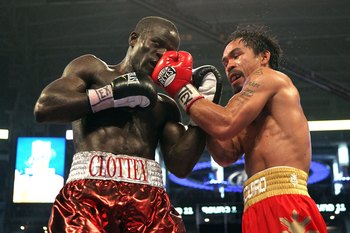 Jed Jacobsohn/Getty Images
Of the fights I've watched of Manny Pacquiao, which I'll admit I can count on one hand, he has more speed than I've seen in a boxer in quite some time.
The boxing aficionados that I've spoken to have been more than impressed with his career and label him as the best boxer in the sport right now.
While the octagon isn't quite as big as a boxing ring, Pacquiao's speed can keep him away from even the toughest opponents and give him a chance to stage an offensive attack.
No. 5: Powerful Left Hand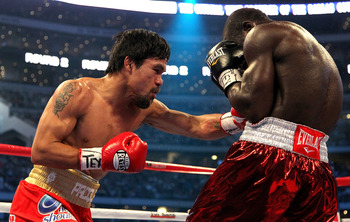 Jed Jacobsohn/Getty Images
If there's one thing that can drop opponents like a bad habit, it's Pacquiao's famous left hand. It's been the one punch that opponents, in their scouting reports, are told to stay out of reach of.
No. 4: Better Conditioning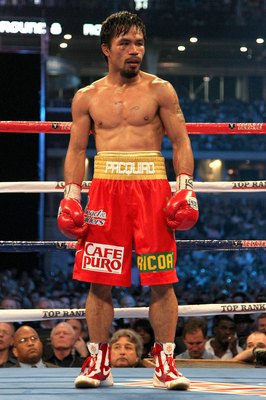 Jed Jacobsohn/Getty Images
Manny Pacquiao is in much better physical shape than James Toney was when he went into his match, and he has a better conditioning program than most fighters out there.
No. 3: Can Take a Beating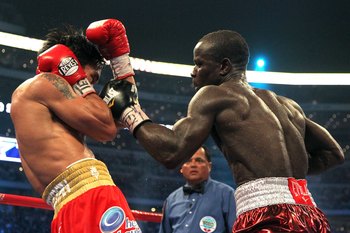 Jed Jacobsohn/Getty Images
Manny Pacquiao has been known to take a beating during his career. You can do a search on him and see just how much he's been able to take.
Unlike James Toney, Pacquiao would be able to stick with the best of them, take a beating, and still come back and beat you down.
No. 2: Respect Of His Peers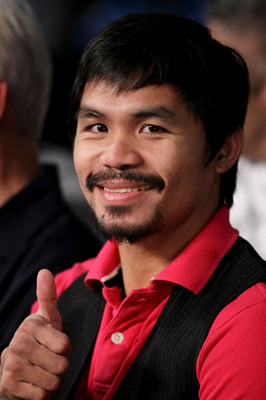 Al Bello/Getty Images
Unlike James Toney, the guys in the UFC would respect Manny's career and all he's accomplished. He's, no pun intended, fought for everything he's earned, and guys that have watched him would respect just how far he's come.
No. 1: He's Not James Toney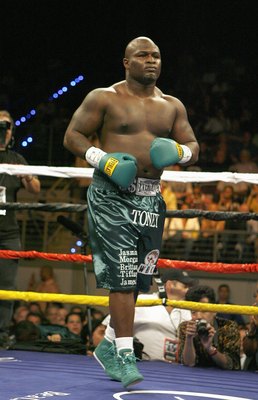 Marc Serota/Getty Images
If you watch a few of the videos of James Toney being interviewed, he didn't say "if" he beat Randy Couture, it was "when" he beat him.
Pacquiao isn't one to say he's going to beat anyone. He's not one to do a freelance interview and talk about how great he is or that he's the best around.
Pacquiao would go into the ring and let his abilities, power, speed, and everything else speak for itself.
Keep Reading