Florida Gators Football: 10 Things To Watch For in Week 2 Against USF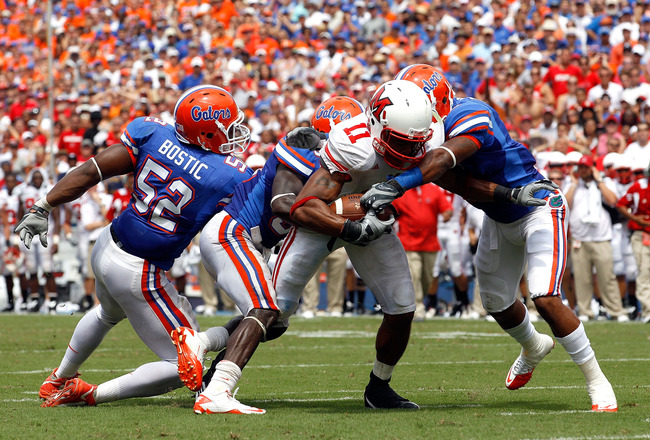 Sam Greenwood/Getty Images
Last week, the Gators opened the season in disappointing fashion and didn't answer any questions regarding the post–Tebow offense. Or maybe they did, but the answer is wholly unsatisfying and most Gator fans refuse to accept it (DEAR STEVE ADDZ, WE DON'T LIKE THE FUMBLE OFFENSE! -signed Gator Nation).
Regardless, what we should have learned about the offense last week was not learned. A little was learned about the defense but not much because Miami (OH) is so bad. This week, the Gators don't have the luxury of playing a team that they can't lose to, no matter how hard they try.
USF can play. They've lost a lot of the talent that led to their recent success and by all accounts are a young, inexperienced team. That said, they moved the ball like they were supposed to last week, and they were as interception-y as the Gators were.
Despite all of the Gators' struggles last week, a big win/blowout win is still expected here. If the Gators are truly a top–10, top–5, or even national championship contender, then this game should be relatively easy.
That said, this week will be a good indicator of where the bar should be set for 2010. As we're still trying to figure out where the Gators fit into the national picture, here's ten issues that could help iron out the uncertainty this week.
The Mike Pouncey Saga
Of course this was going to be number one. If a personnel change was made this week, Mike Pouncey would probably go down as the worst center in Florida Gators history.
I doubt a change will be made, so Pouncey will likely be given a chance at redemption. This is the right move, as long as the rest of the line isn't compromised. Last week, the entire line was out of whack. It wasn't just Pouncey.
Obviously, if he continues to perform the bounce snap he should move back, but a move regardless of his performance should be considered if necessary. Don't forget that he is an All–American guard. If the rest of the line continues to be bullied by inferior talent, then moving him over and starting Robey may be the best option.
Last year, Urban took a lot of heat for not getting Tebow "NFL ready". Never mind the fact that Tebow went in the first round or that he was the second overall QB taken, for a minute step into fantasy land and pretend that you're a TV analyst.
Moving Mike over to center feels like a "getting NFL ready" move. Centers are generally drafted higher than guards (tackles are always taken first, but whatever). Maybe without the promise of a move to center to polish Mike's draftability, Mike leaves last year as a "rawer talent" and gets drafted in the 3rd round.
Even if that is true, Mike chose to stay and is subject to Urban Meyer's coaching this year. Meyer has more duty to win than he does to uphold a promise that may have been made. Good center, bad center, it doesn't really matter if the result is the Gators would be better off with him at guard.
Deonte Thompson's Breakout Game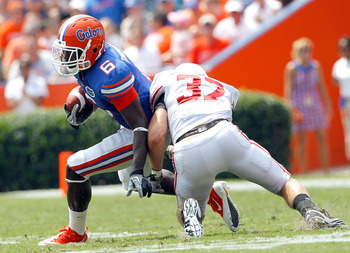 Sam Greenwood/Getty Images
How many times can this be the subject of a headline before he's labeled a bust? I'll grant him a reprieve for the not–catch last week. The DB was there, but I won't give him any slack for not being open all game. Thompson should be faster than anyone Miami (OH) can throw at him.
We should have been blasting John Brantley for not getting Thompson the ball this week. Instead, Thompson showed up on one play, didn't make it because it was a difficult catch (not an impossible one), and then turned into a third option.
Brantley never went back to him on a long play. Thompson did make two third down conversions and a fourth down conversion with his three catches. They certainly weren't worthless. However, he has not looked the part of the number one receiver/deep guy/DB's worst nightmare.
Florida needs to stretch the field to be effective this year. I've said it multiple times, the Tebow offense worked because Tim Tebow was a once–in–an–ever athlete who could do whatever he wanted and get away with it most of the time.
Brantley has to run a more traditional spread that relies on reads and receivers making plays for him. That kind of an offense needs to be able to challenge deep to keep DBs honest.
If Deonte is the guy running the deep routes, he has to start making plays deep. Otherwise, Florida must switch him to a possession position and give someone else the opportunity to make the deep plays.
What Is The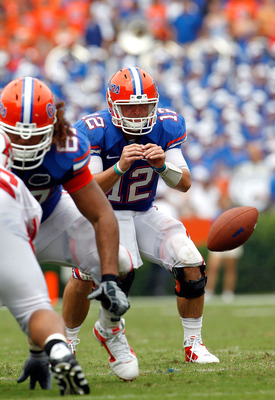 Sam Greenwood/Getty Images
Last week, it looked like "the worst offense in recent Gators history". Hopefully that was an aberration. As we saw very few actual drives last week, this is entirely guesswork, but if you want to know what the John Brantley passing game should be, look to Texas.
Colt McCoy ran the spread for four years and became the winningest college football quarterback of all time (until Kellen Moore breaks it next year). The Texas spread did not rely on a power running quarterback, although it did rely on McCoy as the primary runner.
That may not be necessary for Florida (although it was true with Tebow). The truth is, Texas went through a fairly bad stretch of running backs recently, something that may or may not be affecting Florida.
Demps is coming off of a 600+ yards rushing season and a 700+ yards rushing season as the third and second rushing option, respectively. This year, he's starting the season as the number one rushing option. Unless Gillislee starts eating into Demps' carries, Florida has a legitimate chance at having a 1000 yard rusher.
If Florida's running back corps is indeed stronger than Texas' and Brantley can get out of his first game funk, this should be a moderately high scoring, fairly balanced offense. USF's defense played well enough against Stony Brook, but Florida's athletes should be able to roll through the Bulls without too much trouble.
If that's not the case, the John Brantley offense may be worse than the Chris Leak offense.
Can Addazio Save Face?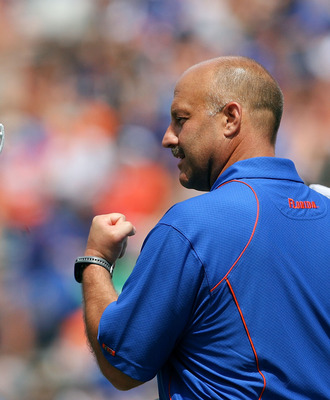 Doug Benc/Getty Images
Steve Addazio may not know it yet, but he's on the hot seat. Florida fans generally hate him. His first year saw an eight point decrease in points per game. The Gators still moved the ball as well as they did in 2008, but they could no longer punch it in.
One game into his second season, and the Gators have the worst offensive game of the Urban Meyer era, and possibly since the pre-Spurrier era. Addazio is the constant through the two offenses, and the blame will rest on him first.
The Gators may have covered up for him a little in the eyes of national attention by playing so sloppily (although it could be argued that the lack of preparation is his fault or Urban's fault as well). Some of the more savvy writers caught the pathetic offense that was run between the fumbles, but most of the attention was on the "OMG look at that... hahaha Florida, you can't snap!" plays.
Addazio needs to revamp his offensive calling this week to cater to Brantley's strengths as well as the strengths of the running backs (First change: no I Form). This may be another week where the Gators don't need to bring their A-game to win, but it would be a good idea to figure out how good the A-game is before the real season starts.
The Rise of Omarius Hines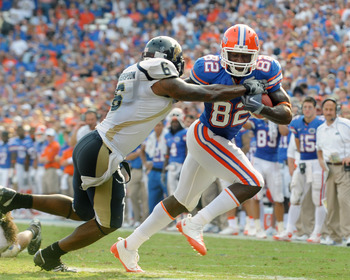 Al Messerschmidt/Getty Images
Last week, Deonte disappointed, Carl Moore was invisible, and Rainey was ineffective. However, one receiver did everything and looked the part of a real offensive threat. His name is Omarius Hines and it's time to start paying attention.
Hines was the only receiver to average over 10 yards per catch. Not only that, he did it the right way, by catching every pass for at least 10 yards. He was targeted six times and caught three passes for 49 yards and a touchdown. The other three would have all been 10+ yard receptions, but two were overthrown and one was tipped to Chris Rainey for a touchdown.
Basically, Hines is the intermediate–to–deep threat for the Gators. USF will offer him his first actual challenge of his college career. The DBs are a little bit better and the LBs are a little bit faster. If he can stay at the level that he showed in the season opener, then the Gators may have a real receiver (TE) to go with their real quarterback.
Who is Andre Deböze?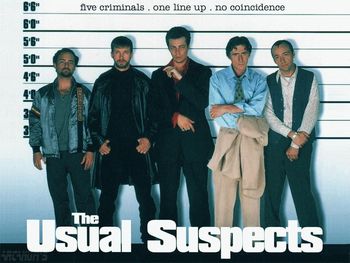 Among the receivers last week, one usual suspect was not present. Debose was reportedly "forgotten" about last week. Or maybe he was suspended, as these news guys are reporting.
Since arriving and promptly disappearing, we've heard nothing but rumors about Debose. He's faster than Percy. He's a real wide receiver too. He is the US Olympic limbo champion.
Regardless, the oft–hyped "Percy clone" has yet to play a down for the Gators and we're no closer to finding out what he can actually do than we were back in early 2009 when he signed with the Gators.
Hopefully he'll either be "remembered" this week or not suspended. Either way, hopefully he can get on the field as the offense could use some more perimeter play makers.
How Good is the Secondary With Will Hill?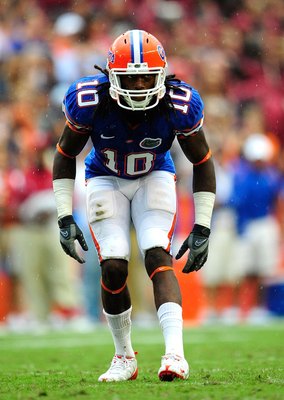 Sam Greenwood/Getty Images
The answer to "How good is the secondary without Will Hill?" is "amazing and interception heavy". Will Hill is the 5–star from 2008 who has lived up to his hype so far. He's played significantly over the last two years on special teams, as a member of Nickelback, and as a safety.
This year, he's supposed to be the Sean Taylor/Eric Berry type safety that does everything. He was held out in week one due to a violation of an undisclosed team rule (it sounded like an academic issue, though). The secondary certainly has no shortage of outstanding athletes, but it's always nice to re–insert that potential first round NFL talent back into the roster.
Hill should be back this week against USF, which is good news considering USF went to the air 36 times last week. Miami (OH) couldn't do too much last Saturday, but they did manage to have one 100 yard receiver.
One of the recurring themes here is USF has more talent. Again, they do at receiver. Adding Hill and getting Jerome Brown back to full speed, should make a very good secondary a little bit better. It might also hold USF in check a little more than Miami (OH) was held.
What's Wrong with the Kicking?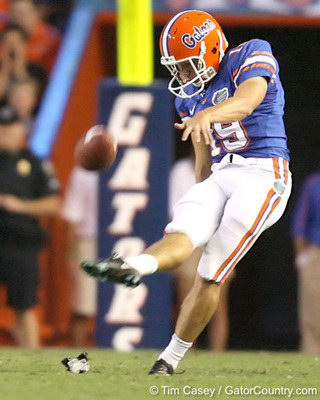 Caleb Sturgis stunk on Saturday. Chas Henry, considered one of the top punters in the nation, managed a 27 yard punt on his only try. I believe Henry's was less of a problem as he was backed up to the 1 inch line when he had to kick.
However, Sturgis looked erratic all day. He botched an extra point and badly shanked a 44 yard field goal. Then, his corner kickoff became shorter and shorter until the Gators were allowing opponents to field kickoffs near the 15 yard line.
The Gators have to fix this problem now. Remember 2006, when the Gators had Chris Hetland? He went 6/15 on the year and nearly blew the national championship hopes by himself (re–watch the Tennessee game and cringe).
You don't want to rely on the offense to make up for terrible kicking. That is never a good idea. Either Hetland/Sturgis gets it together this week, or the Gators go in a different direction.
Janoris Jenkins' Ascension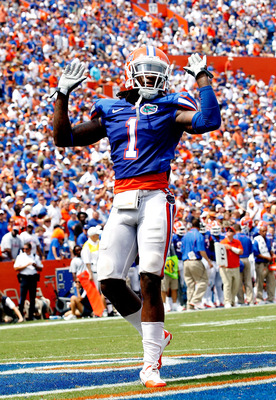 Sam Greenwood/Getty Images
It looks like JJ is going to blow past my moderate but still high expectations for him. I figured he'd be Joe Haden light, but he looked every part of an "islandbacker" last Saturday. Haden was a great coverage corner with outstanding tackling skills. Janoris is an outstanding coverage corner with slightly less tackling ability.
Honestly, that's probably going to make him better than Haden. Never in a million years would I have thought he had that kind of potential. He does though, and he's well on his way to an All America season, a top ten draft pick and possibly the Thorpe award (no pressure, Jenkins).
I realize that crowning him based only on conjecture (can you really evaluate talent against Miami OH?) is a stretch. He could very well slip back into his less consistent ways against real teams. However, that was not the worst team the Gators have played in the last three years, and it was by far his most impressive game.
This week will be Jenkins' test. If he stays in the stratosphere, he's going to be great. If he comes down a little, it's okay, he's still very good.
Jaye Howard's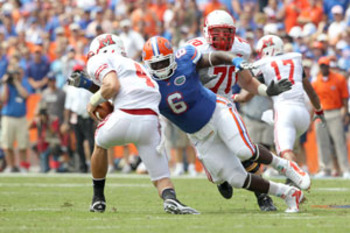 Last week, Howard went from possible recruiting bust to "Oh lookie, that guy's on the radar". His multi–sack performance showed a level of tenacity that the Gators haven't had from the interior defensive line since Marcus Thomas and earned him the "SEC lineman of the week" award.
This is a good year for the Gators to have a strong interior lineman, since the defensive ends are as weak as they have been since 2007. Howard's performance makes up for a lot of the pressure the Gators won't be forcing from the ends this year, and means the Gators won't have to be as risky or exotic with blitzes (not that they shouldn't be risky or exotic on some blitzes anyway).
I highly doubt he's going to be in the Heisman race in December like Suh was, but Howard could be among the leaders in the SEC for sacks. He's big enough to get through defenders and athletic enough to catch the quarterback once he's demolished the pocket.
He also did well against Miami (OH)'s horribly over–matched rushing attack, disrupting blocking assignments and closing gaps. Howard should continue his dominant power rush attack this week, as USF has relatively undersized interior linemen.
Keep Reading

Florida Gators Football: Like this team?