Little League World Series Scores 2010: Can Texas or Ohio Beat Georgia?
Larry French/Getty Images

The 2010 Little League World Series dodged the rain on Tuesday to get in semifinal action in pool play. Leading the way is the Southeast team from Columbus, Georgia which so far looks like the favorite to come out of the United States side of the bracket.
However, the other U.S. teams will not go down without swinging as both Texas and Ohio attempt(ed) to knock off the Georgia team which, albeit with different players, won the 2006 Little League World Series.
Can anyone stop the Southeast team or should Georgia be ready to advance deeper into the tournament? Here is a look at who can stack up against the Southeast and how the tournament landscape looks heading into Wednesday's action.
Begin Slideshow

»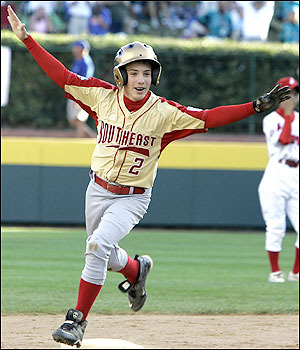 12:00 p.m.
Mid-Atlantic—Tom's River, New Jersey 10
Middle East and Africa—Dhahran, Saudi Arabia 0
2:00 p.m.
Canada—Vancouver, British Columbia 2
Latin America—Chitre, Panama 4
4:00 p.m.
Great Lakes - Hamilton, Ohio 0
South East - Columbus, Georgia 6
6:00 p.m.
Japan—Tokyo, Japan 3
Mexico—Nuevo Laredo, Tamaulipas 2
8:00 p.m.
Northwest—Auburn, Washington 9
New England—Fairfield, Connecticut 5
4:00 p.m.
Great Lakes (Hamilton, Ohio) vs. West (Waipahu, Hawai'i) @ Lamade Stadium
6:00 p.m.
Latin America (Chitre, Panama) vs. Asia Pacific (Kaohsiung, Chinese Taipei) 6:00 P.M. @ Volunteer Stadium
8:00 p.m.
Southwest (Pearland, Texas) - Northwest (Auburn, Washington) 8:00 P.M. @ Lamade Stadium
The Southeast team from Columbus, GA has already locked up a spot in the Pool A finals after defeating the Great Lakes (Hamilton, OH) team 6-0 on Tuesday.
It was an impressive pitching performance from the Georgia team considering the Great Lakes squad plated 16 runs against the Mid-Atlantic team in its pool play opener.
Georgia also defeated the West team from Hawaii 6-0 earlier in pool play.
The Great Lakes team got its first crack at up-ending the Southeast team in the semifinals of pool play. The Ohio team lost in its first opportunity, but the round-robin design of the tournament will give them another shot.
Ohio just needs to get passed Hawaii in today's Pool A semifinal. It's a winner take all game between Ohio and Hawaii, both of whom lost to Georgia earlier in pool play.
It is a matchup that would have to wait until the U.S. Championship Game, but a matchup between Texas and Georgia could be the best single game of the Little League World Series.
Southwest has scored 24 runs in its first two games of pool play, including a 14-1 victory over New England in the semifinals of pool play.
Today, Texas faces off against the Northwest team from Auburn, Washington tonight to determine who will win Pool B and advance to the U.S. Championship Game.
Japan became the first team to advances into the tournament semifinals. Japan did so by defeating Mexico for the second time in Pool C play, defeating the team that knocked Japan out of the tournament in 2009 and advancing to the International Final set for this Saturday.
Chinese Taipei and Panama lock up this evening to determine who will win Pool D. It has the possibility to be a very high scoring game. Chinese Taipei has outscored its opposition 41-0 so far in pool action while Panama has won its two games by a combined 17-2 score, including a 13-0 victory over Saudi Arabia.