Bull Jumps Into Crowd Video: 10 Reasons Bullfighting Is the Worst Sport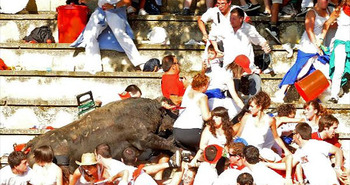 Are you sickened by bullfighting? Does the murder of an innocent animal repulse and offend you? Perhaps you disagree. Perhaps you take pride in this sacred tradition.
Either way, the recent video of a bull entering the crowd has people discussing this ancient past time. It makes for the perfect opportunity to detail why myself and many others are so thoroughly nauseated by this pseudo-sport.
10. The Outfits
Bullfighting costumes may very well be the ugliest piece of clothing known to man. The odd patterns. The capri pants. And other than superheroes… who wears a cape?
For a sport that is credited as being very macho, the uniforms make the Bullfighter look a little bit light in the loafers (which I must admit, are also unsightly).
This flamboyant costume is meant to ease the movement of the fighter, but haven't they ever heard of mesh shorts and a tank top? It may be called the "suit of lights" but all I want to do is light that suit on fire.
9. Tradition Is Not Always a Good Thing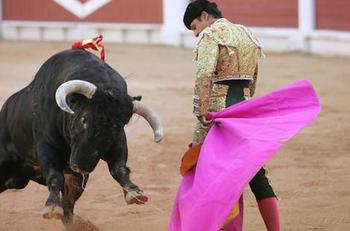 Many Europeans (specifically the Spanish) will argue how this is an ancient and sacred ritual. This argument holds less weight than Laura Flynn Boyle.
As mankind evolves, we do away with savage sport. No longer does the Coliseum display Gladiators fighting. No longer do most cultures sacrifice animals to the gods. So why does Bullfighting exist?
It is a bloodthirsty pastime that is allowed because it is classified as a tradition. Yet at the same time, we fail to explain how tradition validates anything. Humanity has come a long way, and hopefully we will stop this cruel "tradition" at once.
8. Double Standard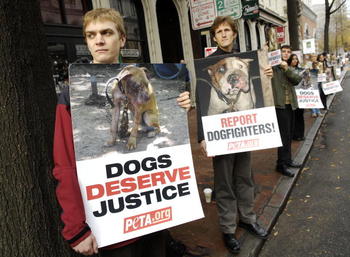 When Michael Vick was caught running a dog fighting ring, people were quick to make judgments...rightfully so. Vick was responsible for the death and injury or many innocent animals, and quickly became a vilified pariah.
So tell me, how does Bullfighting differ? Do we admonish dog fighting more because our furry friends are cuter? Or is it because we've domesticated them?
Whatever the case, killing animals for sport isn't entertaining. It's gruesome. It's vile. The very fact that Bullfighting is called a sport is a slap in the face to all the finely tuned athletic specimens who have spent years perfecting their craft.
7. Crooked Sport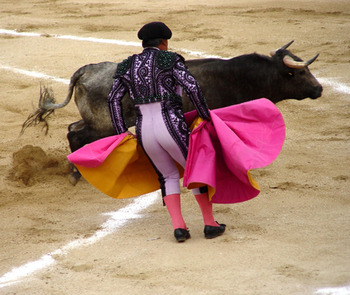 Bullfighting is a crooked sport in that the matador is given all the advantages. In fact, only 52 matadors have ever been killed by the bull. I'm sure the Washington Generals have a higher winning percentage against the Harlem Globetrotters.
A fight indicates that two parties by all means have a reasonably similar chance of winning. Even if the Bull "wins" he will be killed after the match for the damage that he has inflicted.
At the end of the day, all I see is an excuse to kill an animal. The matador trains from a young age to kill this unintelligent creature. The result? A match that he will hardly ever lose.
6. Spectator's Safety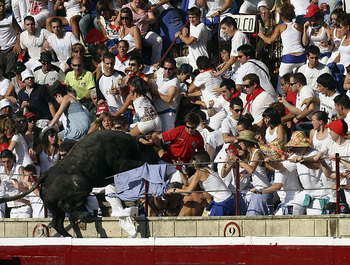 While the matador is completely safe based on his years of training, this video demonstrates how unsafe it can be for the crowd. The spectators are completely unprepared to deal with an angry bull, and the results are frightening.
Although nobody died, forty people were injured during this bizarre spectacle. Now I know this is not an everyday occurrence.
I know American sports have their own risk attached (like a flying foul ball). But the potential for a massive animal to unleash it's fury on a crowd of people who simply seek entertainment? Well, that's just another reason to ban this primitive exhibition.
5. Animal Cruelty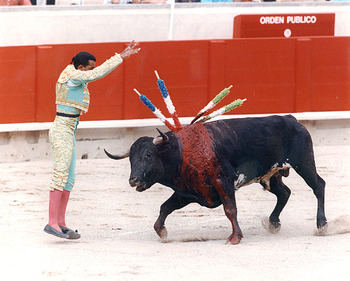 The treatment of the bulls during the fight is clearly revolting. That's my sentiment and I'm sticking to it. But what about before the fight? Let's just say it's not much better.
For hours prior to the fight, Bulls are held in a miniscule lockup where they are deprived of food, water, light. All of life's essentials. This turns the Bull from a quiet and peaceful animal, into the ferocious killing machine that we always associate the creature with.
The animal is just activating it's self-defense mechanism, and because the audience doesn't see this transition, they feel no remorse when the fierce creature is killed.
In fact, often times the Bull is harpooned prior to the fight in an attempt to further agitate them. Then the crowd bears witness as this mangled animal is massacred. Sounds like great sport to me.
4. Adding Insult To Injury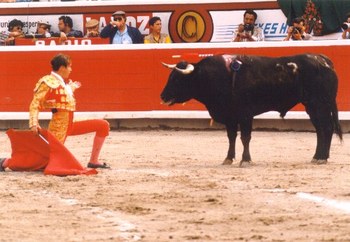 The behavior after the animal is exhausted is no better. After repeated rushes at the matador, the Bull begins to lose stamina. At this point, the match is over. The fate of this "beast" is sealed.
Alas, the Bullfighter has only just begun. The Bull urinates on itself as it struggles to stay on it's feet, and even as this occurs, the matador dances around the crippled creature. Humiliating.
It takes a lot for me to root for an animal over a human, but the grotesque nature of this event can have the greatest humanitarian denouncing his fellow man.
3. The Nature Of Bulls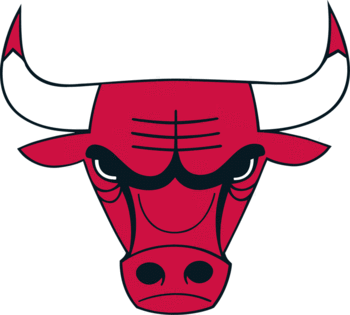 Did you know bulls aren't by nature violent animals? I didn't. And most people likely share the same sentiment.
The Chicago Bulls mascot is furious and intimidating. They have sharp horns with demonic connotations.
The truth? In a way Bulls are like Bee's, if you avoid them, they avoid you. In fact, while watching the television show "Mythbusters" I saw the behavior of a Bull in a china shop. They didn't break a single plate.
We associate them as being aggressive and abusive creatures, but we never actually see a Bull in it's natural habitat. These "brave" matadors cruelly tease these living beings until they become exactly what we expect them to be. The Bull is somewhat docile by nature, so this is one myth I would love to bust.
2. Is It Humane?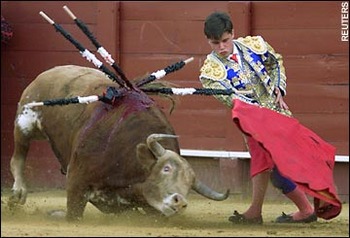 People will argue that they humanely kill these animals. Or that if we didn't use them for fighting they would be extinct right now (seriously that's an actual pro-Bullfighting claim).
Now allow me to retort. These animals are typically stabbed repeated times around the heart and lungs using a sword.
More often than not, the Bull slowly bleeds out rather than dying on the spot. It's tough for me to call that humane.
1. Not Enjoyable To Watch
It's not entertaining. Forget the fact that it is "tradition." Forget that they are torturing then killing an innocent creature. Is this really fun to watch?
A man in a cape has a bull run towards him, which he tries to avoid? I'd rather watch paint dry. The crowd's excitement comes from the possibility that the Bull hits the matador. Not only does that rarely happen, it would be sick if you looked forward to that.
To me, sports are about competition. Watching two evenly matched sides compete at the highest level. Emptying their tanks because they take pride in giving their all. Showing off a level of athleticism that I can only dream of. Working together on a common goal to defeat a common enemy, yet simultaneously having respect for your opponent.
Maybe that's wrong. Maybe people watch sports for other reasons. But I watch to see the unpredictable happen. To see what I thought impossible come to fruition. The reward at the end of a basketball game? Victory. At the end of a Bullfight? Two ears and a set of bull testicles. I'll take the former.
Keep Reading