MLB Rumors: Joe Torre To The Mets? Close Sources Expect So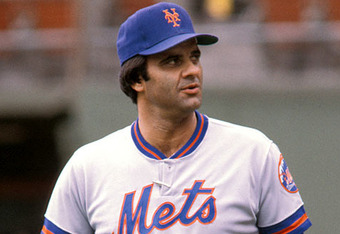 Back when he had a lot more hair, Joe Torre had a stint with the New York Mets.

A new question arises in New York. "How hot is the seat, Mr. Manuel?"
The season is starting to take a turn and head toward that final stretch, but some teams are already out of contention and could be looking into the future of their ball club.
The Mets could be one of these teams as things looked bright a bit early in the Summer, but have since taken a turn for the worse. The pitching has become weak and the bats are frozen. Players like Johan Santana and Carlos Beltran do not have the same look of dominance every time that they take the field.
When the blame game begins, the finger can be pointed at Jerry Manuel. Manuel has been given a bad reception at Citi Field several times lately. His head is definitely on the chopping block if the Mets fail to do anything in September.
Omar Minaya should not be too confident as he could be on his way out of town too. But before he goes, he might be hired to make an important move concerning Jerry Manuel.
The hiring of Joe Torre for the New York Mets could be the swan song for Omar Minaya.
Jayson Stark of ESPN has been tracking the possible future destinations for Joe Torre and a friend believes he will either retire or stay in California. But a few Major League Baseball executives have been led to believe that the current Dodgers skipper might make a return to Flushing, New York.
Joe Torre was a lot younger when he was last in a Mets uniform. He was the skipper for five years and was never able to compile a winning season. Things were definitely a lot better in the Bronx for him.
Joe Torre has been welcomed warmly the last few times he was in New York against the Mets. That could also just be a ton of Yankee fans going to the game to see their former skipper make a special appearance in the Big Apple.
Torre will announce his plans for next year after the season ends for the Dodgers. If it ends with a World Series win, he could choose to ride off into the sunset a winner one last time. The other option is pull a Phil Jackson and try and win another one.
He would inherit a team that could use a few young faces. They have Ike Davis, a legitimate contender for the Rookie of the Year Award. In the starting rotation stands a man that the Yankees let get away for Torre in Johan Santana. People like David Wright and Jose Reyes are all too familiar due to the many Subway Series that Torre was a part of.
A New York Mets hiring of Joe Torre would definitely not be the worst thing that could possibly happen to the team. The worst could actually be giving the power over in an Isiah Thomas manner where Omar Minaya would be manager and a big shot in the front office. They should try and avoid that disaster.
This article is
What is the duplicate article?
Why is this article offensive?
Where is this article plagiarized from?
Why is this article poorly edited?

New York Mets: Like this team?