PGA Championship 2010 Leaderboard: 10 Front Nine Surprises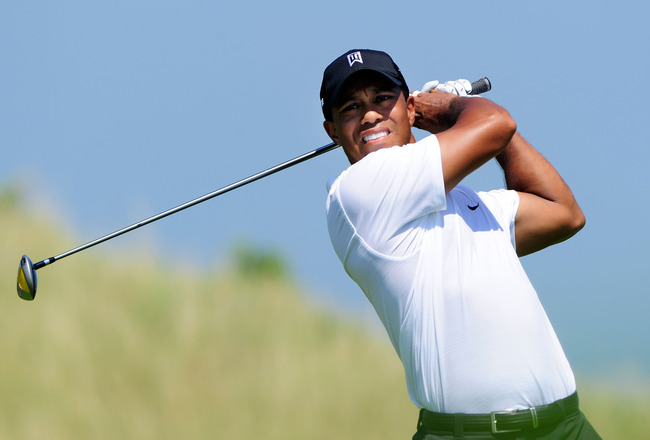 Stuart Franklin/Getty Images
The first front nine of the 2010 PGA Championship is already in the books, and already there are some surprises. Obviously, nine holes doesn't dictate the entire tournament, but there are at least some early indicators which could develop into weekend long storylines.
So who made the cut? Which golfers went out and had themselves a front nine at Whistling Straits which many are already buzzing about?
Tiger Woods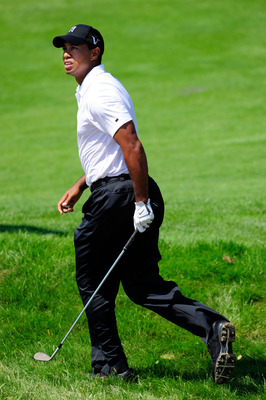 Stuart Franklin/Getty Images
It would be remiss to not bring up Tiger Woods. Few knew what to expect following his abysmal performance at Firestone last week, but so far Tiger has shown he put last weekend's performance behind him.
Tiger shot 2-under on the front nine, including three birdies and one bogey which came on the par 4, 518-yard, 15th hole.
Tiger didn't need to get it all back in one round, but his start is definitely a positive sign not only for him, but for the PGA, which very badly wants strong ratings this weekend.
Charles Howell III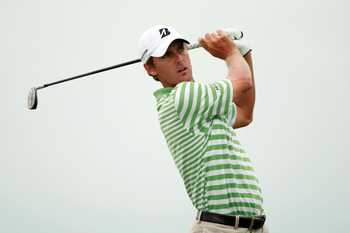 Andrew Redington/Getty Images
Howell has endured a relatively quiet year. He has four Top-10 finishes (one at the unofficial Tavistock Cup) and seven Top-25 finishes, but he raced to the top of the leaderboard with a four-under on his front nine. That's a surprising start for a player who finished no better than 30th in 10 of his last 11 tournaments.
Retief Goosen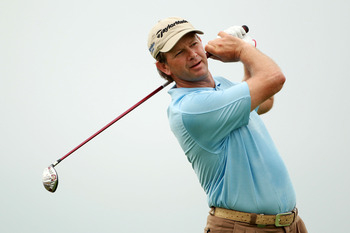 Andrew Redington/Getty Images
Goosen came into the tournament as one of the favorites given his eight Top-10 finishes this year, his sixth place finish at the British Open, and his tied for 3rd place finish last weekend at Firestone.
Well, Goosen came out and completely misfired at Whistling Straits. He shot five-over on the front nine and finds himself buried at the bottom of the current leaderboard.
Jason Day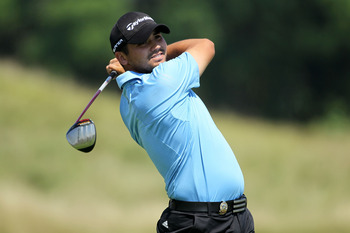 Andy Lyons/Getty Images
The current co-leader at four-under (as of this writing), Day has shot up the leaderboard after entering the PGA Championship with very little fanfare.
Day has one win this season which came at the Byron Nelson Championship with one other lone Top-10 coming at the AT&T National (T-ninth). Otherwise, Day hasn't finished any higher than 15th in his other 17 events this season. Yet there he is, atop the leaderboard after nine holes at Whistling Straits.
Kyung-tae Kim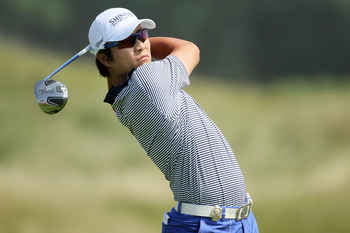 Andy Lyons/Getty Images
Kim should be very pleased with himself considering the 2010 PGA Championship is the first PGA sanctioned event he is participating in all season.
Kim shot one-under on the front nine before bumping himself up to three-under after 12 holes. A consistent finish to his first round will at least keep him in discussion entering tomorrow's second round.
John Merrick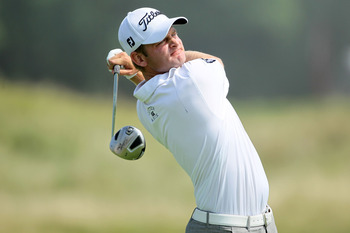 Andy Lyons/Getty Images
Merrick, 28, is another relatively unknown player making a name for himself in the opening round. Merrick, who has just one Top-10 and three Top-25 finishes in 23 events this season, sat at three-under after 12 holes. He bogeyed on the par five second hole, but either birdied or played level golf through 12.
Michael Sim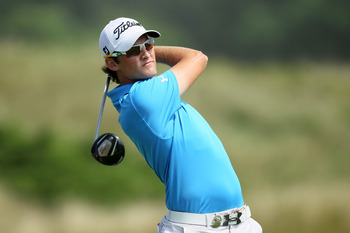 Andy Lyons/Getty Images
The 25-year-old Australian birdied two of the first three holes before taking a bogey on the par four, 489-yard fourth hole. He quickly rebounded though, nailing a birdie on the par five, 598-yard fifth hole to bring him back to three-under par, where he remained through the front nine.
Sims has two Top-10 finishes in 15 events, including a third-place finish last week at Turning Stone. However, Sims has missed the cut in four of his last six events.
Padraig Harrington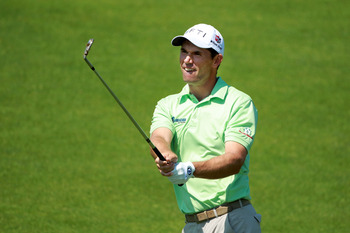 Andrew Redington/Getty Images
Harrington has not won a tournament this year, but he is still playing at a relatively high level with five Top-10 finishes in 15 events this year, including two in the last three weeks.
That play has not translated to his first round at Whistling Straits. Harrington shot three-over on the front nine including a double-bogey on the par three, 17th hole and a bogey on the par four, 18th before making the turn.
Martin Laird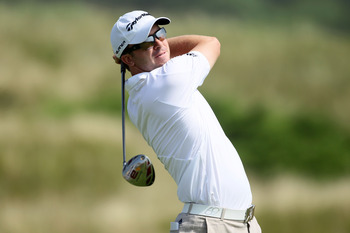 Andy Lyons/Getty Images
The 27-year-old Scotsman caught some fire in the first round after failing to make the cut in three of his last four tournaments. Laird bogeyed the first hole but recovered to finish the front nine at one-under before bumping himself to two-under with a birdie on the par four, 10th hole.
Marc Leishman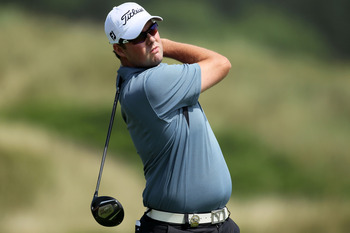 Andy Lyons/Getty Images
Leishman caught the eye of everyone when he raced to four birdies through the first six holes, temporarily putting himself atop the leaderboard. However, a double-bogey on the par three seventh hole landed Leishman back in the secondary pack at two-under through nine holes.
Keep Reading