North Wilkesboro Speedway: The Little Track That Could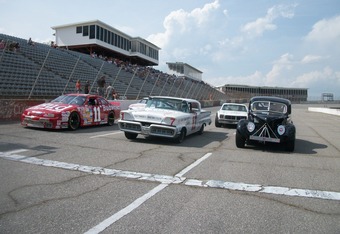 When you think North Wilkesboro Speedway, what comes to mind first? For some it may be Jeff Gordon, who won the last race there in 1996.
On the other hand, the older generation may think Holly Farms and Brett Bodine , for when Brett won one of the most controversial races in NASCAR's history.
However, to the multitude of young kids that were present on May 15 for the premiere of the movie Red Dirt Rising, North Wilkesboro Speedway will portray in their mind an event that could not be replaced.
Gary Miron saw it this way, "It was perfect, better than most Cup events," which is arguably the best description of that Saturday's events.
They included two short races, a tractor pull, a concert by Matt Dylan and his band Midnight Steel, a car show, and fan reactions that were priceless.
NASCAR quit racing at the five-eighths of a mile North Wilkesboro Speedway in 1996, and it has sat where everyone who goes across the Wilkes part of 421 could see.
Most NASCAR fans who have a remote idea of NASCAR's history will agree with Chocolate Myers in saying that it puts a tear in your eye seeing the historic track just sitting there.
There will be no more wondering what will happen to the celebrated track, as Save The Speedway, Speedway Associates, and among others, Terri Parsons, have teamed up to breathe new life into the venue.
May 15 marked a couple magnificent things in the history books for the track. The first race was held there in 14 years, as the Ford Flathead's ran for the first time with race winner Bill Blair's dad being portrayed in the movie.
Another historic record was that Susan Kimel won a race, which was only the second time a woman had even raced at North Wilkesboro Speedway, with the first being Sara Christian in 1949; Susan was the first women to ever win there, which in this day and time is a hard feat to accomplish.
Most people inside of NASCAR , such as Kevin Harvick, David Regan, Chocolate Myers, and multiple more believe that NASCAR will never come back to the track.
However, the USAR ProCup Series has already planned its first event there on Oct. 3 , 2010, and the ASA Late Model Series is going to race there for the King's Ransom 300; so it would not be a big surprise to at least see a NASCAR Camping World Truck race there in the future.
One of the most fascinating ideas was this; "I believe this track would be really supportive of another North -South Show featuring the stars from 'Madhouse' (Bowman-Gray) Whelen Modified series." Miron said, "The track is perfect for such races,"
Throughout the day, we were encouraged to look back at the past of NASCAR , to see back in the time of Fireball Roberts, Bill Blair, or Curtis Turner, and as you look at the North Wilkesboro Speedway, from the inside or out, you can feel the passion that was there in its prime.
However, when you envision the future of the track you see the same passion, exhilaration, and motivation that was there when "Big Bill" France built the track in 1947.
Since that day there have been multiple testing sessions with drivers such as Kevin Harvick, Austin Dillon, and Landon Cassill , and with the next race coming up on the schedule, North Wilkesboro Speedway may rise again from the ashes.
This article is
What is the duplicate article?
Why is this article offensive?
Where is this article plagiarized from?
Why is this article poorly edited?