2010 US Open Golf: Is Ryo Ishikawa the Next Great?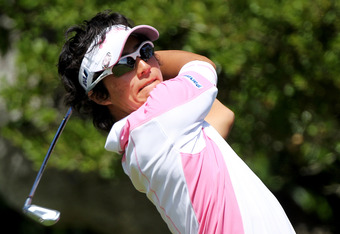 Donald Miralle/Getty Images
Japan has been golf crazy for quite awhile now, and in all honesty, the world has been waiting for a truly great player to come out of that country for quite some time.
While Isao Aoki and Jumbo Ozaki were fine players in their own right, neither won a major golf tournament and neither made that big of a splash on the PGA Tour.
Isao Aoki would likely be known as the most successful player to ever come out of Japan. (Well, at least from the men's side of things). His runner-up finish to Jack Nicklaus in the 1980 U.S. Open is to this day the highest finish of a Japanese born player.
Now we have a new story brewing from an extremely talented young golfer from the land of the rising sun.
At the tender age of 18, Ryo is on the first page of the 2010 U.S. Open leaderboard nearing the completion of the second round. His first two rounds at one of the toughest golf course setups in all the world has been more than impressive, it is dare we say it, simply awe-inspiring.
Most "kids," yes I say kids, during the summer of their 18th birthday, are looking forward to a summer of fun leading up to their entry into the working world, or before they go off to college to be away from home for the very first time in their lives.
Ryo?
He has been a professional golfer since the tender age of 16, and during his career on the Japan PGA Tour, has already carded seven victories. His last, maybe the most spectacular in which he carded a mind-boggling 58 in the final round to oust his competition by a solid five strokes.
And now the young gun is showing his wares as being someone that is a true contender entering the weekend of the toughest golf tournament to win in all the world.
Will Ryo Ishikawa be the next phenom to follow in the footsteps of Jack Nicklaus and Tiger Woods? Remains to be seen, but what we have seen this far has been nothing short of spectacular, especially at such a young age.
Over the past 10 or so years we have seen teenagers such as Sergio Garcia and Justin Rose make big splashes on the world scene at major golf tournaments. Other youthful players like Rory McIlroy have shown that they have the game to be contenders in major tournaments for the next three decades as well.
But in all reality, this kid seems different. He already possesses one of the more solid swings that you will see in all the world. The plane, his tempo, his repetitiveness are all equally impressive, but it is his shot-making ability and control of his game at such a young age that really seem to stick out the most.
While it seems incredibly unlikely that he will end up winning this year's U.S. Open, Ryo has definitely stamped himself as an up and coming star in the world of golf. And maybe, just maybe, the "kid" that will live up to all the hype that has surrounded him at such a young age.
Will Ryo be the next superstar in the world of golf? It may be a bit premature, but this kid certainly seems like he has the goods, and if he can shoot 58 on even the modest of golf courses on the Sunday of a professional event, shooting low doesn't seem to scare him all that much.
Take notice golf world, the next great player may well be coming out of the land of the rising sun.
This article is
What is the duplicate article?
Why is this article offensive?
Where is this article plagiarized from?
Why is this article poorly edited?