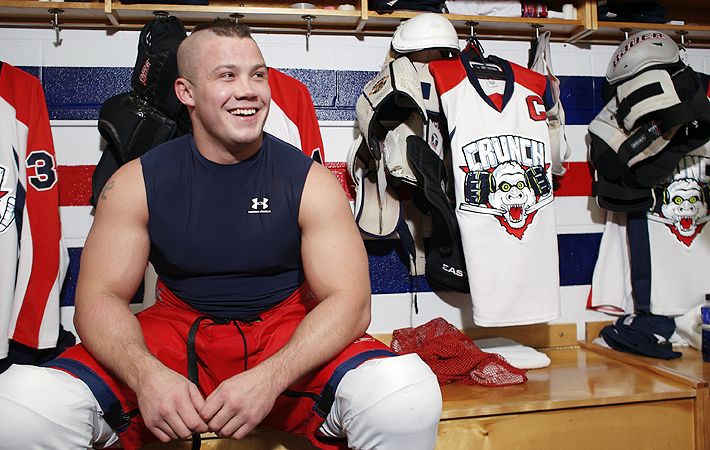 Photo - ESPN.com
The
Syracuse Crunch
announced today that they re-signed fan-favorite forward Jon "Nasty" Mirasty for the upcoming 2010-11 season. Arguably the most notorious enforcer in the American Hockey League, Mirasty has compiled nearly 700 PIM in his three seasons with Syracuse.
A look at some of his donnybrooks and some of the sentiment from this signing after the jump.
I still smile when I think back to the phone conversation I had with Crunch Senior VP Jim Sarosy in the fall of 2007. The team was about to travel to the campus of SUNY Oswego for the inaugural Shapiro Motors Classic at the Campus Center Ice Arena for an exhibition against Rochester. They were bringing a young, unproven Mirasty with them to see if he was right for the tough guy role.
"He literally will be fighting to try and make this team," Sarosy told us on
Romes & Malones,
my weekly campus radio program with Andy Rohlin (it was like a sports version of Hannity & Colmes--only with no Hannity and two Colmes'). And fight he did, pulling Mike Weber away from a post-whistle scrum and dropping him to the ice with a straight right...then continuing to pelt his horizontal foe with his left. The scrap inspired Ben Amey, my color commentator that night, to deliver the worst fight call in the history of hockey (video below).
Mirasty has dropped 72 pairs of Crunch mitts since then, fighting his way to the top of the OnCenter popularity chart. Still, some see his spot on the roster as a wasted one. Today, Chairman How's Glorious Army wrote in favor of Mirasty's signing, but
shared the view
of one season ticket holder who was not in favor of today's news.
There's a lot of opinions about there about Nasty. Some people are already hating on this signing. Once person even said that this signing makes them want to give up their season tickets.
Over at Syracuse.com, the news has been met
with mostly positive comments
.
Great News! Mirasty will become the all time Syracuse Crunch Penalty Minutes leader this season. Anaheim is not playing games by signing mirasty so quickly. They will provide a winner in Syracuse this season!
On paper, this move seems to make an awful lot of sense for the Crunch. Anaheim led the NHL in fighting last season. They also hired Mark Holick to replace Ross Yates as the Syracuse bench boss. Holick once accumulated nearly
300 PIM in a 60-game season
when he played in the Saskatchewan Junior Hockey League.
Sure, Mirasty won't help put a lot of goals on the board with his stick--he has just seven
AHL
points in 166 career games. However, his presence sure makes life easier on those who can bury the puck. With Anaheim holding a pair of first-round picks in this month's draft, there may be some scorers on the way to the Salt City for The Nasty One to protect.