Coach O's Big Mess at Ole Miss
November 23, 2007
Before the season started, I predicted that Ole Miss would finish fifth in the SEC West and make a bowl appearance, while their brethren in Starkville would finish at the bottom of the division yet again.
This was going to be the year that the tireless recruiting of Coach O would finally pay off.
But like the other years in the Coach O era, a season that was supposed to be promising has turned into the complete opposite.
Mississippi State appears to be headed to their first bowl game since 2000. Memphis, despite their early struggles, are headed to their fourth bowl in five seasons. Even Vanderbilt has a shot to become bowl-eligible for the first time in 25 years.
And Ole Miss?
Their fourth-straight losing season—one of the worst stretches for Ole Miss football in almost seven decades. 
In all fairness, the first of those seasons was with Cutcliffe at the helm. Although he led the Rebels to a share of the SEC West title in 2003, he was canned because he didn't want to make changes on his staff.
His departure introduced the world to a guy named Coach O—who ate, breathed, and slept football.
But as we close on another disappointing season in Oxford, it's easy to see that as long as O is in Oxford, there is no way that the once-proud program will find any success.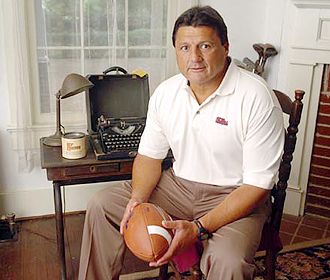 The Rebels lack discipline and direction. Even though there's a chance they could beat Mississippi State again, something needs to be done—especially after 20 players received probation for stealing small items from hotels in Tupelo and Montgomery.
What can be done for the sake of the thousands who regularly fill Vaught-Hemmingway, the boosters who pay the coaches' salary, and the fans who religiously support their Rebs?  
Wholesale changes in the football program—starting with Coach O. Ole Miss then aim the ax even higher, and cut down the AD who got this program into this mess: Pete Boone, who ran Coach Cutcliffe out of town.
But then if that happens, then who does Ole Miss go after to fill these slots?
Who will be the next contestant in the ongoing saga of trying to bring an SEC championship to Oxford?
You tell me.