Top 10 Golf Images of the Tiger Woods Era
July 18, 2008
These are the 10 images that have defined golf since Tiger Woods first appeared in the Masters Tournament as an amateur in 1995.
I have made this the cutoff for simplicity reasons. Yes, there are great images from before, but I wanted images that defined this era.
Top 10 Golf Images of the Tiger Woods Era
10. Woody Austin, putter, ear, water

Seriously, I did not know which to put here. Woody Austin seemed destined to forever be remembered for one incident during the 1997 Verizon Heritage at Hilton Head. After a horrible putt, Austin began whipping his putter against his head repeatedly. Of course, we should have known Austin could do something that would outlive that. What we did not know is that he could outperform that twice.
Although it was quickly forgotten because of what happened one month later, Austin's ear cup is an amazing image. After making a putt from the fringe on the opposite end of the green to close within one stroke of Tiger Woods at the 2007 PGA Championship, Austin made a cup around his ear. Why did Tiger get cheers when he made shots like that and not Austin? Well, at least that's what Austin thought.
The last image? Well, it's fairly self-explanatory. Austin fell into the water after his shot in alternate-shot doubles at the 2007 President's Cup. David Toms, of course, hit the ball right onto the water's cusp, so I guess Austin has Toms to thank for that. And he should thank him. It's a lot less embarrassing to be remembered for that than it is to be remembered for striking a putter against your head.
I could not find a good quality image of him hitting his head with the putter. If anyone has one, that would be great.
9. Bruce Edwards and Tom Watson, 2003 U.S. Open
Bruce Edwards had been diagnosed with amyotrophic lateral sclerosis, more commonly called ALS or "Lou Gehrig's Disease," only a few months before he returned to the bag for Tom Watson's 2003 U.S. Open campaign.
No, that alone would make a touching story, but it pales in comparison to the image of Edwards and Watson at Olympia Fields Country Club walking up 18 with Watson's hand on Edward's back. For 30 years and eight major titles, Watson and Edwards were a team. Watson shared the first round lead despite his 53 years, but faded to 28th. Edwards would die less than one year later due to complications from ALS.
8. Payne Stewart, 1999 U.S. Open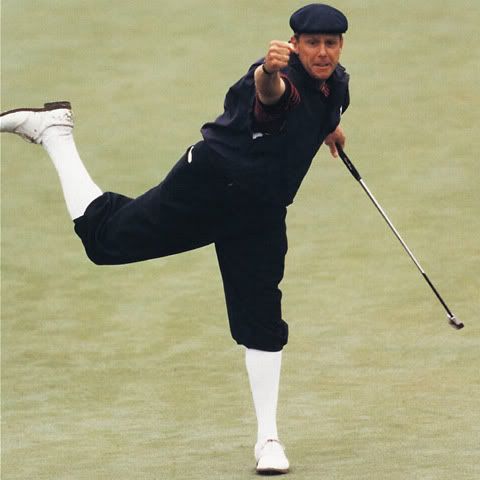 This one is a double-image if you will. When you think of Payne Stewart, the first image has to be his "soaring eagle" pose after he made a 15-foot putt to save par to win the 1999 U.S. Open. The second is him clutching the U.S. Open trophy a few minutes later.
Even if Stewart did not die in the plane crash a few months later, these images would be just as iconic. I doubt if there would yet be a bronze statue at Pinehurst #2 commemorating the event, but there would be one day. His socks over the
bottom of the trousers is as unforgettable as the joy he brought onto the golf course every time he played.
7. Ben Crenshaw, 1995 Masters Tournament
Harvey Penick, author of the Little Red Book, the highest-selling golf book of all time and mentor and coach to Ben Crenshaw for the previous 37 years of Crenshaw's 43-year old life, died just a few days before the Masters Tournam
ent. The day before Crenshaw was a pallbearer at Penick's funeral.
Despite entering the week having missed three cuts in his previous four starts overall and outside the top-50 on tour in putts-per-round, Crenshaw miraculously found his game. After tapping in for bogey on the 72nd hole for a one stroke victory over Davis Love III, Crenshaw fell into his knees and covered his face while caddie Carl Jackson held him up. The crying didn't cease until he got his green jacket.
6. Justin Leonard, 1999 Ryder Cup
The United States had lost the previous two Ryder Cups by identical scores: 14 ½ to 13 ½. Heading into the final day, it looked like Europe would have to collapse just to win by that little.
Well, Europe did collapse, completely. The United States scored 8 ½ points to 3 ½ for Europe to score a remarkable 14 ½ to 13 ½ victory. That victory was clinched when Justin Leonard made a 45-foot putt on the 17th hole, clinching at least a halving of the match against Jose Maria Olazabal.
The celebration after that putt was criticized by the European side as Olazabal could still halve it if he matched Leonard's birdie, which he did, and won the 18th hole, which he did again. But the celebration occurred there on the 17th green.
5. Phil Mickelson, 2004 Masters Tournament
 "Is it his time?" Maybe more famous than Mickelson's actual celebration was the call by CBS commentator Jim Nantz, but the image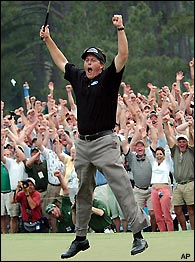 was pretty memorable itself. After years of heartbreak, years of never making that putt, Mickelson finally came through and made that putt to win a major.
He leaped into the air, both hands raised, the putter in his right hand, and his mouth open screaming joy. It's hard to remember when or even if his feet ever touched back on the ground. In the photograph, they never do.
4. Arnold's goodbye, 1995/Jack's goodbye, 2005
What more fitting place to say goodbye than St. Andrews?
Arnold Palmer required the Royal and Ancient Golf Club to change its rules in order to invite him to the 1995 Open Championship. Previously, only former winners under 65 were admitted. Palmer himself was 65. Now it is "former champions 65 and under."
Jack Nicklaus also took advantage of the rule change, albeit 10 years later. While Palmer continued to play stateside after 1995, Nicklaus made the Open Championship his farewell to competitive golf altogether.
Both made that walk over the Swilken Bridge on what is fittingly known as the Swilken Burn on the 18th hole, waving goodbye to the oldest major in the world.
3. Costantino Rocca, 1995 Open Championship
It's amazing how quickly we forget that Costantino Rocca hit one of the worst shots a professional golfer could possibly hit right before he made the 65-foot putt to force a playoff at the 1995 Open Championship. His second-shot chip from right off the green was completely gaffed, landing firmly in the "Valley of Sin" on the edge of the green. Then Rocca worked some magic.
Somehow, despite being completely deflated, Rocca made a 65-foot birdie to tie John Daly and force a four-hole playoff at the Open Championship. His reaction was legendary.
Rocca fell onto his knees and backwards, looking right into the skies. Then he fell to the ground and started punching the ground. Sure, he lost the playoff after emotionally draining himself on that 18th hole, but like the image that will follow, his celebration was a lot more lasting than anything the winner did that afternoon.
2. Jean van de Velde, 1999 Open Championship
You know the story. There's no point telling the entire thing. But that one moment needs to be discussed. Mistake after mistake by the unheralded Frenchman threw away the 1999 Open Championship, but it was the one correct decision on the hole that he's most remembered for.
For the only time on that 72nd hole, common sense prevailed. But that was not before Jean van de Velde took off his shoes and socks, rolled up his pants, and went down into the Barry Burn to see if he could hit his fourth shot out of it. He finally picked it up and took a penalty drop.
Dozens of pictures were snapped of him in the Burn, but none captured it quite as well as the one of van de Velde looking hopelessly at his ball. The disbelief in his stare is just iconic, as iconic as his collapse.
1. Tiger's fist pump, whenever
Does it matter which fist-pump this is referring to? Sure, I could have put the ball falling into the cup on the 15th hole at the 2005 Masters and Woods laughing, but that isn't as lasting.
No, I had to have Tiger's fist-pump at number one. Besides occurring more often than anything else on this list, it has grown to define golf over the past 15 years. It has become as synonymous with Tiger as Tiger has become with golf. How could it possibly not be the top image of the Tiger Woods era.