Who Is The Best of the Best? 2010 NFL Power Rankings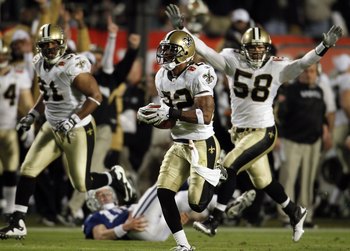 The 2010 NFL Draft is now over, and it's time to start looking forward to the new year.
The New Orleans Saints won the Super Bowl last year, and it was a great story. Will it be another great one this year for the Super Bowl winners?
Who's the favorite for the Lombardi Trophy? Who's going to be the surprise team of the season?
Who's going to be the bust team?
The answers are all ahead.
32. St. Louis Rams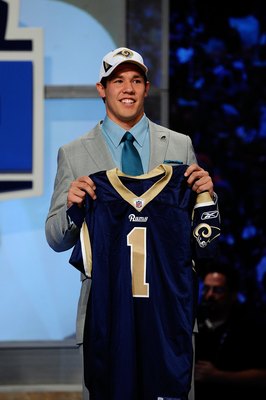 The Rams went 1-15 last season with their only win coming against the Lions. While they did draft their future franchise quarterback with the number one overall pick in the draft this past April, they still have a terrible offensive line, a horrible defense, and not much offensive weapons outside of Stephen Jackson.
31. Buffalo Bills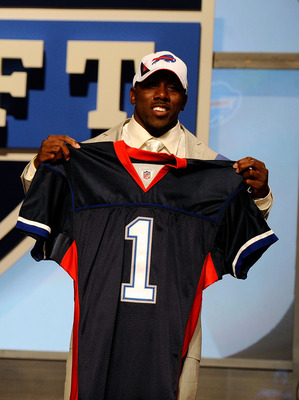 The Bills have a lot of holes, and while their first round pick is very talented, he did not fill any of the holes. I believe CJ Spiller was a good pick and would've been for any team, but that doesn't change the fact that the Bills are miserable and don't have a quarterback.
30. Seatle Seahawks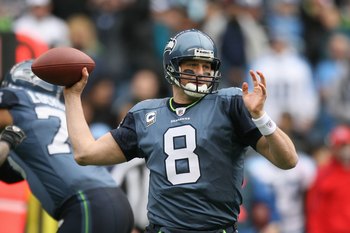 The Seahawks had one of the better drafts, as it stands right now. It's so easy to look at the players they took and be blown away, but don't forget they had two first round picks.
It's easy to have a draft look great when you pick two big names. Granted, I liked who they picked (Earl Thomas and Russel Okung) but it doesn't change how the Seahawks will be this year, and they will probably be pretty bad.
29. Denver Broncos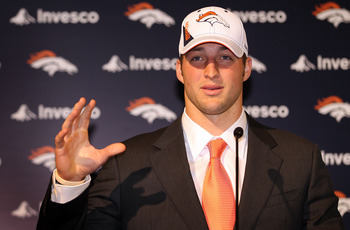 The Broncos made a risky move taking Tim Tebow in the first round. Will it pay off for them?
I don't think that will be decided this year. Now, you can't take an 8-8 team, trade the two best players on that team, and expect it to be any good.
That's what's happened to the Broncos. They went 8-8 in 2008, traded Jay Cutler and then Brandon Marshall a year later, and now they will be lucky to win four games.
28. Jacksonville Jaguars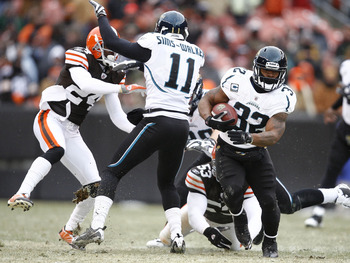 The Jaguars, in my mind, had a very poor draft. Their draft class from this year isn't going to help them that much this year, and they definitely need a lot of help if they want to make any kind of run this year.
27. Cleveland Browns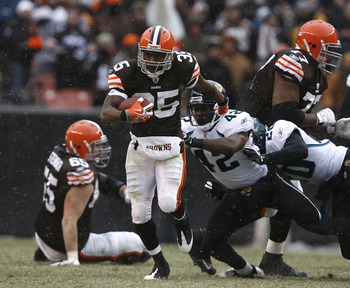 I'm high on the Browns this year. I'm not saying they're a Super Bowl contender, but I do think they'll win a lot more games then many people think.
A comparison I like to make is this. The Bengals of 2008 were pretty bad, they started 1-11-1. Then, an outburst by a running back that wasn't with the team at the start of the year (Cedric Benson) led them to three straight wins to close out the season. They go on to make the playoffs in 2009 with Cedric having a career year.
The Browns in 2009 were pretty bad. They started 1-11. But, after an outburst by a running back that was unknown to many (Jerome Harrison), they go on to win their last four games.
I'm not trying to say the Browns will win 11 games or there as good as the 2010 Bengals...but who knows?
I think Harrison will continue to be very good and the Browns will surprise.
26. Tampa Bay Buccaneers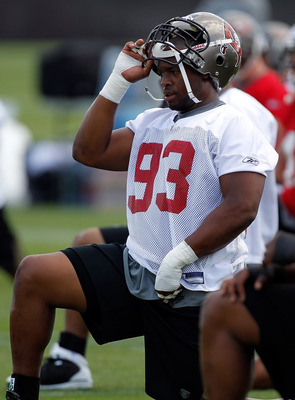 The Bucs had a good draft, and after being winless for quite some time last year, they fought hard in the latter part of the year to win some games and stay close in others.
They will try to continue Josh Freeman's development this year as well as try to stuff the opposing team's run game.
25. Kansas City Chiefs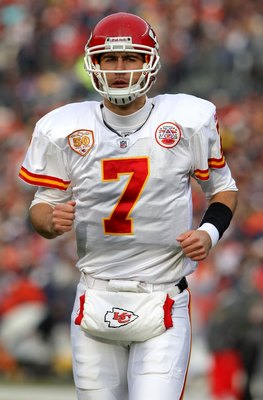 I think Matt Cassel is a good quarterback, he is just behind a bad offensive line and has no weapons on offense. The Chiefs aren't very good besides Jamal Charles, who is a stud. He can win some games for this Chiefs club by himself.
24. Detriot Lions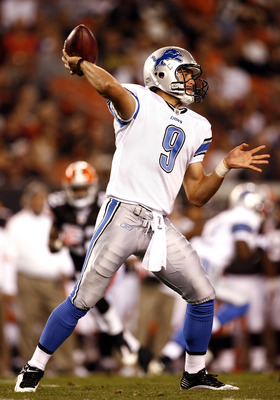 Matt Stafford is the real deal. He has a poor offensive line in front of him but he does have Jahvid Best and Kevin Smith as running backs and one of the best recievers in the NFL in Calvin Johnson, so as long as he keeps developing and his team helps him out he'll be fine. The Lions are definitely going in the right direction.
23. Chicago Bears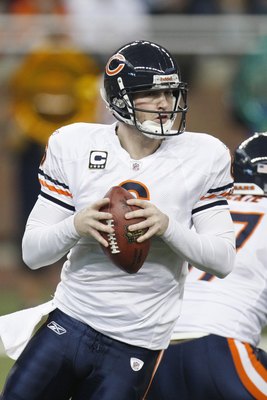 Jay Cutler isn't the type of quarterback that is going to win without some help. A lot of help.
He has no line, no receivers, and no strong running game to rely on. His defense is old and average. When the only players you can brag about on your team if your a Bears fan is your kicker and punter, you have some problems.
22. Arizona Cardinals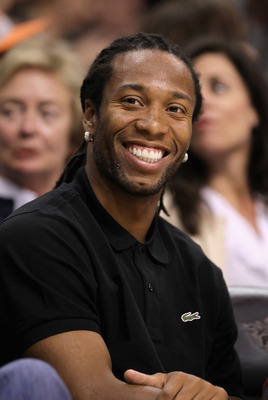 The Cardinals definitely got a lot worse when Kurt Warner retired. Their defense is suspect at best, and their quarterback is Matt Leinart (no explanation needed.) They do have a good running back in Beanie Wells and they have good receivers which will help out Matt.
21. Oakland Raiders
The Raiders aren't looking too bad this year. They have a QB in Jason Campbell and their defense is very good, especially with the addition of Rolando McClain. Watch out for the Raiders this year, believe it or not.
20. Philadelphia Eagles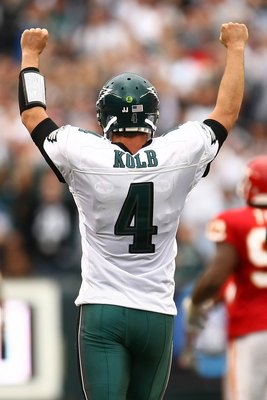 Kevin Kolb has a chance to be very good. Will that start this year? Who knows, his offensive line isn't bad and he has weapons on offense, but he's still a first-year starter and he doesn't have a great RB. Their defense also isn't elite.
19. Washington Redskins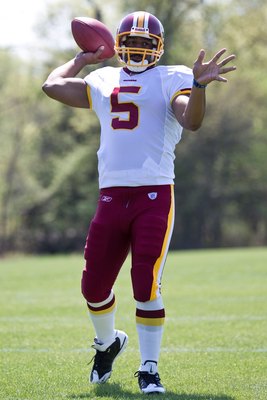 The Redskins can be good this year with the addition of Donovan McNabb. They have a very good QB with a solid running attack with Portis.
But, there's going to have to be guys that have to step up. Who's going to be the number one receivers? Is the offensive line going to be good?
How good is the defense going to be?
If the Redskins want to win this year, there going to have to get a hell of a season out of McNabb.
18. New York Giants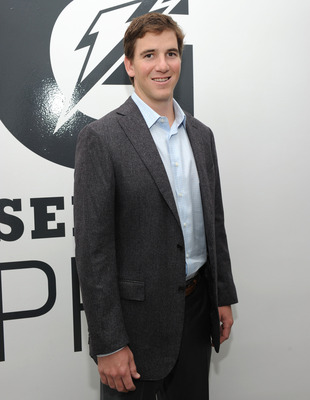 Eli Manning is a very good QB, but the Giants just aren't as good as they used to be. Their defense was awful last year, and the Giants aren't going to win many games with an awful defense. They're going to need good D, good rushing, and Steve Smith to step up again.
17. Pittsburgh Steelers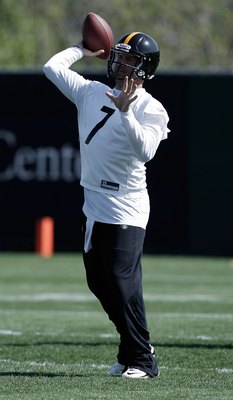 With Big Ben out for four to six games, I have a hard time putting them any higher on this list. They're not going to win many games without him starting Byron Leftwich or Dennis Dixon, but they still have a great defense with a healthy Troy Polamalu. Hopefully they can get a big year out of Ben when he comes back.
16. New England Patriots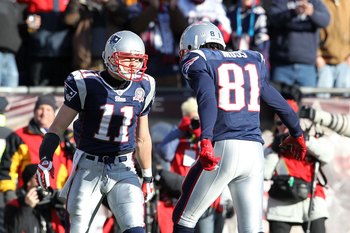 They always have a good draft, but I don't see a huge year out of New England this year. Randy Moss is declining and their defense isn't what it used to be. Tom Brady's going to have to be huge and that's going to be hard without Wes Welker.
15. Carolina Panthers
The Panther's got their quarterback in the second round with Jimmy Clausen. It's unknown whether he'll start or not this year, but the Panthers had a good draft. They have a great running back d and their defense isn't bad. Hopefully for them they can get a big year out of whoever plays QB.
14. Cincinatti Bengals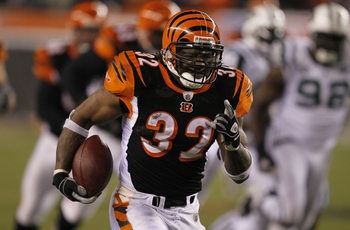 I love Benson. I love the way he runs and think he is one of the NFL's top running backs. The Bengals also have a good O-Line, a good quarterback in Palmer and they loaded up on some good weapons for him to use this year which will make them even better. Their defense was also very good last year.
13. Tennessee Titans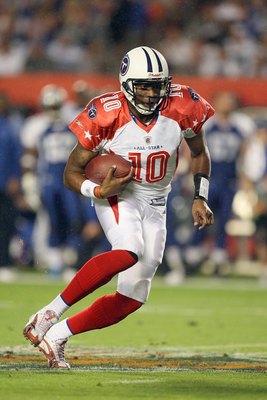 Vince Young is the real deal, and Chris Johnson is the best running back in the NFL. They finished the year 8-2 last year, and as long as their lack of receivers and/or defense doesn't kill them, they should pick up right where they left off.
12. San Fransisco 49ers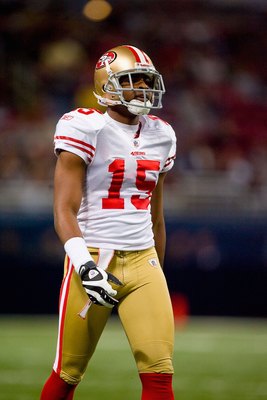 Alex Smith might finally be showing why he was picked number one overall in 2005. He could have a strong year this year for he is very talented and might have finally "got it". Crabtree provides a great receiver to throw to and Frank Gore is a good RB. Their defense is also good.
11. Atlanta Falcons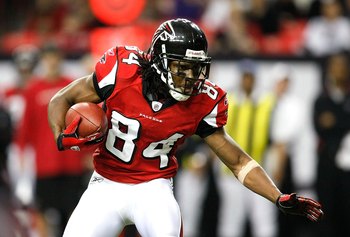 Matt Ryan is one of the top young quarterbacks in the NFL. They have a good running back, tight end, and receiver. Their defense is solid and they have a good O-Line. They have a chance to rebound from last year and win a lot of games.
10. Houstan Texans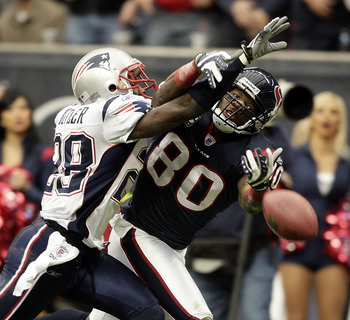 Their offense is amazing. They have a great QB in Shaub, he just needs to stay healthy. They have the best receiver in the league in Andre Johnson, and a good running attack. If their defense shows up this year, watch out.
9. Miami Dolphins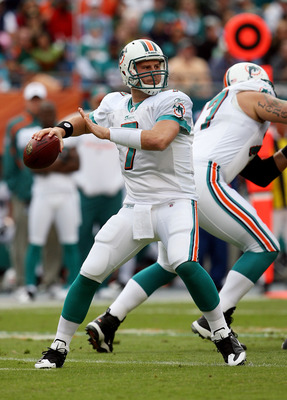 I think in the off-season the Dolphins got a whole lot better. Chad Henne is a great young quarterback, and with the addition of Marshall you have a good offense right there. The defense is good, and the wildcat will continue to produce.
8. San Diego Chargers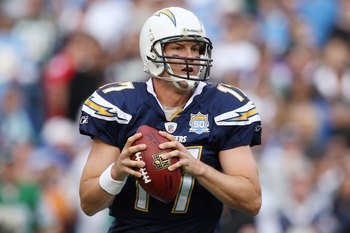 The Chargers are a very good team. Their quarterback is an MVP candidate. They have a rookie running back that has a chance to have a good year this year.
They have tall and talented receivers and a good defense. If they don't choke this year, they can win a lot of games.
7. Baltimore Ravens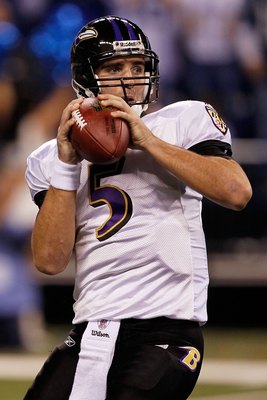 The Ravens are going to be very good this year. Their defense might not be young, but it is strong and it added Sergio Kindle through the draft. Their QB is very good and it now has Anquan Boldin to throw to. Along with Ray Rice, the Ravens are a scary team his year.
6. Minnesota Vikings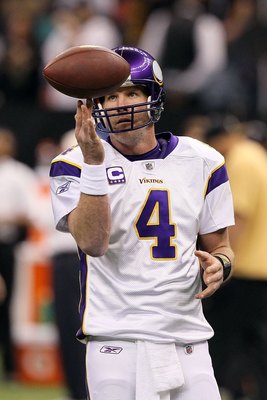 This is based on if Favre comes back.
Their quarterback is very, very (very) old, but he can still play, so does it matter?
They have the second best running back in the league, a very good defense highlighted by their run D, and a good receiving corps. Favre is going to have a fourth chance not to end the season with an interception.
5. New Orleans Saints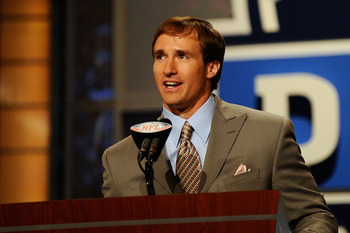 They won the Super Bowl last year, but that was last year.
You think I care they took down the Colts? Well, I do, but they aren't number one...or two, three, or four.
They will still have a great offense this year, and with the resigning of Sharper their defense will have less question marks, but it still isn't that good and with a defense ranked in the 20's you can't win 13 games every year.
4. Dallas Cowboys
With the addition of Dez Bryant the Cowboys are Super Bowl contenders. They have a great QB in Romo with Miles Austin, Williams and Bryant to throw to. Their defense is also very good. If Romo plays well, this team will go far.
3. Indianapolis Colts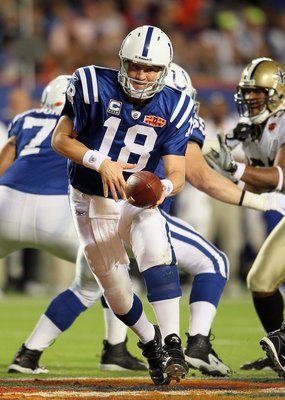 They have arguably the best QB in the NFL and with the more experienced Garcon and Collie, their offense will again light it up. The defense will continue to stop the opposing offense, and this colts team will try very hard to go back to the Super Bowl this year.
2. New York Jets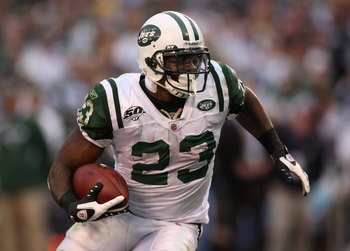 The Jets are a complete team. They have an amazing running attack and one of, if not the, best defense in the NFL. Mark Sanchez is in his second year so he should be better, and if he plays well, this team is going to the Super Bowl.
Who are they going to play in the Bowl? The...
1. Green Bay Packers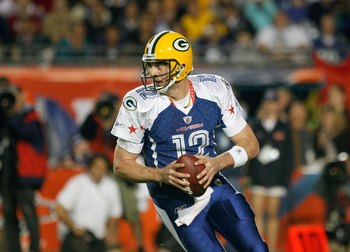 The Packers. They are lead by Aaron Rodgers, who will win the 2010 NFL MVP award, with an improved O-Line which makes this offense complete. They have rising star Jermichael Finley and a great wide receiving corps. Their defense should be better next year and if this team stays relatively healthy, they will win the Super Bowl.
Keep Reading

Green Bay Packers: Like this team?