2011 NFL Mock Draft: Jake Locker Takes the Top Spot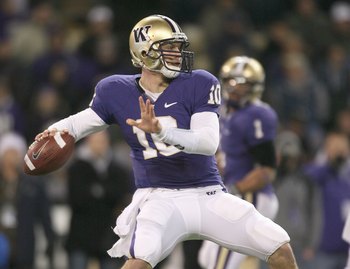 With the 2010 NFL Draft behind us, we can now look ahead way too early to next year's draft and top draft prospects. Next year's draft class will feature a new batch of draft eligible juniors and seniors who decided to return for their final seasons.
We're going to learn a great amount more about these prospects between now and next year's draft. Additionally, we are going to learn tons more about the teams that will pick atop the draft board. Which prospects are in the cross-hairs for the top ten of the 2011 NFL Draft and who will fill out the first round?
1. Buffalo Bills: Jake Locker (QB) - Washington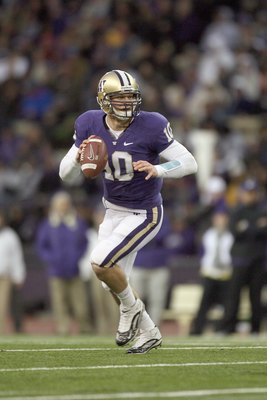 The Bills not only have no long term answer at quarterback, they have no answer for the 2010 season. That will lead to another tough season and one that figures to land them near the top of the board. Projecting Buffalo lands in the top spot, the pick will undoubtedly be the Huskies quarterback. Locker is a big, mobile quarterback with a strong arm that the Bills can (re)build around.
2. St. Louis Rams: Adrian Clayborn (DE) - Iowa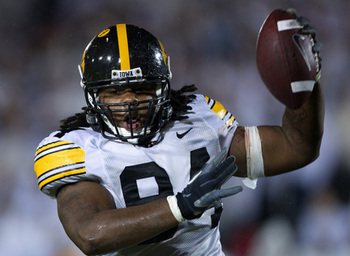 Clayborn emerged on the scene in 2009 and his draft stock should continue to climb with an equally or better season in 2010. Clayborn needs to pick up a few more techniques in his bag of tricks, but he would be a great compliment to Chris Long and provide the Rams with bookend pass rushers.
3. Tampa Bay Buccaneers: Gabe Carimi (OT) - Wisconsin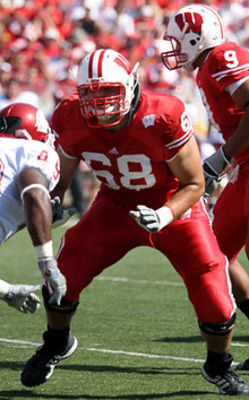 At 6-foot-7, 325 pounds, Carimi is an absolute monster that can protect Josh Freeman's blindside for many years to come. Left tackles coming out of Camp Randall rarely miss, making Carimi a safe, high value pick that should play in Week 1 the following fall.
4. Jacksonville Jaguars: Ryan Mallett (QB) - Arkansas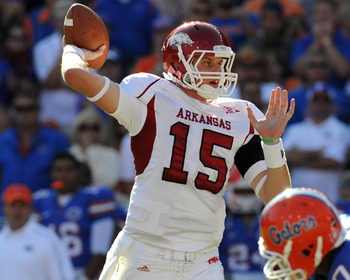 By this time next season, the Jaguars will know that their future is not in the hands of David Garrard. Scouts have fawned over the 6-foot-7 Mallett who boasts a big arm and more than ideal size. Mallett should be able step in and take the reigns immediately, but the Jaguars still have Garrard who can fill in as a stop gap.
5. Kansas City Chiefs: Anthony Castonzo (OT) - Boston College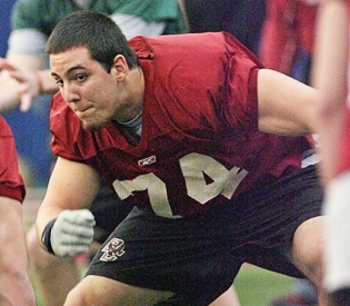 Many draft experts thought the Chiefs would use a high pick on someone to protect Matt Cassel's blind side in the 2010 Draft. The Chiefs went elsewhere. In 2011, the Chiefs will finally lock down the left tackle spot by taking Castonzo. The Boston College product stands 6-foot-7, but needs to add a little bit more weight to his 295-pound frame. Once he does that, he'll lock up a top ten spot.
6. New England Patriots: Cameron Heyward (DE) - Ohio State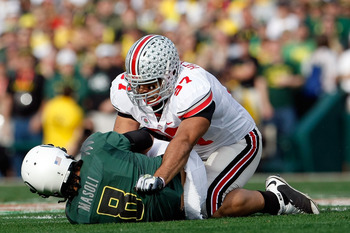 Heyward could have entered the 2010 Draft and likely been a second round pick. Instead, he's returning to Columbus where another year of seasoning will make him a bona fide top ten pick. Heyward was a 4-3 defensive end at Ohio State, but his power on the interior and on the edge should make for a smooth transition to the Patriots' 3-4 defense.
7. Cleveland Browns: Michael Floyd (WR) - Notre Dame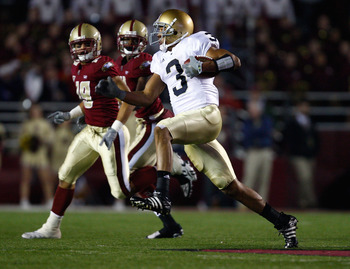 Taking a receiver this high is always dicey, but the Browns need a weapon for future quarterback Colt McCoy. Floyd may be in a precarious scenario with a new quarterback under center in South Bend in 2011, but Brian Kelly's wide open offense should help compensate Floyd.
8. Detroit Lions: Joseph Barksdale (OT) - LSU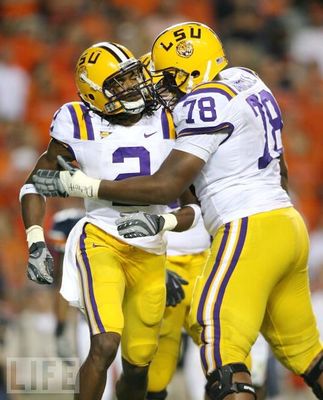 The Lions went defense and running back in the first round of the 2010 Draft. In 2011, they look to get protection for young quarterback Matt Stafford and a big body to boost the running game. At 6-foot-6, 315 pounds, Barksdale is athletic blocker whose stock should steadily climb this upcoming college season.
9. Arizona Cardinals: Prince Amukamara (CB) - Nebraska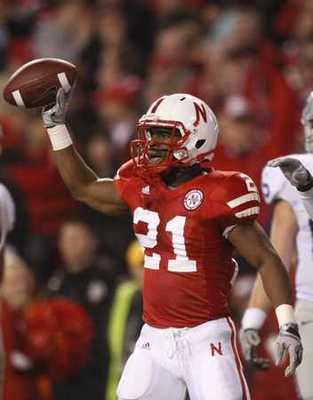 Prince Amukamara stock is on the rise and another year in Bo Pelini's defense should confirm his standing as a fringe top ten pick. At 6-foot-1, 210 pounds and a 4.49 40-yard time, Amukamara has the raw physical tools to fill a need void in the Cardinals defensive backfield.
10. Denver Broncos: Marcus Cannon (OT) - TCU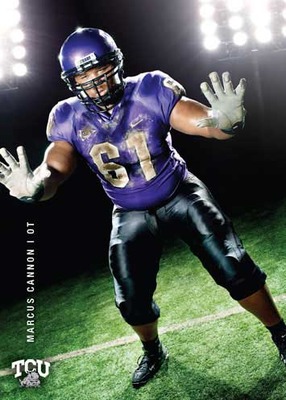 The Broncos went with a guard and center in rounds two and three in the 2010 Draft. This time, the Broncos bolster their offensive line by getting the big bodied TCU tackle. Cannon needs another strong season in 2010 to back up this selection.
11. Chicago Bears: A.J. Green (WR) - Georgia
The Bears flirted with the notion of Brandon Marshall this offseason. In next year's draft, the Bears will finally get the weapon Jay Cutler needs by selecting the Georgia standout. His size and hands could make him a Brandon Marshall-type impact receiver.
12. Seattle Seahawks: Andrew Luck (QB) - Stanford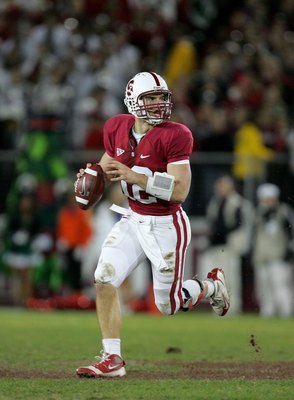 The Seahawks passed on Jimmy Clausen but get their quarterback of the future with the Stanford product. Pete Carroll is very familiar with what the former Pac-10 standout can do. Luck is good value at this spot and should safely land in the top 15 unless he unexpectedly regresses in 2010.
13. Pittsburgh Steelers: Marvin Austin (DT) - North Carolina
The Steelers are not getting any younger on the defensive line and need a youth injection. Austin has very good speed and power for a 6-foot-3, 305 pound defensive tackle who can likely work on the end of a 3-4 defense.
14. Carolina Panthers: Jared Crick (DT) - Nebraska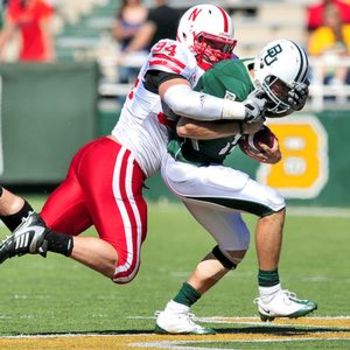 The Panthers had their hopes on Austin falling to them. Instead, the Panthers-who are desperately short at defensive tackle, take the next best choice on the board.
15. Philadelphia Eagles: Patrick Peterson (CB) - LSU
The Eagles beefed up the safety position in the second round of the 2010 Draft. in 2011, they look to lock up the cornerback spot with Peterson who could take over for Asante Samuel sooner than later.
16. Cincinnati Bengals: Deunta Williams (S) - North Carolina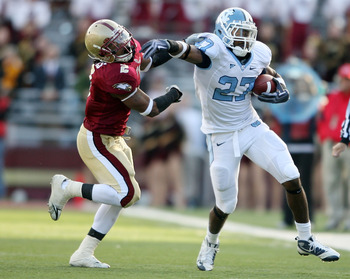 Williams is a true ball hawk with size that covers a lot of ground in the secondary. That is exactly what the Bengals need who have inexperience and lack of coverage from their safeties. Williams is 6-2, 205 pounds and runs a sub-4.5 40. Bengals get potential top ten value here.
17. Washington Redskins: Jonathan Baldwin (WR) - Pittsburgh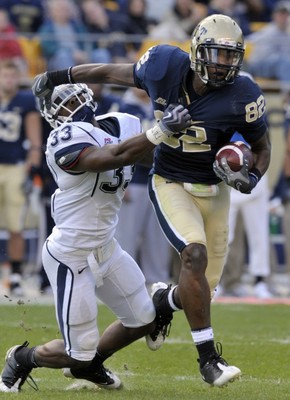 Baldwin will give the deep threat the Redskins and quarterback Donovan McNabb need. The 6-foot-5, 225-pound Baldwin is too big of a target to pass up. He will help McNabb and the Redskins offense come Week 1.
18. New York Giants: Von Miller (OLB) - Texas A&M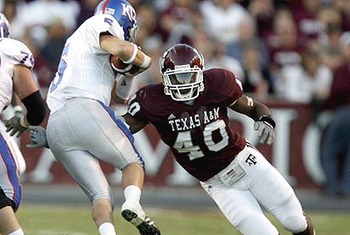 The Giants absolutely need help at the outside linebacker position, but pretty much ignored it in the 2010 Draft. They cannot afford to ignore it any longer. Miller is a fast, power outside linebacker who can bring more youth and explosion to the outside 'backer position alongside Clint Sintim.
19. Atlanta Falcons: Julio Jones (WR) - Alabama
The Falcons worked numerous parts of their roster in this year's draft, but still need another weapon that can stretch the field for Matt Ryan. Jones also brings versatility as a playmaker on special teams.
20. Tennessee Titans: Ras-I Dowling (CB) - Virginia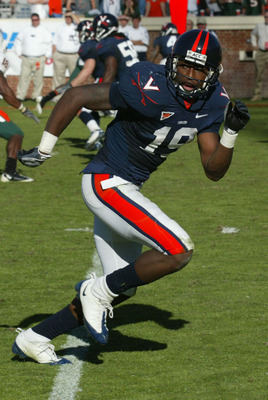 Dowling is big (6-foot-2, 210 pounds) and quick (sub-4.50 40 time) and is physical enough to come up and tackle in run support. That is the combination of talent and skill that fits the Titans' defensive mold.
21. San Francisco 49ers: DeMarco Murray (RB) - Oklahoma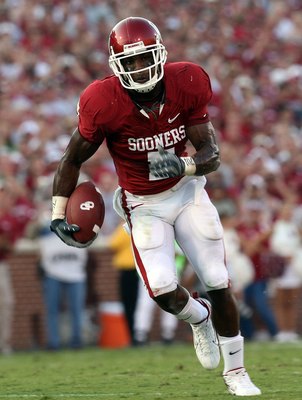 Murray's quickness is a good compliment to Frank Gore's between the tackle running style. Murray gives the 49ers versatility with pass-catching out of the backfield. That makes Murray the pick over the 2010 Heisman winner.
22. Houston Texans: Jermale Hines (S) - Ohio State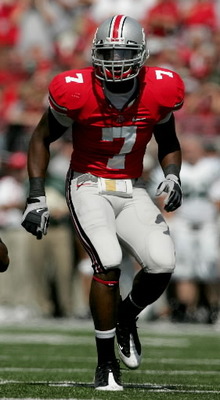 The Texans got cornerback Kareem Jackson in 2010. In 2011, the Texans continue to beef up their secondary with the big, ultra-athletic Hines. Hines plays the ball but can also come up into the box and stick in defending the running game. Hines is a terrific athletes that may be too good to pass up at this spot.
23. New England Patriots: Mark Ingram (RB) - Alabama
The Patriots have to address the running back position at some point. Kevin Faulk is close to retirement and Laurence Maroney is perennially in the doghouse. Ingram is a tough runner that will attract Bill Belichick but the Patriots could be gunshy after the failures of Maroney, a previous first round pick.
24. Green Bay Packers: Justin Boren (OG) - Ohio State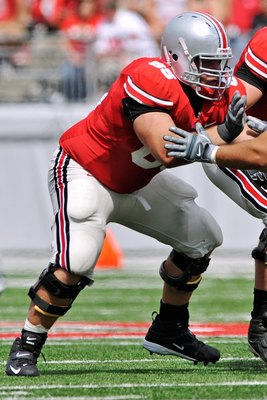 Boren is the classic meat-grinding offensive tackle that will open up space for the Packers running game. He also takes on linebackers with strength. He's a another safe, value pick for the Packers who continue to get younger on the offensive line.
25. New York Jets: Robert Quinn (DE) - North Carolina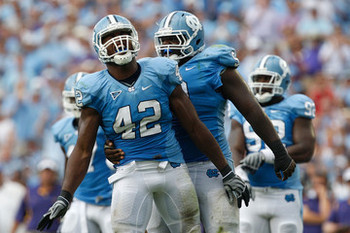 The Jets need to get younger on the defensive line and Quinn is a good spot here if he's still on the board. Quinn needs to add some weight to his frame, but 11 sacks as a sophomore in 2009 speaks to plenty of upside despite physical work to be done.
26. Dallas Cowboys: DeAndre McDaniel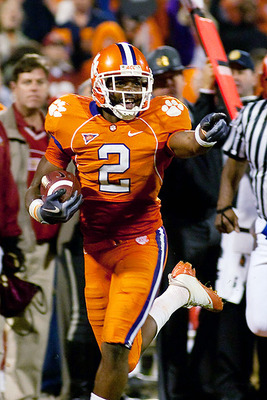 The Cowboys could have used safety help high on the board in 2010, but instead went receiver. The Cowboys get their next safety in the physically gifted McDaniel who covers a ton of ground in the defensive backfield.
27. Miami Dolphins: Quinton Carter (S) - Oklahoma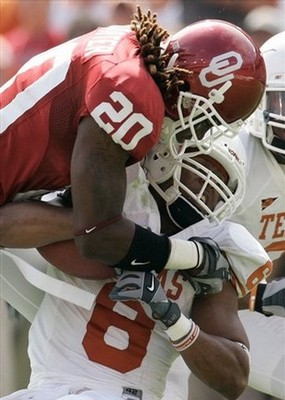 The Dolphins still need to upgrade their safety position and Carter will likely be the best talent left on the board at this spot. The 6-foot-1, 195-pound Carter probably needs to add some size, but he plays fast, gets after the ball and can lay hits as a safety should.
28. San Diego Chargers - Kendric Burney (CB) - North Carolina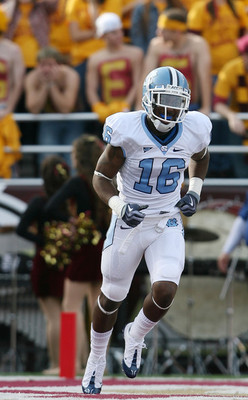 The Chargers still face questions at the cornerback position. Burney doesn't have ideal height (5-foot-9), but he has the speed (4.43 40 time) and the hands to hang with NFL receivers.
29. Baltimore Ravens: Weslye Saunders (TE) - South Carolina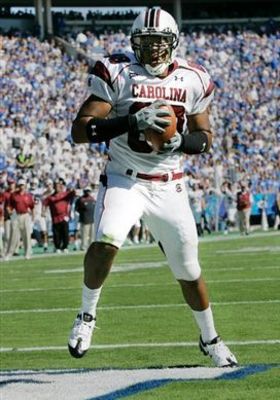 The Ravens did not get a chance pick their tight end high up on the board this year. With plenty of weapons at receiver and running back, the Ravens get their guy who can work the middle of the field for quarterback Joe Flacco. Saunders has a red flag going back to his suspension, but few doubt the guy can play. He'll likely be atop the tight end board in the 2011 Draft.
30. Minnesota Vikings: Michael Morgan (LB) - USC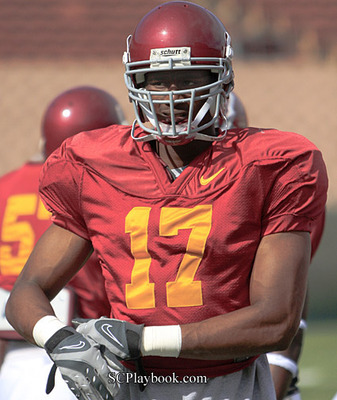 The Vikings don't have many glaring needs. They boosted the secondary and the running game early in 2010. Now the Vikings look to solidify the linebacking corps with Morgan who is very athletic but may need some coaching up.
31. Indianapolis Colts: Stefen Wisniewski (C) - Penn State
Jeff Saturday is going to need his heir and Wisniewski is a very solid choice to take the baton when the time comes. Wisniewski needs to add more weight to his frame, but he's strong in the running game and passing game, and has been the captain of the Penn State offensive line. Safe, projectable pick at No. 31 overall.
32. New Orleans Saints: Mike Pouncey (C/G) - Florida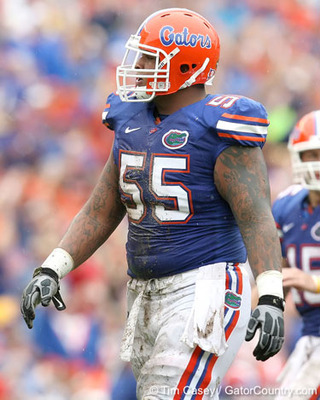 Pouncey saw his brother go in the first round in 2010. With another year of seasoning in Florida, brother Mike should be in the same spot. The Saints are getting older in the middle of the O-line and like Maurkice, Mike can slide over and play guard in addition to center.
Keep Reading